On the eve of the 2016 Consumer Electronics Show in Las Vegas, a new Chinese startup showed off its first concept car: an all-electric super-vehicle that uses augmented reality to help drivers see the road as they test its incredible speed.
The 1000-horsepower FFZERO1 was unveiled Jan. 4 by Faraday Future, a company named for 19th century scientist Michael Faraday. (By no coincidence, Faraday's reputation as a pioneer in the field of electromagnetism rivals that of scientist Nikola Tesla, whose name was already taken.)
According to Faraday Future, the FFZERO1 engine will be able to go from 0 to 60 mph in less than 3 seconds. The single-seater car will also be able to adapt to a rider's personality, and "could be fully autonomous," allowing riders to sit back and let the car do a few laps on a track.
The car, which looks more like a Batmobile than something that you'd see pulling into the garage of your local Whole Foods, is a design prototype. It's not ready for the road, and won't likely be going into production any time soon. But it does suggest where the company will be heading with its vehicles.
"The FFZERO1 Concept is an amplified version of the design and engineering philosophies informing FF's forthcoming production vehicles," Richard Kim, Faraday Future's design head, said in a statement.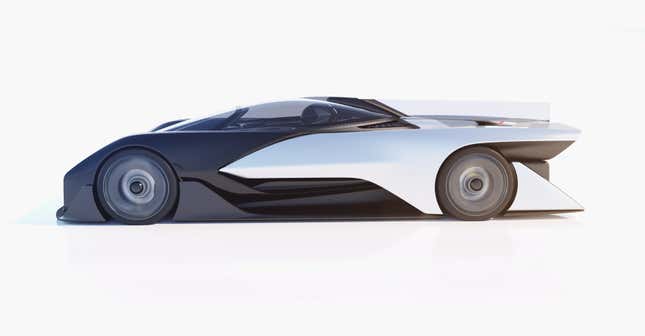 Early press releases about the car hit several key buzzwords in tech, including augmented reality, virtual reality, and 3D printing, but the company didn't go into much detail about how these would be implemented. Quartz has reached out for additional comment and will update this post as necessary.
The market for luxury vehicles, and increasingly self-driving vehicles, is starting to heat up. Tesla has already started delivering a $130,000 SUV called Model X, while a bevy of traditional luxury manufacturers, including Porsche, Audi and Mercedes, have committed to putting electric vehicles on the road soon.
There's tough competition for Faraday Future, but the team has some promising credentials. Faraday Future's head of research, Nick Sampson, used to be an engineer at Tesla, and worked on the Model S. The company has employed others from Tesla, as well as from BMW and other car manufacturers, according to The Verge.
At the launch event, Sampson pointedly noted that the first iPhone displaced many established cellphone brands. The difference, of course, is that the iPhone came from no start-up—it had the infrastructure of Apple behind it. But Faraday Future, like Tesla, plans to build a $1 billion production facility in Nevada, and says it could have its first electric car on the road by 2017.
It remains to be seen whether this is the car the world has been waiting for, or the one it needs.