This year's Golden Globes, hosted by Ricky Gervais, felt disjointed, off the mark, and not entirely comfortable. Gervais's humor was edgy, to be sure, but lacking the refreshing, progressive air that Amy Poehler and Tina Fey have brought in recent years. Instead, the incessant bleeping out of racy comments made some speeches incomprehensible; drunk guys rambled; and Mel Gibson made an inexplicable eleventh-hour appearance.
I want awards shows to survive, I really do. When I was a kid, Oscar night meant pizza on the couch, pretending to understand Billy Crystal's jokes, and ogling the insane dresses movie stars picked out before they all had stylists. We survived the commercials and stayed up late. And while some may consider the Golden Globes an ugly stepsister, in recent years I've preferred them to the Oscars. The more risqué dresses, speeches, and hosts at the booze-fueled event can make for great TV. Which is why this year's was such a disappointment.
That said, there were sporadic bright spots, and they offered a clue to what could save the televised awards show: namely, funny women and hunky men.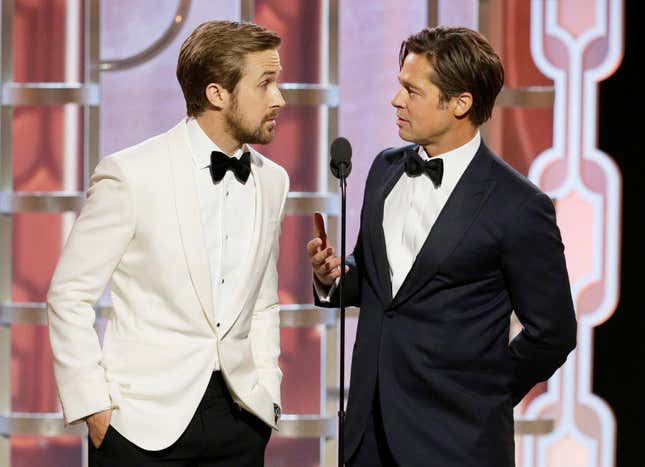 Think about it: if advertisers want to reach the increasingly powerful female demographic, and programmers want these shows to be worth keeping our cable for, this formula could be the answer.
Let's examine some of the evidence, by looking at what worked.
1. Channing Tatum's '90s tribute hair
To be clear, Tatum's hair itself did not work—but it foreshadowed what did.
On the red carpet, a section of Tatum's pale brown locks fell in front of his ear and rested there, quietly setting the internet on fire.
Apparently the hairdo is part of Tatum's look for his upcoming film The Gambit, but it may as well have been a tribute to the Hollywood heart-throbs of my youth, many of whom wore similar looks back then—think Christian Slater in Heathers, Romeo and Juliet­-era Leonardo DiCaprio, and early '90s Brad Pitt.
Incidentally, the aforementioned actors did well at the 2016 Golden Globes, behaving well and aging gracefully with nary a newsboy cap or fedora in sight. (Also a throwback: Sylvester Stallone got a standing ovation.)
2. Fonda face
One of the first bits of the night, in which Jonah Hill pretended to be the bear from The Revenant, fell pretty flat. The camera cut to Jane Fonda, and her lack of amusement—and her companion's apparent bewilderment—became our entertainment.
Maybe have Fonda sit in on rehearsals in the future? Or just cut to her consistently to see how we're feeling?
We are all Jane Fonda.
3. Eva Longoria and America Ferrera on Hispanic actresses
In December, the Golden Globes official Twitter account misidentified America Ferrera as Gina Rodriguez during the awards nominations. Last night, Ferrera presented an award alongside Eva Longoria, and they introduced themselves: "Hi, I'm Eva Longoria, not Eva Mendes." "And I'm America Ferrera, not Gina Rodriguez."
It was funny, gracefully delivered, and—even if you didn't know the December gaffe—timely. Gervais introduced the women as "two people who your future president, Donald Trump, can't wait to deport."
4. The hunks of The Big Short
It's not a word I usually use, "hunks," but last night's show was a parade of conventionally handsome men, being handsome. The Big Short, as well as being an entertaining and important movie, was great for getting out dapper actors in tuxes. Ryan Gosling and Brad Pitt—who oddly looks like he just walked off the set of A River Runs Through It, which is now MORE THAN 20 YEARS OLD—presented together. I think they made jokes, but honestly I have no idea.
Steve Carell was the dark-horse hunk of The Big Short last night. Apparently he gained 20 pounds for the role, which kind of begs for a joke about him being the big short of The Big Short, but he looked great.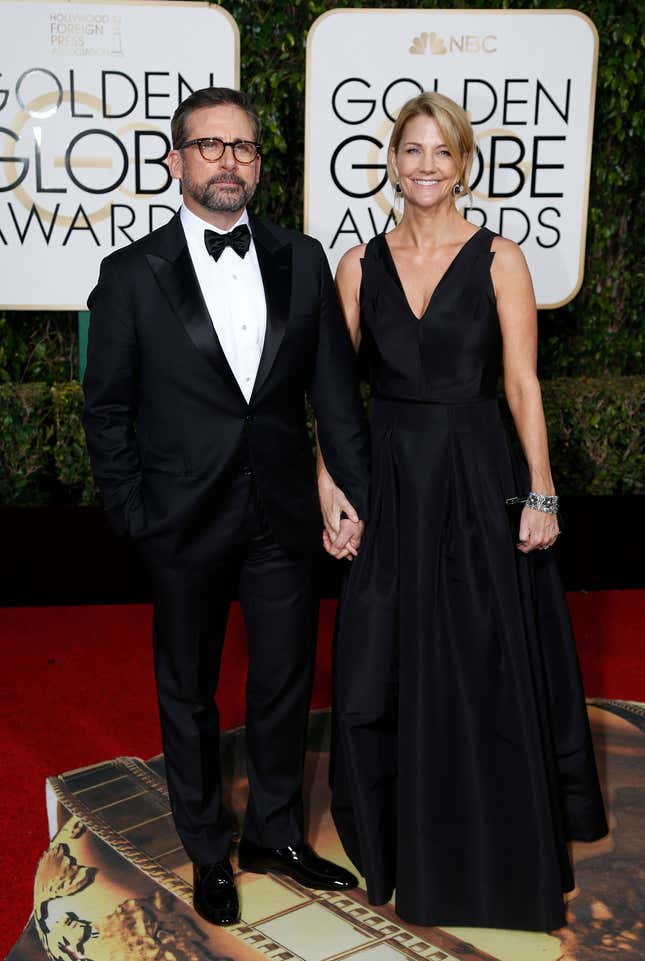 Guys in glasses had a good showing last night, but Denzel Washington forgot his and so couldn't read his acceptance speech for the Cecil B. DeMille Award, presented to him by Tom Hanks, with a cold. (Guys in glasses, see also: Christian Slater, Michael Keaton, and the adorable guy from the Hollywood Foreign Press Association.)
5. The hunks of other movies and TV shows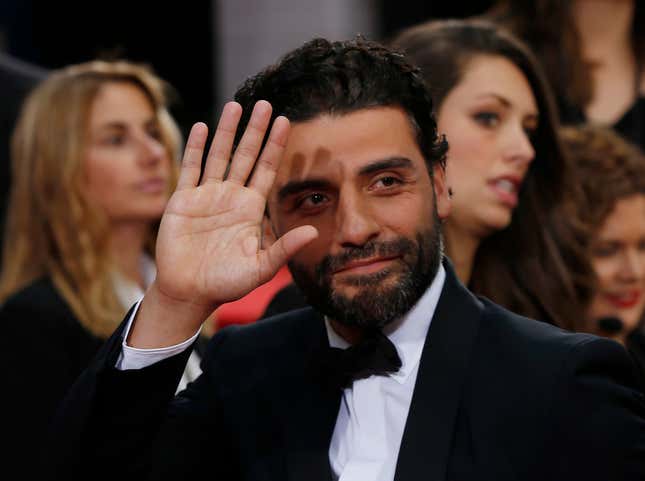 Oscar Isaac: I still don't know who the actresses are who swore through the teleprompter failure in order to present Oscar Isaac his award for best actor in Show Me a Hero, and to be honest, I've yet to watch the show or The Force Awakens. But I do know that women and children were dying to see this man onstage. Ladies on the internet love Isaac and so does Jacob Tremblay, the 9-year-old from Room, who singled him out on the red carpet as one star he was dying to see.
Jamie Foxx: Heroic. Foxx looked sharp in all-black, hilariously re-enacted Steve Harvey's Miss Universe flub by first presenting the best score award to Straight Outta Compton instead of The Hateful Eight, and shared our pain and soothed our discomfort after Quentin Tarantino's rambling Drunk Uncle-ish speech accepting the award on composer Ennio Morricone's behalf.
Michael B. Jordan: E! does this wonderful, awkward thing during Live on the Red Carpet where they cut to actors and actresses posing for still photographers, so you can watch J.Lo and Taraji P. Henson live-smolder with their chins at funny angles.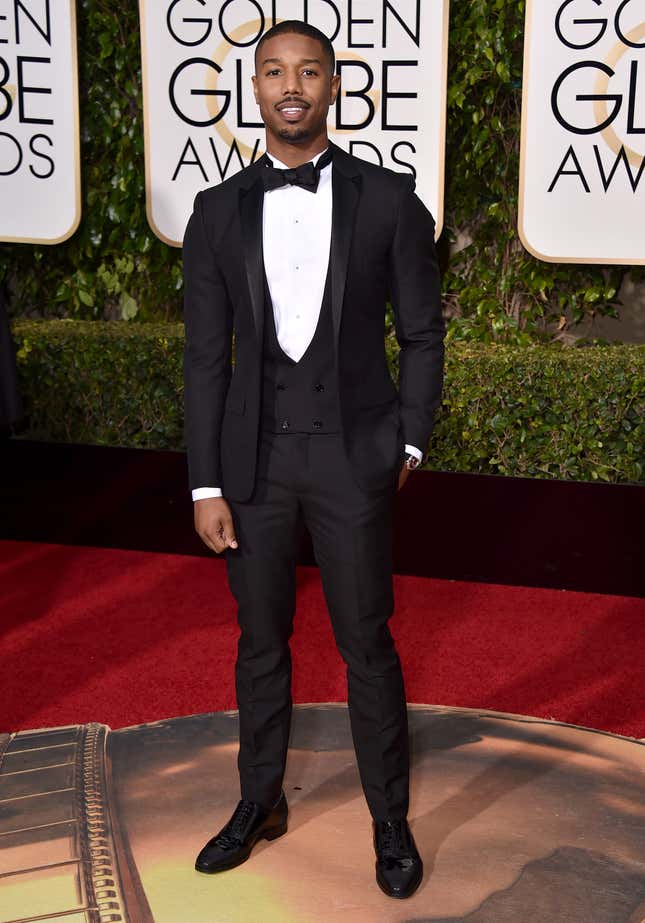 There was a live-shot of Michael B. Jordan just standing still grinning like he was happy to be there, and it's going to give me good dreams.
Christian Slater: So good to see you!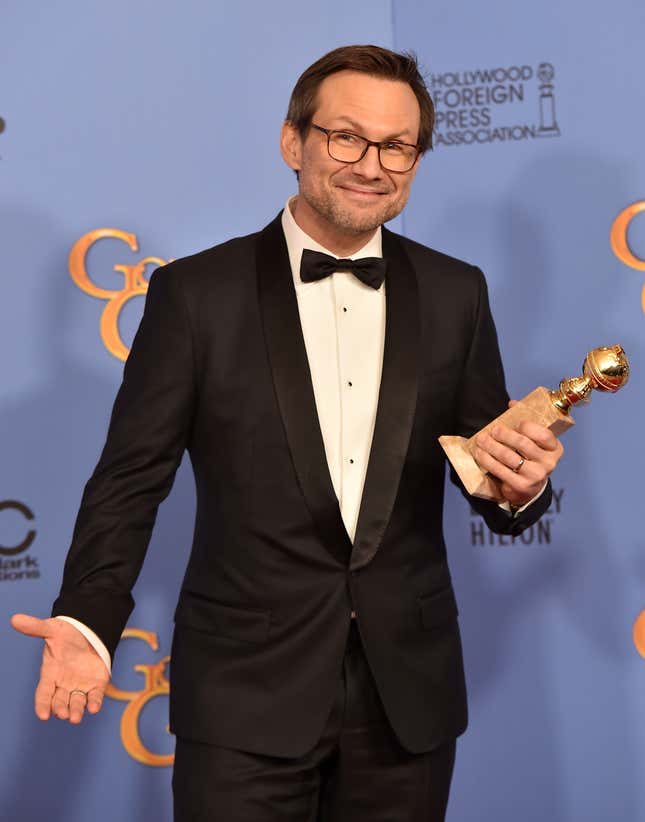 Honorable mentions: Matt Damon, Orlando Bloom, Jason Sudeikis, Jon Hamm, Gael Garcia Bernal
6. Amy Schumer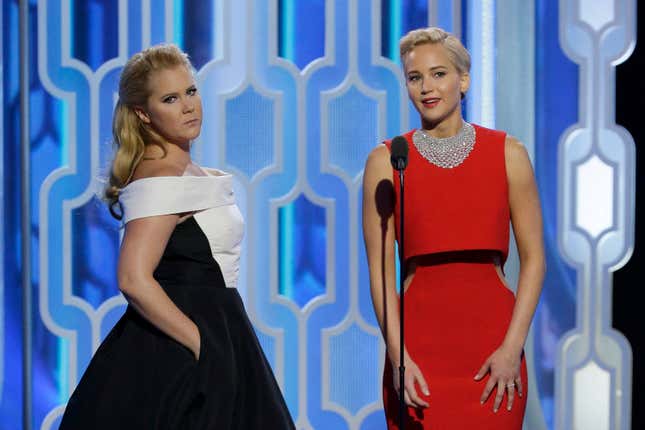 Does it even need to be said that Amy Schumer should host next year? It seems so obvious. My hope that she would take best comedy for Trainwreck kept me going for the duration. She did not (The Martian did), but I will take this consolation prize:
7. Leonardo DiCaprio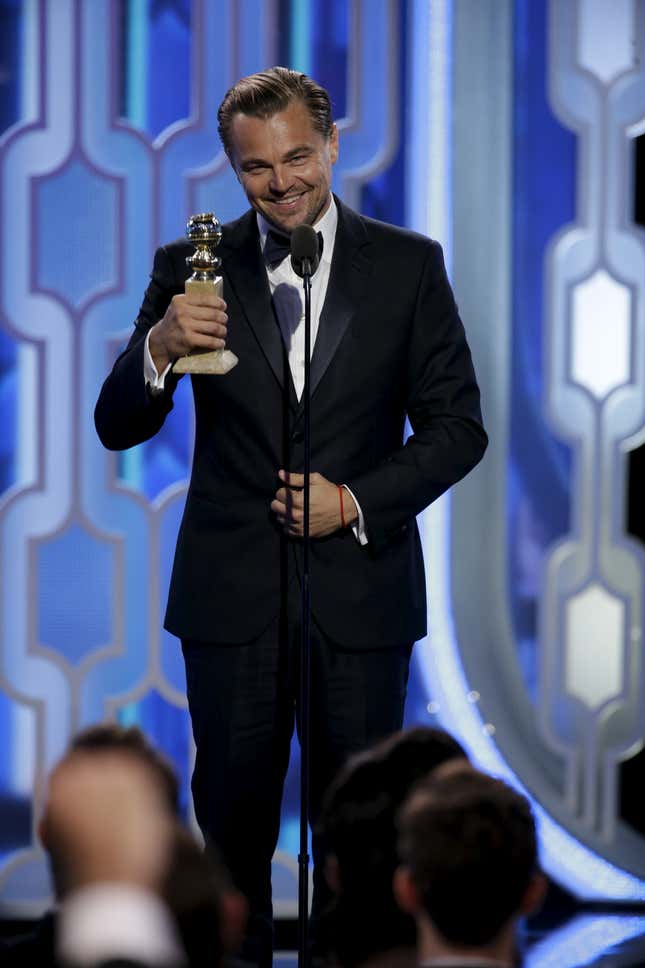 Leonardo DiCaprio resisted any urge to talk about the countdown clock or acknowledge the music starting to play as he pierced the camera with his blue eyes and delivered a concise acceptance speech for his role in The Revenant.
By the time 11pm rolled around, I really felt like we all won when Leo won.