No predictions, just a few things to watch and possibly interpret in the numbers. And, at the end, a question: Will the iPhone gain market share in a saturated market—just like the Mac stubbornly does?
Apple is circumspect about the details that go into its quarterly numbers, so we have to rely on conjecture. We'll start with the Apple Watch. Estimates for the latest fiscal quarter range from a low of three million units to a high of more than 10 million (numbers compiled by Philip Elmer-DeWitt):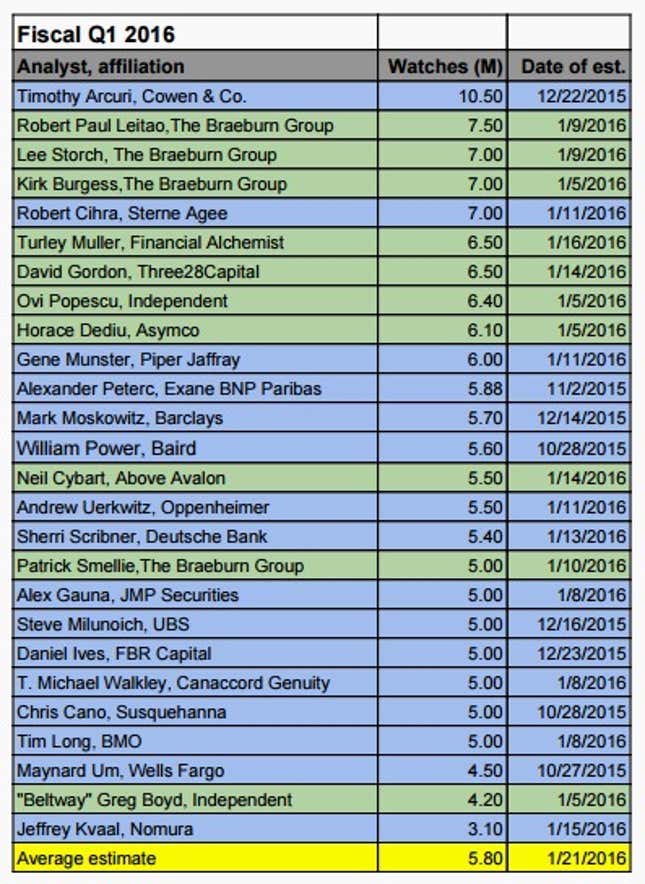 If the actual number lands in the five to six million neighborhood, the Apple Watch business would yield about three billion dollars (we're assuming an average selling price of around $500—$529 according to Wristly). That's no small piece of change, even for a quarter expected to yield more than $75 billion in sales. Notably, this is an entirely new revenue category, one that compares nicely with the Swiss watchmaking industry.
Unlike Apple, the Federation of the Swiss Watch Industry (the FH) publishes detailed monthly statistics that are sliced and diced every which way, country of export, price range, metal…
For the first eleven months of 2015 (December stats will be released on Jan. 26, the same day as Apple's earnings release), Swiss watchmakers shipped about $20 billion worth of their goods (19.8 billion Swiss francs). According to reliable estimates, Apple has sold about 12 million watches since the device started shipping in late March 2015. That's $6 billion in six months, compared to the $20 billion of the entire Swiss industry in eleven.
However one adjusts Apple's numbers, the order of magnitude is beyond dispute and shows an auspicious beginning for Apple's new category. Where the Swiss watch industry is in decline…

… the Apple Watch appears to be in good health. At $13 billion to $15 billion in revenue for fiscal 2016, about four times this past quarter's number, the Apple Watch would be 50% or more of the entire Swiss watch industry—and the revenue's magnitude might force Apple to fully disclose their numbers.
Another comparison point is iPhone revenue in its early years.
In fiscal 2007, when it had been shipping for only three months, the new phone scored a barely significant $123 million in revenue. For its first full year (fiscal 2008), iPhone revenue rose to $1.8 billion, and then on to $6.75 billion in fiscal 2009. Looking at the estimated $3 billion for the first quarter of fiscal 2016, the Apple Watch could double the iPhone's 2009 number.
Some critics and consumers dislike the Apple Watch and wearables in general. It's a reasonable, personal decision. What seems less sensible, however, is calling it a flop of Newton proportions, or worse. But, as always, facts won't be allowed to intrude and we must expect more heated arguments when the dissection of Apple's "other" revenue bin begins.
Next, the iPad.
The iPad took off faster than the iPhone, faster than anything in the world of computing devices. Then, about two years ago, the iPad rocket turned south, as did the rest of the category (save for sub-$150 devices). The thing to watch in Apple's upcoming numbers is the iPad ASP where one expects two opposite trends. On the one hand, customers seem to gravitate towards lower-priced iPad minis. On the other, the newly released iPad Pro could push the average price up a bit—unless its late release and supply constraints limit its influence. As always, one expects Apple CEO Tim Cook to be positive about the iPad and the upcoming iOS updates that will make it more attractive for both education and productivity uses.
Services and other products
In fiscal 2015, the services bin, including "revenue from the iTunes Store ®, App Store, Mac App Store, iBooks StoreTM and Apple MusicTM (collectively "Internet Services"), AppleCare, Apple Pay ®, licensing and other services" counted for $19.9 billion, 8.5% of the company total.
The other products category—"sales of Apple TV ®, Apple Watch, Beats products, iPod and Apple-branded and third-party accessories"—added $10 billion.
These are two nice businesses, close to $30 billion last year. For comparison, Google's entire revenue for fiscal 2014 amounted to $66 billion (2015 numbers will be released shortly).
Because Apple (intentionally) bundles revenue streams such as Apps and Music, Watches, iPods, and accessories, the services and other products revenues lines are the subject of much interpretation and occasional bragging. Here, one wants to watch growth rates and occasional slips of the tongue. Should these two lines grow faster than the rest of the company, this would point to a strengthening ecosystem, a deeper "moat" around Apple's hardware revenue.
Macintosh
We don't expect any surprises with the Mac sales: They will continue their upward trend as the PC market continues to decline (haruspices such as IDC and Dataquest estimate something like -10% for 2015).
The number to watch, here, is the average price for a Mac. Statista pegs the average price of a desktop PC at $379 in 2015; laptops come in at about $600. Mac average prices were $1240 in fiscal 2015. Conventional PC makers still can't explain to themselves why Macs sell for so much more, nor can they figure out what to do to close the gap. Any significant (+ or – 5%) change in Mac ASP will be a surprise and require explanation.
King iPhone
As Tim Cook puts it, the previous December quarter of 74.5 million iPhones sets up a "tough compare"—it's going to be a hard-to-beat number. Speaking of which, before this past quarter, the iPhone had generated $500 billion in sales since its 2007 launch.
For this fiscal year's December quarter, Elmer-DeWitt has collected estimates of 75 million to more than 82 million units.
Regardless of the actual number, the reaction is easy to predict. If Apple beats Wall Street estimates, the focus will shift to negative predictions for the rest of the year—because we all know that the iPhone is experiencing some kind of decline. If Apple "disappoints," the negatives will lapse into doomsday predictions, because…
A recent and much-repeated mantra is that the smartphone segment is saturated—there's no more headroom. Gartner estimates that 86% of all phones will be smartphones by the end of the year and thus predicts insignificant mobile phone growth in 2016 (1.959 billion units vs. 1.910 billion in 2015).
As Apple's fortunes have increased, pundits have begun to exclaim that the company depends too much on the iPhone (here; here; here). If iPhone units and revenue can no longer grow, Wall Street will begin to doubt…and that means discounted Apple shares.
It sounds logical but let's not forget the example and reality of increasing Mac sales and profits in the saturated and declining PC market. The market may be saturated, but Apple's portion isn't. The iPhone commands a small unit market share, around 12% (231 million units in fiscal 2015, over Gartner's total estimate of 1.9 billion devices).
Can the iPhone captivate a saturated segment a la the Mac? That's a discussion I'd like to hear.
This post originally appeared at Monday Note.