Generally speaking, wearing fur has a feminine connotation. Excepting a few adventurous rappers and the occasional male athlete, the expensive and controversial material has typically been considered the preserve of wealthy women.
Lately, however, a shift seems to be underway. Beyond featuring prominently in the wardrobes of The Hateful Eight and The Revenant—two highly testosterone-driven movies—fur was all over the men's collections shown by fashion's biggest brands in Europe, this week. The message: Fur is just plain manly.
An estimated 63% of the major designers showing in London, Milan, and Paris used fur in some form in their collections, according to the International Fur Federation—to their delight and PETA's horror. That includes coats, of course, but also accessories and fur trims or accents.
The trend was most prominent in Milan, where among others, Dolce & Gabbana presented massive shearling coats, Marni offered fur shawls, and Thom Browne's Moncler Gamme Bleu collection showcased a crazy fur coat in camouflage patchwork.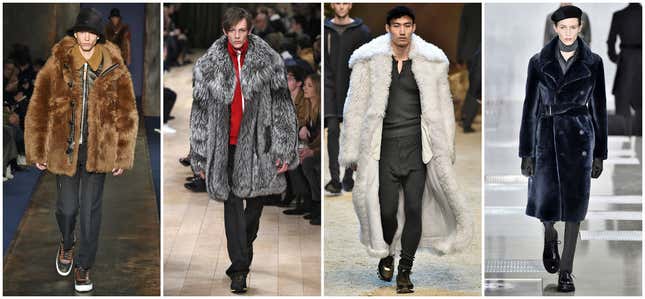 The IFF didn't have details on how much of the fur shown might have been faux, but it believes at least most was real. Many brands already use real fur in their women's collections. (Quartz will update this post if the IFF is able to provide further information.)
In London, fur appeared in shows for men's fashion by Burberry, Coach, and JW Anderson. In Paris, it turned up at Louis Vuitton, Dries Van Noten, and Valentino.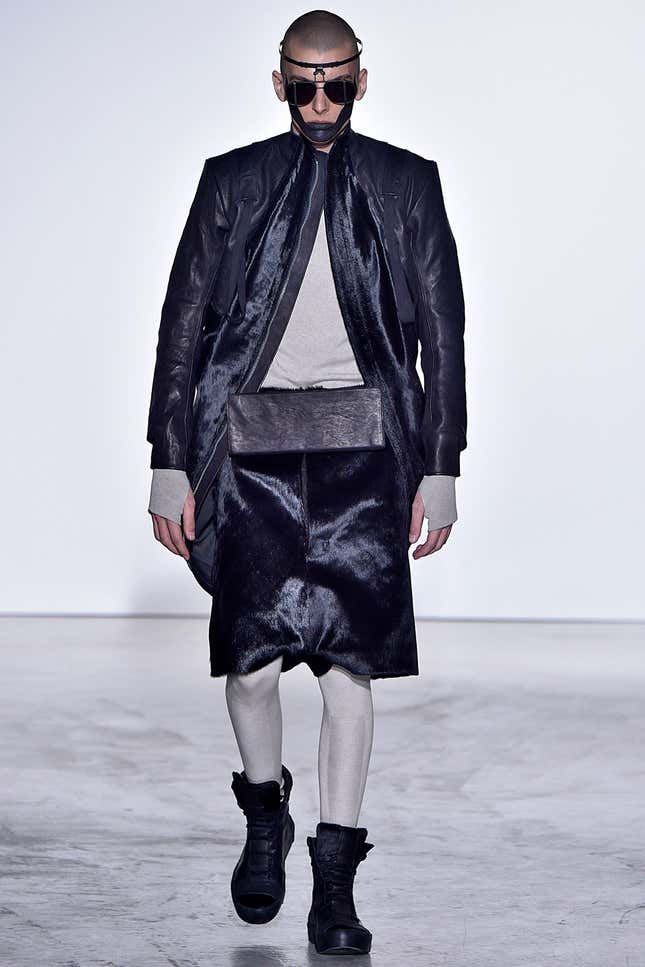 It also popped up in the work of some of fashion's more radical designers. Rick Owens's collection, titled "Mastodon," featured appropriately primitive-looking pelts, while Boris Bidjan Saberi fashioned slick, furry drop-crotch shorts.
Menswear's embrace of fur sits at a funny intersection. Because of fur's association with women's clothing, its use in menswear ties it into the growing wave of gender-neutral clothing in fashion. But a big fur coat isn't quite as boundary pushing as, say, a skirt. On the contrary, the fur coat has an ultra-masculine history, as was made clear in two of the biggest movies of 2015.
Fur was a star in the costuming of Quentin Tarantino's The Hateful Eight, most notably on John "The Hangman" Ruth, played by Kurt Russel. The same can be said of Alejandro González Iñárritu's The Revenant, which tells the story of real life fur trapper and hunter, Hugh Glass, played by Leonardo DiCaprio. Glass was among the toughest of the mountain men who pushed US expansion westward in pursuit of trade routes and pelts.
In both films, grizzled, rugged men huddle into fur coats for protection from the elements. And what could be more stereotypically macho than wearing a dead animal's skin?
Fur's use has changed quite a bit in the years since Glass was mauled by a bear in 1823, as have the politics around it. Despite the efforts of animal rights groups, the material has returned to fashion after a brief hiatus. Last year, Karl Lagerfeld even staged Fendi's first all-fur couture show.
In the US at least, a small but growing number of men are joining in. The Fur Information Council of America says there have been "significant gains in sales of men's fur fashions" over the past several years. They now account for nearly 5% of total fur sales.
You probably won't run into hordes of guys in fur coats anytime soon. But you may see a few men beyond Macklemore and Kanye West throwing one on.