America appears to have only been jogging on Dunkin' in the fourth quarter. That's the tough news out of Dunkin' Brands Group, which today reported an unexpected 0.8% drop in sales at US stores open at least a year, plus a 1% decline in traffic to those stores. The company's stock slipped about 1% in morning trading before edging up that much. (It still managed to beat revenue and earnings-per-share estimates.)
Dunkin' attributes the US downturn to a couple things. Dunkin' says that in-store sales of its K-Cups and packaged coffee "continued to have a negative impact" on other sales. It also blames "warmer weather" for hurting same-store sales. For 2016, Dunkin' thinks same-store sales growth will be flat to 2%.
"Many of our guests want something more—they have plenty of options from which to choose to get their morning coffee and afternoon pick-me-up," Dunkin' CEO Nigel Travis said on the company's earnings call. "The competition is fierce and getting fiercer."
It's hard to hear a statement like that and not think of McDonald's, which rolled out all-day breakfast across the US in October and then last month reported its best US results in four years. McDonald's traditional burger-and-fries offerings might not compete head-to-head with Dunkin' Donuts, but breakfast sandwiches like the Egg McMuffin certainly do. Dunkin' does about 60% of its sales from 4 a.m. to 11 a.m., but said last fall that it wanted to grow business in the afternoon and evening. The problem is that McDonald's is now competing for fast-food breakfast consumers during those times.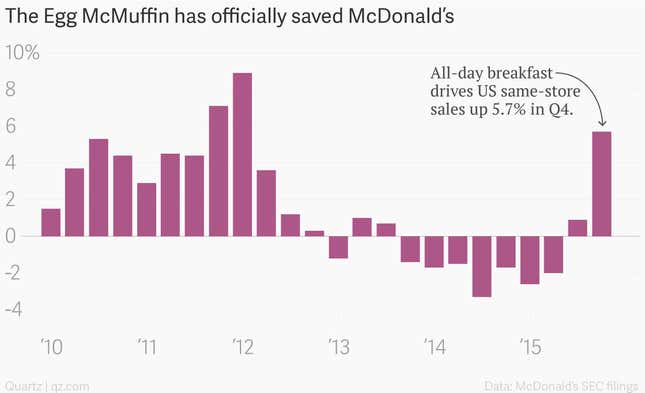 The fear that McDonald's may be eating Dunkin' Donuts lunch (and breakfast) is shared by analysts, and something Dunkin' executives tried to downplay in their remarks. They called the impact of the all-day breakfast launch "marginal" and emphasized that it was done "to stimulate the other burger competitors." At the same time, they repeated that the market for fast-food breakfast has "become very crowded" and so "you have to believe there was some impact on us."
In other words, America is still running on coffee and breakfast sandwiches. But they might not be fueling up at Dunkin' as much as the chain would like.