Since the early 1990s, the same five teams—Manchester United, Chelsea, Arsenal, Manchester City, and to a lesser extent, Liverpool—have dominated the English Premier League. It's been over 20 years since a team other than one of those five took home the trophy.
But look at the table now and you'll see Leicester City—who weren't even in the Premier League two seasons ago—riding high at the top of the table. The Foxes started the season with terrible odds—their chances of winning the Premier League were 5,000-1. Now, one fan who placed a £5 pre-season wager could win £25,000 ($36,000) if Leicester wins the league.
So how exactly have they pulled off this remarkable feat? Is it all luck? A magic formula? There are a number of lessons we can take away from Leicester's success.
1) Servant leadership
There was a significant backlash when Leicester announced it would be managed by Claudio Ranieri this season. Gary Lineker, one of the club's most famous former players, openly denounced the move. Some fans wondered whether the Italian coach would even make it to Christmas.
Against almost all odds, Ranieri has built on and sustained Leicester's success in the lower leagues. While Premier League managers are known for is their massive egos, Ranieri is radically different—he's actually nice.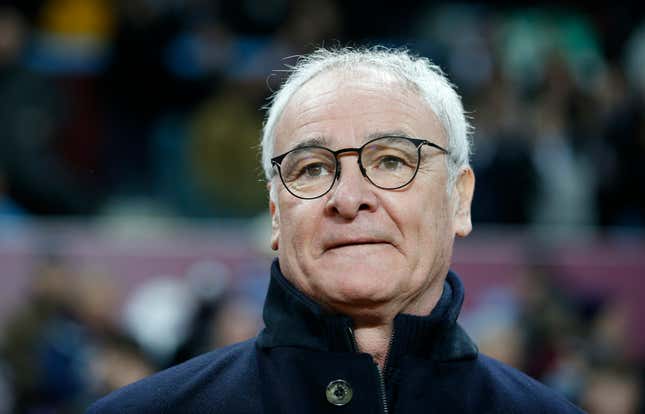 The 64-year-old Italian has worked for some of the biggest teams over the past 30 years, but has yet to clinch a major title. (His previous stint in English soccer ended when he was let go by billionaire Chelsea owner Roman Abramovich a year after he bought the club, even though Ranieri led Chelsea to second behind a near-perfect Arsenal team.)
Ranieri was able to build a strong relationship with his team, because he listened to them, The Times argues (paywall). Ranieri told the Italian newspaper Corriere della Sera:
I have great admiration for those who build new tactical systems, but I always thought the most important thing a good coach must do is to build the team around the characteristics of his players. So I told the players that I trusted them and would speak very little of tactics.
This is an example of "servant leadership," Simon Hartley, sport psychology coach and author of Stronger Together: How Great Teams Work, told Quartz. Ranieri recognized his job was "to serve the team" so he could "enable the team to perform as well as possible," Hartley said.
The manager limited the amount of tactical changes he made to the team, a radical departure from his coaching style at Chelsea, where his constant squad rotations earned him the nickname "The Tinkerman." At Leicester, he has used the same players, in the same formation, more than any other team in the Premier League.
Seven of his starting 11 are essentially guaranteed places each week, according to the Daily Mail. Ranieri has enforced rest days, and ignored the kinds of food his players guzzle down their mouth, even keeping his promise to take the team out for pizza after they kept their first clean sheet of the season.
Ranieri has focused on nurturing the talent he already had at his disposal, and taking calculated risks on players that others may have passed on. "To find a coach that can bring out that quality in people in premiership soccer calibre is no easy feat," Hartley adds.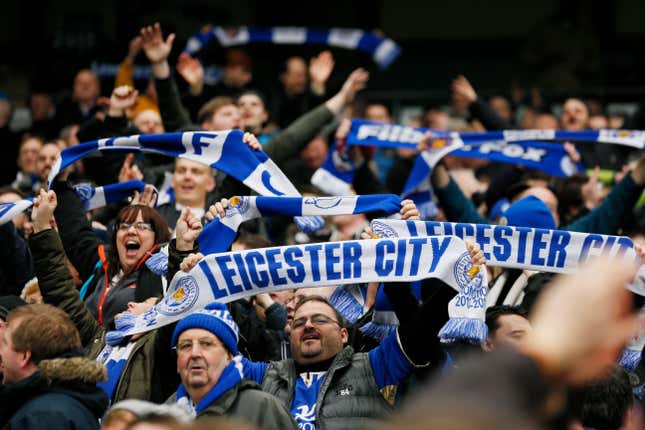 2) The power of teamwork
While Leicester has talented soccer players, none are superstars. "The guys in Leicester City, on their own, probably aren't going to achieve this kind of success individually as they would together," Hartley notes.
Leicester currently has the league's top scorer in Jamie Vardy, who has found renewed life under Ranieri, but the team he has created is not just about one player. "Everybody understands the movement before they are doing the movement," Ranieri says.
Besides the fact that Algerian midfielder Riyad Mahrez has racked up almost just as many goals as Vardy, he's also assisted in 10 goals this season, and the team has been exceedingly disciplined all season. Not a single player has been sent off, and only two players have missed games through suspension.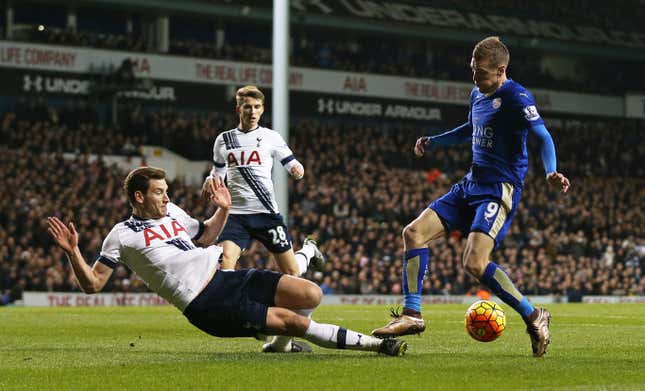 3) Analyze…
US sports have had their Moneyball movement, where teams—starting in baseball—use statistics and mathematical modeling to get better understanding of the true value of a player.
"People have tried to replicate Moneyball with varying success, but soccer is perhaps the worst of all sports to try to replicate that in," Victor Matheson, a sports economist at Holy Cross college, told Quartz. Soccer lacks the same sort of repetitive actions that create the data points for statistics that baseball has, making it more difficult to identify particular attributes of players that are undervalued.
But Leicester has tried to bring a culture of analytics to the sport, filming every training session, every match—giving updates to Ranieri in real-time—and exploring new statistics, like the repeatability of a goal scored, and the number of chances created in a match. "It's part of the culture within the club and by exposing players to data, they are becoming familiar with it and the insights it can bring," Leicester City analyst Peter Clark told the analytics firm Opta in a blog post.
4) …and find undervalued talent
What's even more remarkable about Leicester's rise to fame is the fact they did it at a fraction of the price of their competitors. Its tremendous run has shone light on an idea often overlooked in the Premier League—value for money.
Leicester City's wage bill speaks for itself—it gets the most points per pound spent of any team in the league. Back when they were in the league below the Premier League, Leicester bought Jamie Vardy for only £1 million ($1.45 million)—or 1/49th of the cost of streaky striker Raheem Sterling. Had Vardy moved in the winter transfer window, it was reported that he would cost his new club £30 million. Mahrez was bought for just £400,000; N'Golo Kanté for about £5.6 million.
Leicester brought in a host of players in the summer, but the vast majority of them were seasoned veterans, rather than rising stars. Leicester's squad happens to be the oldest of the teams currently in the top five in the Premier League, with an average age of over 26. The club paid a total of about £27 million for the players it brought in—a little bit more than Chelsea spent just on one player, Pedro, in the same transfer window.
Other teams have noticed, and they're trying to imitate Leicester's methods in the transfer market. For Arsenal, that's meant luring away Leicester scout Ben Wrigglesworth. But even this direct approach isn't an obvious path to success—some suggest the London club may have recruited the wrong man. And the very fact that the one of the world's biggest clubs is trying, awkwardly, to imitate the inner workings of a modest club like Leicester speaks volumes.