This post has been corrected. 
Just like an actual echo, Amazon's voice-enabled speaker is repeating itself, and coming back a little bit garbled. The online retailer announced two new voice-enabled speakers to complement the original Echo, first released in 2014.
Echo Dot
If you took the original Echo, lopped off the speaker and added a stereo cable, you'd basically get the new Echo Dot. Having no speaker allows the device to be cheaper than the original—$90 instead of $180—but it also means that it always has to be connected to something with speakers to work. The Echo works by voice control—you ask Amazon's built-in digital assistant Alexa (its answer to Apple's Siri) to turn on Spotify, lower your thermostat, or order you a new box of detergent.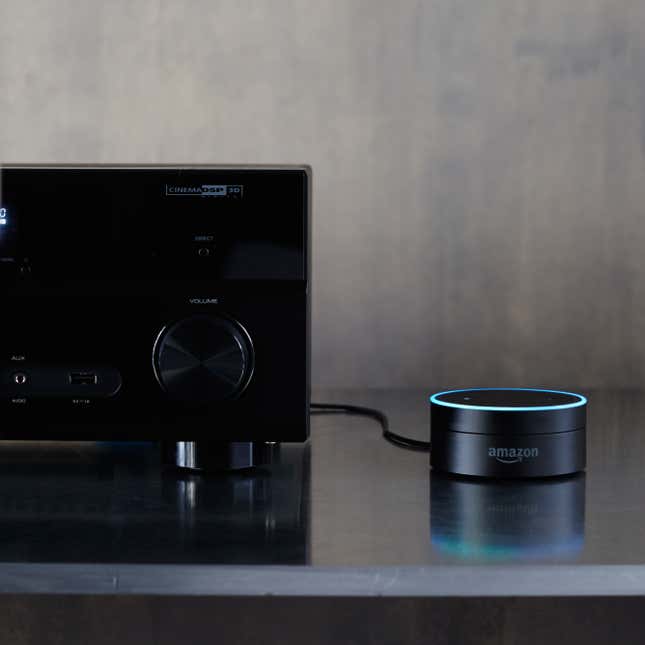 The Echo Dot seems to answer the problem that the original Echo had, that the sound quality from the little cylinder was not always that great—a bit of a problem for a device whose only means of interaction is audio. And it would seem that for $80, a device that does everything that made the Echo a sleeper hit and isn't hindered by a weak speaker would be a useful new product. But it does mean that you're going to have to leave your stereo on at all times if you're going to be able to walk into the room and talk to Alexa as you're supposed to. Otherwise, you'll have to come home and set everything back up every time you want to use it. Wouldn't it have been easier to make an Echo with a better speaker? Well…
Amazon Tap
Amazon's second new device is basically the original Echo, with a better speaker. It's unclear why the Tap doesn't have the same branding as the other Echo devices: It looks a lot like the original Echo, and has Alexa built-in. Like the original Echo, the Tap can connect to a wifi network and pulls content itself from the internet. It can also connect via Bluetooth to your phone or tablet to stream music (it just can't access Alexa that way.) So if you have a mobile hotspot and you've always wanted to take the experience of the Echo with you to a picnic, you can do that now. Perhaps you forgot to bring some napkins for the picnic—now you can just ask Tap to order you some, and you can keep listening to your Discover Weekly playlist on Spotify while you wait.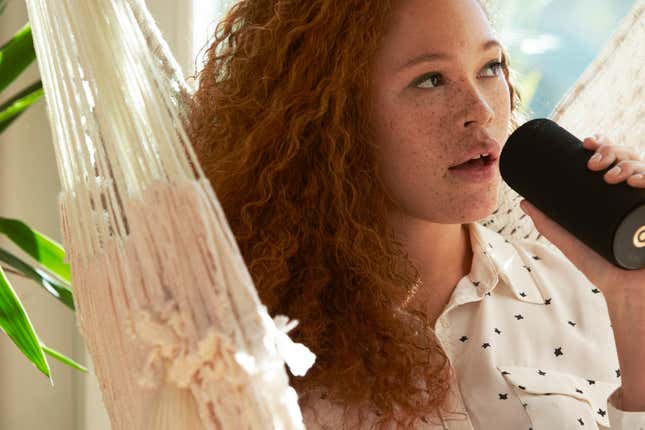 The other problem with the Tap is in its name—you have to physically touch the device to interact with it, rather like holding down the home button on an iPhone to activate Siri. This really limits the Tap to being a fancy Bluetooth speaker, rather than a hands-free assistant like the original Echo. The Tap costs $130, which is around the same price as many popular Bluetooth speakers.
Reverberating Echo
The main question here is why Amazon didn't just roll all these features into one new device. It seems difficult to imagine someone wanting to purchase all three Echo-like devices for the three use cases Amazon envisions (your kitchen table, your living room stereo, the outside world), especially when smartphone voice assistants do pretty much the same job. Both new devices have their drawbacks, but Amazon quietly announced another new feature for Echo today that might hint at the company's end goal with these devices. The Echo can now control the Nest thermostat, meaning if you're too cold, you can just ask Alexa to raise the heat a bit. It's just the latest in a long line of partnerships that Amazon has engineered for Echo. You can order an Uber, you can control smart light bulbs, order a Domino's pizza, buy tickets to a baseball game, find out how soon Donald Trump will be elected—all just by talking to Alexa.
As the Internet of Things slowly moves from vaporous hype into actual products that people actually need, we're going to need a way to interact with all those devices, and that could well be Amazon's Alexa, running on Echo devices everywhere. As Nest's founder Matt Rogers said in the company's announcement: "It really feels like you're living in the future."
Correction: An earlier version of this post stated that the Amazon Tap couldn't access the internet without pairing to another device. In fact, it can connect to wifi networks on its own.