A lack of digital prowess is hindering women in the workplace, according to a new study.
Women lag behind men in the workplace in many respects, from pay to leadership roles to opportunities in science, technology, and other fast-growing industries. They are also falling behind in the use of digital skills, the study found. It argues that helping women become more digitally savvy will help level the playing field for them in other areas in the near future.
Doubling the rate at which women use digital skills to learn, connect, and become more efficient can help close the workplace gender gap in the developed world by 2040, according to consultancy Accenture.
Accenture's report focuses on what it calls "digital fluency." It's less about doing things like learning to code, and more about using technology to become more "knowledgeable, connected and effective" via taking remote courses, teleworking, or looking for jobs online. Men around the world overwhelmingly rely on technology more than women do, Accenture found, and that's partly what's getting them ahead in terms of pay, promotions, and the like.
The study, which ranked 31 countries in terms of digital fluency and gender equality, found that nations with higher rates of digital fluency among women also performed better in terms of workplace equality. For example, women in the US, Netherlands, the UK, and the Nordic countries had the highest rates of digital fluency and ranked towards the top in terms of workplace gender equality.
To examine how digital fluency impacts equality, Accenture surveyed nearly 5,000 men and women, assigning them scores based on variables like how, and how often, they used the internet and other online collaboration tools.
Men scored better than women in three-quarters of the countries studied. Women in the US were the most digitally fluent overall, but they still scored lower than their male counterparts. And the country didn't even rank among the top 10 in terms of the smallest digital-fluency gap between the genders. Japan showed the largest digital-fluency gap between men and women: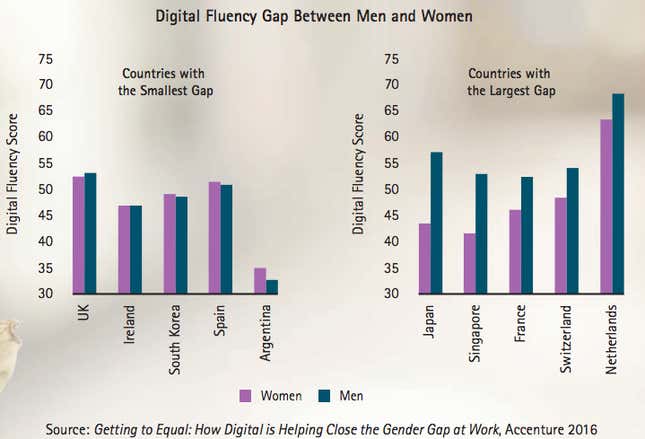 Digital fluency is essential to promoting greater equality because it's tied to things like education and employment, the report said. Technology helps workers manage their time better and improve productivity. It also makes workplaces more flexible, which is critical for many women.
However, two areas where digital fluency didn't have a notable effect on equality were on career advancement and pay. But Accenture says that this could change as more digitally-savvy millennials enter the workforce with expectations for gender-blind promotions and pay practices from day one.