I don't remember exactly when I got my first pair of Vans. I skateboarded a little, growing up in Northern New Jersey, and the sneakers seemed to have always been on my radar. Later, when I got interested in the small but healthy local punk scene, all the kids seemed to only wear two kinds of shoes: Converse and Vans. For as long as I can recall, they were the sneakers of skater kids, weirdo kids, and lots of kids who just didn't quite identify with the mainstream.
Today (Mar. 16) is 50 years to the day that Vans first opened shop in Anaheim, California, as the Van Doren Rubber Company, a small family business that made canvas shoes with vulcanized rubber soles on the premises. That first day it had 12 customers. Now the company boasts more than $2 billion in annual sales, it's routinely knocked off by brands big and small, and its sneakers are on the feet of an endless parade of celebrities. But it got there by legions of outsider kids across the US—and now across the world—picking Vans' simple waffle-soled sneakers as their preferred footwear.
"[It's] a beautifully messy time of their lives, when they're in their teens or early 20s, as they're trying to express themselves," Kevin Bailey, who has been Vans' president since 2009, tells Quartz. "Vans is a way of expressing who they are by what they choose to wear on their feet."
Vans has been an icon of that group since the mid-1970s. Some juvenile delinquents skating empty backyard pools in Southern California when they couldn't surf had taken a liking to the tough canvas and sticky soles. It just happened that these kids, who called themselves the Z-boys, would invent modern skateboarding, often wearing dark blue Vans in the process.
In 1976, Vans debuted its "Off the wall" logo, with the words filling a skateboard shape, and it has summed up the brand's ethos ever since—which is funny, given that Vans had never intended to cater to skateboarders at all.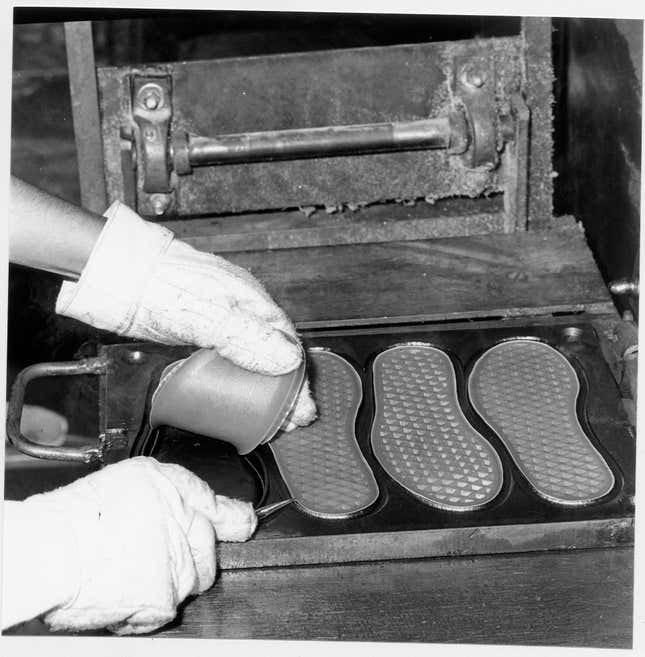 Paul Van Doren, one of the founders, had the simple goal of selling quality, affordable shoes direct to the public. Vans created its #44 shoe—now called the Authentic, and the brand's number-one shoe practically since its debut—as a deck shoe, which is something I understand is literally meant to be used on the deck of a boat.
But as Southern California skate culture took off, it brought Vans with it, and ultimately put it on the national stage with the 1982 movie Fast Times at Ridgemont High. Sean Penn played a stoner named Jeff Spicoli who wore Vans checkerboard slip-ons. (That was the first style of Vans I ever owned, if memory serves, though that's where the similarities between Spicoli and me end.)
The sneakers say a lot about how Vans thinks of its customers. "Our checkerboard shoe came from kids drawing on sidewalls of the shoe back in the day," Bailey says, and Vans just decided to go with it. "In our eyes, we're just there with them in the moment. We embrace their desire to find their individuality."
By then, the shoes had become part of the unofficial uniform of punk kids around the US. Ian MacKaye of Minor Threat wore them, and Henry Rollins was in a pair of Vans when he played his first show with Black Flag in 1981. They were like an "urban code," he recently told Footwear News.
The company's worst stumbles happened because it lost sight of those roots. After Fast Times more than doubled Vans' sales to $45 million, it got overeager and started making athletic shoes to compete with brands such as Nike. That didn't work. The core styles, such as the Old Skool and Sk8 Hi, were selling, but the company overreached with its athletic push.
In 1984, it filed for bankruptcy. And even after it emerged three years later, it continued to struggle. In the mid-'90s, the company laid off 1,000 workers from its California plant and moved manufacturing overseas, where labor was cheap and environmental regulations more lax. Unions weren't happy.
In the early 2000s, "the brand realized it had lost its way," says Bailey, who first joined Vans in 2002 as its head of retail. "It was spread far too thin. It wasn't relevant in skate shops anymore." Vans limited the shoes' distribution, focusing more on skate shops and boutiques, and launched its art, music, and fashion-inspired Vault line, which it only sells through select channels. In 2004, the clothing giant VF Corp. acquired it for $396 million—sales were about $320 million at the time—and it embarked on a phase of international expansion.
Following that strategy, Vans is now bigger than its ever been. The company says it has 710 stores around the world, and has seen consecutive, double-digit growth per quarter for the last five years. Its cultural relevance is keeping pace.
The Warped Tour, which Vans first sponsored in 1995 and took a controlling interest of in 2001, is now the longest-running music festival in the US. I sweated through a couple of those in Asbury Park, New Jersey, in the late 1990s. The guys in Public Enemy once wore Vans, and now a new generation in hip-hop is adopting them.
In the past few years, the company has collaborated with a number of major fashion labels, as well as Supreme, the hyped New York skate label that draws massive lines for its product drops and store openings. (Vans' influence on the brand is impossible to dismiss.) Cèline, one of fashion's most copied labels, has done its own copying of Vans slip-ons with its $680 "Skate" shoe, as has Tom Ford with his $690 slip-ons. They're faithful to the originals down to the padded collar, a feature Z-boys Tony Alva and Stacey Peralta introduced with their 1976 Vans sneaker, now called the Era.

Bailey says the Sk8 Hi is now starting to appear more on celebrities, and Vans were just at the center of a massive viral hit. You may have heard of it. It involved a Southern California teen named Daniel and his friend, Josh, who was really impressed by his white Vans. (Go on, watch it again.)
Vans has clearly grown far beyond that core audience that first helped it get established, even if they'll always be part of its heritage. Bailey is OK with that. He never liked the "alternative" label, or the use of marketing terms like "action sports" in association with it.
"Vans is a brand that's about inclusion," he explains. "That's why that term, 'subculture'…" He pauses, signaling his disapproval. "To me, it's just culture."