Apple's announcements at today's event were mostly incremental. There was a smaller iPhone and iPad Pro; new open-source frameworks for health data; and a bunch of nice looking new Apple Watch bands.
But the occasion—held on the eve of a critical court hearing that could alter how governments and tech giants deal with users' privacy—felt loaded with a deeper significance. Shortly after taking the stage, chief executive Tim Cook launched into a speech reiterating the company's stance on user privacy. "We need to decide as a nation how much power the government should have over our data and over our privacy," he said.
It was also memorable for more personal reasons, as Cook noted. The venue, Apple's Town Hall auditorium on its Infinite Loop campus in Cupertino, California, had been where the company's late founder Steve Jobs launched the iPod and the App Store.
But today's event—which came a few days before Apple's 40th anniversary—would probably be the last of its kind at the venue, because the firm would move to its new, spaceship-like building next year. "Normally, we don't spend a lot of time looking back," Cook said, as he opened the event after a montage flashing through major Apple products and marketing campaigns over the decades. In closing the hour-long event, he said, "We have lots of great memories here. Next year, in 2017, we're looking forward to moving. … We can't wait to see what's in store for the next 40 years."
iPhone SE
The iPhone SE has a four-inch display, comes with the same chip as the iPhone 6S, and is available in rose gold. The 16GB model costs $399. Pre-orders start on Mar. 24 and shipping begins Mar. 31 for customers in 13 territories.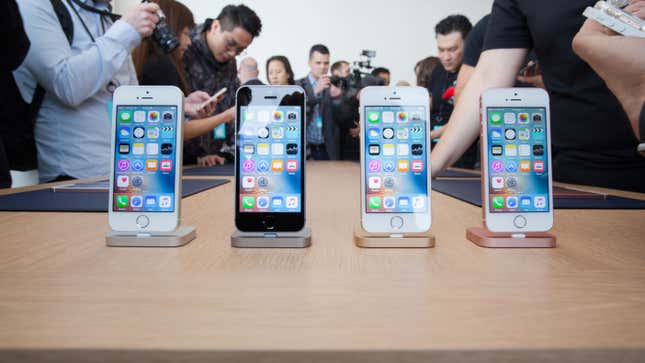 It's small. "Some people simply love smaller phones," Greg Joswiak, the Apple vice president in charge of iPhone marketing, said as he introduced the new device. The new iPhone has a four-inch display, making it the smallest in Apple's current lineup.
It looks kind of familiar. You'll be forgiven for thinking you've seen this phone before. It looks a lot like the iPhone 5S, which was launched in 2013. Like the older phone, its power button is located on top, and not on the right-hand side, and the back-facing camera doesn't bulge out.
Always on. The motion co-processor built into the phone's A9 chip means that it can run programs like Siri, Apple's voice-activated digital assistant, in the background all the time. It also automatically adjusts the screen's colors, depending on how dark the user's environment is.
Aimed at new iPhone owners. As Joswiak noted in his presentation, for many users, "the 4-inch phone is often their first iPhone." The SE appears to be tailored to buyers who might want to switch to an Apple device, but don't want to commit to one of the larger, more expensive handsets in the lineup.
Health software
The new CareKit software framework lets developers build apps meant to let users track various health metrics on their iPhones, and in some cases, send data to doctors.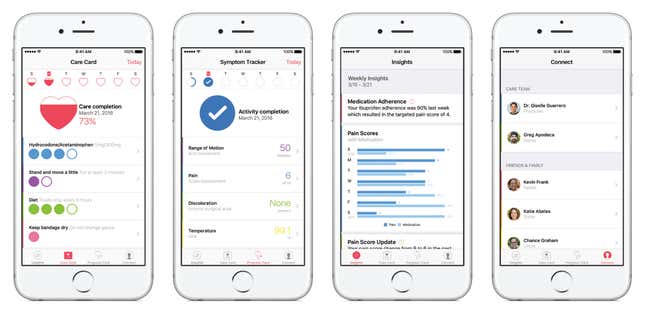 Expanding suite of health software frameworks. CareKit is aimed at creating apps for individual users, while the older ResearchKit framework (launched in 2015) is for developing apps that medical researchers could use. They're both open source. There's also HealthKit, a framework for health and fitness apps on the iPhone, which shares data with the research framework, with the user's consent.
Privacy is paramount. "You decide which apps you use, and with whom you share this information," said Jeff Williams, Apple's chief operating officer, when he announced the product. Apple's focus on health data means iPhones will store increasingly sensitive information, which makes its policy around privacy and security all the more crucial.
From Parkinson's to post-surgery apps. Apple developed four modules for the CareKit, including a way for users to share data with doctors, and a "symptom tracker" that lets users photograph, say, how a wound is progressing. These modules are being used by institutions like the University of Rochester to create apps for patients with illnesses such as Parkinson's disease. Other companies are developing apps for diabetes, depression, and pregnancy monitoring.
iPad Pro
The new tablet has the same sized display (9.7-inch) as the iPad Air 2, but the power of the gargantuan 12.9-inch iPad Pro announced in September. The latest version starts at $599 for a 32GB model with no cellular connection, and pre-orders open Mar. 24. in 13 territories, with shipping starting Mar. 31.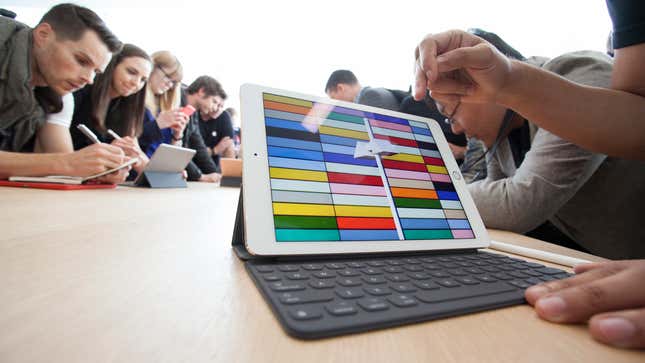 More rose gold. Yep, the reduced-size iPad Pro, like the smaller iPhone announced today, will be available in a rose gold finish. It's one of four colors that Apple makes them in.
Paper-white screen. If tablets are going to supplant paper, they better deliver on the user-experience. Apple says its new iPad Pro display simulates a "paper-white" look, thanks to new sensors that adjust the screen's white balance depending on the environment.
Taking aim at Microsoft. The new iPad Pro is designed to work with a folding keyboard that doubles as a cover, and Apple's stylus. That dual function means it's taking aim at owners of old PCs who're looking to upgrade. "There are over 600 million PCs in use today that are over five years old," Phil Schiller, Apple's marketing chief, said onstage. "That is really sad. … These people could really benefit from an iPad Pro." Schiller said most iPad Pro buyers were indeed switching from Windows PCs. The iPad Pro's main rival is Microsoft's Surface line of tablets, which also come with folding keyboards, and have been relatively successful. Apple has struggled to grow iPad revenues.
Apple Watch and Apple TV
A bunch of new watch-band styles were announced, plus upgrades to Apple TV's operating system:
The cheapest Apple Watch got a $50 price cut. The aluminum 38mm Apple Watch Sport had its price cut from $349 to $299. The 42mm sport watch also dropped its price from $399 to $349. The prices of the stainless steel Apple Watch and premium Apple Watch Edition ranges didn't change.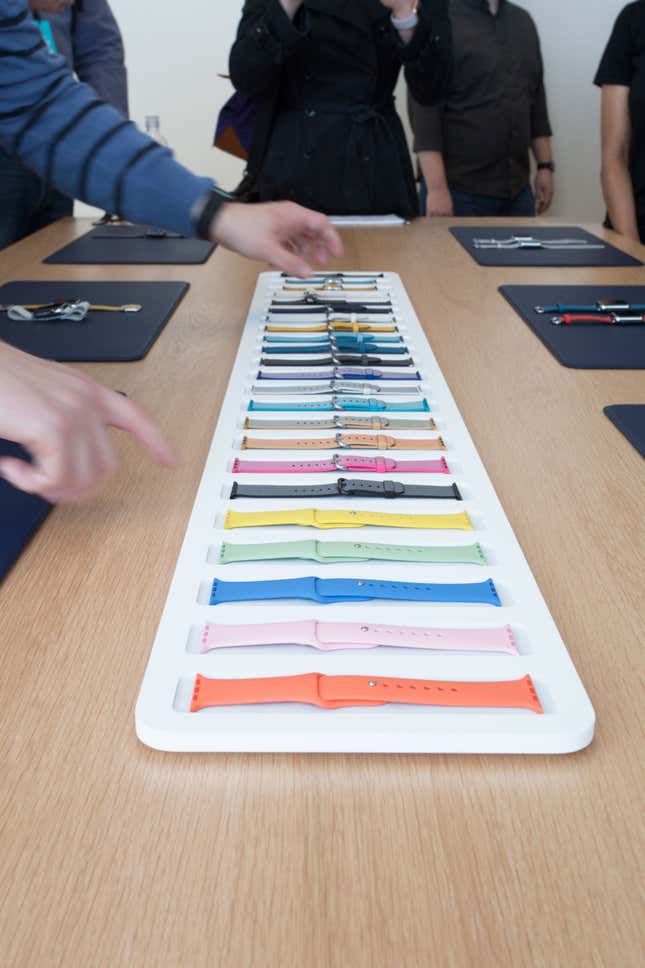 Apple now makes nylon watch straps. A slew of new bands were introduced, including a new style, called "woven nylon," which offer a "fabric-like feel." The new bands cost $49 each, and come in seven colors. The much anticipated stainless-steel Milanese Loop in black was also unveiled.
Say your passwords out loud to Apple TV. The latest version of Apple TV's operating system, tvOS 9.2, will let users use voice commands to enter their usernames and passwords. You'll also be able to search the app store by speaking out loud. Plus, tvOS now gets iPhone-like folders to keep those newly found shows organized.