In major markets around the world, you may be seeing more sights like this in a few years: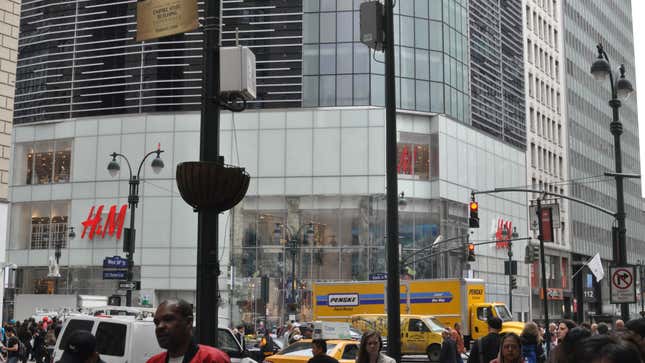 That's an H&M clothing store—photographed from another H&M just across the street.
The Swedish fast-fashion chain, which vies with Zara as the largest fashion company in the world in sales volume, is opening store number 4,000 this year in New Delhi. That's up from about 2,200 stores at the end of 2010. And the expansion is far from over.
"I think we will go to 7,000, 8,000 stores plus and beyond," CEO Karl-Johan Persson told Bloomberg yesterday (April 6). "We're not stressed to reach a certain size or to be number one but it's still expansion ahead of us."
That doubling in size will take somewhere from four to eight years. It also will take H&M's already massive environmental impact to new levels, at a time when the company is trying hard to reduce its footprint and control the waste that fast-fashion generates.
"In the long run, the negative impact is really linked to resource use," said Henrik Lampa, H&M's environmental sustainability manager, in an interview last year. The company is turning more to organic fibers, working to clean up heavily polluting textile factories in China, and, in a couple weeks, kicking off a campaign to collect 1,000 tons of used or otherwise unwanted garments in order to recycle them, instead of seeing them wind up in landfills.
But it's also a business based on growth, which naturally means more resource use. A Morgan Stanley research note from March even suggests that new store openings are what's propping up the company's profit growth, now that sales at H&M's brick-and-mortar locations are declining on a per-square-meter basis.
If that is the case, Persson isn't fazed. "Our strong expansion continues, we are gaining market share and we are confident that we can grow at a fast pace both through stores and online, in existing as well as in new markets, for many years to come," he said today in a press release announcing H&M's quarterly earnings.
The company says it will add 425 stores this fiscal year, mostly in existing markets, but also expanding into new territory, such as New Zealand, Cyprus, and Puerto Rico.