This story has been corrected.
Twitter's deeper foray into China is upsetting the social network's small but dedicated group of Chinese users—who say the company's newest hire is a troubling sign that Twitter could be introducing Beijing-style censorship to the world, not free speech to China.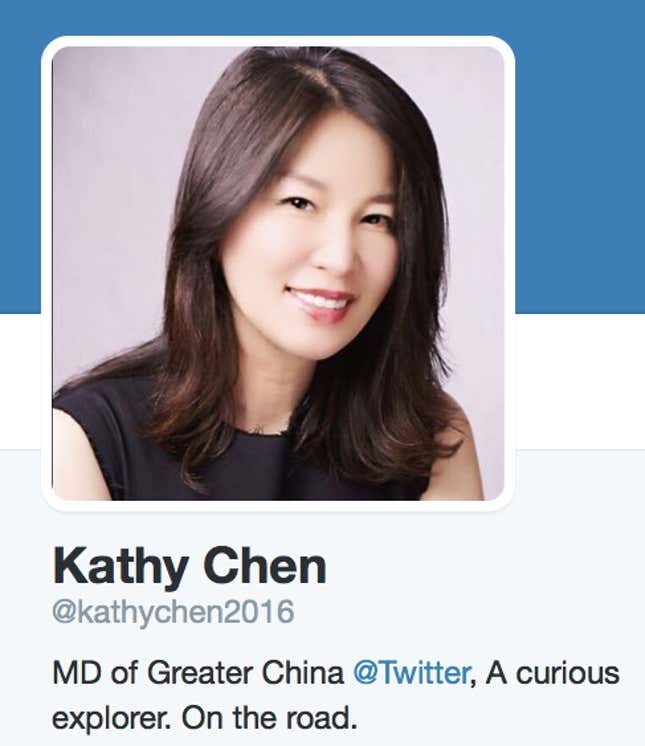 Kathy Chen, Twitter's first-ever China managing director, is a former employee of the People's Liberation Army who worked for a joint venture partly owned by China's Ministry of Public Security, according to her public online profile in China and various news reports.
Yaxue Cao, a Chinese activist who lives in Washington DC, outlines Chen's professional association with Chinese state-affiliated enterprises, drawing from Baidu's Wkipedia-esque Baike entry and other media on ChinaChange.org. BBC China and scholar He Qinglian have also traced her employment history.
Before working at Microsoft and Cisco, Chen once held a seven-year stint researching missile defense at the People's Liberation Army, they say. After working in sales at PC vendor Compaq and network equipment provider 3COM, Chen became CEO of CA-Jinchen, a software joint venture between California-based CA Technologies and China's Ministry of Public Security.
The company ostensibly made network security and anti-virus software for Chinese government agencies. But as He Qinglian points out, the word "security" is often a euphemism for "surveillance" (link in Chinese) in China—where the internet is closely monitored for messages that criticize the Communist Party government, and users can be severely punished for what they write with long jail sentences.
Given Chen's pedigree at state-owned enterprises as well as international firms, she is a likely to be a well-connected member of China's ruling Communist Party, Cao writes:
Chen is without a doubt a Chinese Communist Party member, based on a common sense understanding of China. She has been through the most strict and exacting process of political examination, and has been found by the Party to be reliable.
A Twitter spokesman told Quartz Chen had never been a member of the Communist Party, and stressed her focus would be on sales. "Under Kathy Chen's leadership, we will provide more of Twitter Inc.'s enterprise offerings—such as advertising, customer service, data analytics and developer platforms—to Chinese businesses and startups to help them reach a global audience," he said.
Still, the appointment did not sit well with China Twitter users, a small but thriving community of about 18,000 who head to the social network to discuss issues that would otherwise get censored, or them in trouble. (The Chinese government rendered Twitter inaccessible from within its borders in June 2009. Since then, users inside mainland China can only use the social network after activating a virtual private network.)
"Netizens from China and Hong Kong may start to exercise self-censorship while they're posting tweets," Dr. Wai Ling Yeung, the former head of Chinese Studies at Curtin University in Perth, Australia and an avid Twitter user, said in an interview with Quartz. "Even more of them will probably choose to abandon this platform altogether in order to avoid surveillance."
Chen's background certainly indicates Twitter is looking to form closer relationships with the China's biggest companies, including state-run ones—much like many other US tech companies.
Chen's early remarks support this theory. She plans to reach out to "Chinese businesses and state-owned enterprises," she said in an interview with the South China Morning Post. She had never used Twitter before joining the company, but some of her first replies were to Xinhua and CCTV, state media outlets who Beijing asked recently to pledge their "absolute loyalty" to the party.
An earlier headline on this story mistakenly identified Chen as a member of China's Communist Party.