A fast-rising Chinese internet celebrity sold the very first advertisement that will appear in her videos for an astonishing 22 million yuan ($3.4 million) today (April 21), even though she was recently targeted by government censors for her frequent, enthusiastic swearing.
A 30-second spot in the US's last Super Bowl went for $5 million, in comparison.
"Papi Jiang," a 29-year-old graduate student, is one of China's most popular internet celebrities. Unlike many of China's look-alike "sexy" female online stars, she is best known for her humorous videos mocking everyday life, relationships, and social issues.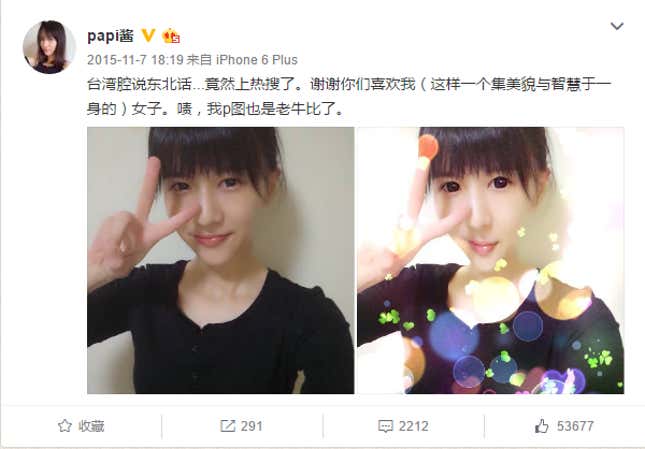 Last month, she got $2 million in funding from a group of domestic venture capital investors, in exchange for a stake in her future earnings. But just before today's auction, the first-ever ad auction on Chinese social media, she was targeted by  Chinese censors, as president Xi Jinping calls for a "clean and healthy cyberspace."
China's top media watchdog ordered to take her videos offline until she corrects her foul language, state newspaper People's Daily reported (link in Chinese) on Monday (April 18). Her videos have disappeared from popular video portals, including Youku and IQiyi.
Papi Jiang's swearing has been an integral part of her act.
"Sophie, listen to me, that son of b*tch is playing with you!" she says in one of her most popular videos, where she plays a gossipy woman trying to persuade her friend to give up on her unfaithful boyfriend. "You know who his ex-girlfriend is? It's Debbie… Debbie is a b*tch," she says in a mixture of Shanghai dialect and English. "Is your brain full of sh*t?" She hangs up the phone in angrily and says "F*ck!" in both languages.
On Monday evening, Papi Jiang published her latest rant (video in Chinese) in which she mocks women's struggle to lose weight, this time without any swearing. It is, arguably, less funny than her previous work. "I will watch my words and image more carefully, resolutely responding to requests for corrections in online videos, and broadcast positive energy for everyone," she wrote on social media.
This didn't hamper advertisers' appetite at all. The first ad that will be placed in Papi Jiang's videos sold for 22 million yuan—more than 100 times the starting price. Shanghai-based makeup online retailer Lily&Beauty won the bid (link in Chinese) from 30 mostly small and medium-sized online business bidders, according to Alibaba's auction site which co-hosted the event.
Lily&Beauty will run an ad at the end of a Papi Jiang video published after May 21 of a to-be-determined length. Papi Jiang has a combined 11 million fans on China's social media platforms, and on average her videos are viewed 7.5 million times, according to the auction page.
She is not an active commentator on politics or other sensitive topics, which typically invite government censors—the only political reference she made was mimicking former China leader Jiang Zemin, for only a few seconds in one episode. Despite the government ban on swearing, all of her videos can still be viewed on social media platforms, including Weibo and Wechat. But her fans are apparently pissed off.
"There's a tomb in my mind, which buries all the SARFT staffers," one blogger commented under Papi Jiang's last Weibo post, referring to China's top media watchdog. The comment got nearly 50,000 likes.