Gucci's battle against Chinese knockoffs has reached a new plane of existence. The Italian luxury label is warning Hong Kong shopkeepers to stop selling paper lookalikes of its bags, which people burn at funerals and include in the annual celebration of Qingming Jie to accompany their loved ones in the afterlife.
The practice of burning joss paper money, called "ghost money," and papier-mâché replicas of popular goods is common in China. In Chinese tradition, the afterlife mirrors the world of the living, and burning paper items ensures deceased relatives are provided for in death. What people burn has come to reflect which products are popular in China, so more paper replicas of items such as iPhones, internet routers, cigarettes, liquor, and high-end handbags, including Gucci, are going up in flames.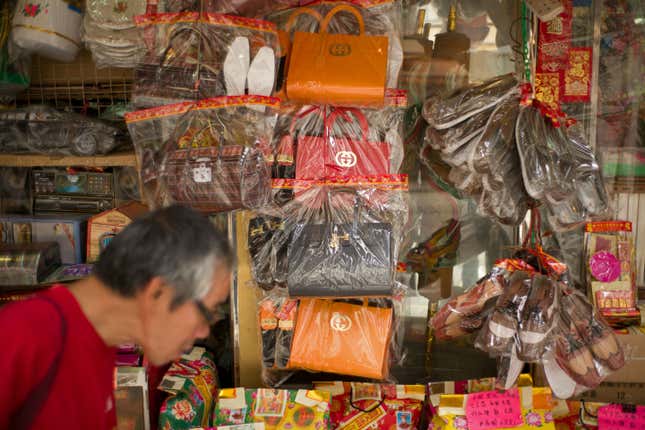 The practice is especially popular in early April around the celebration of Qingming Jie, known as Tomb Sweeping Day in English, which honors departed ancestors.
Some shop owners have taken the warning seriously, but Gucci's actions have also been met with mockery in China. "If they do send us a letter, we'll respond jokingly by saying perhaps we can help send the letter to the nether world, and see how it's received there," one shop manager told AFP. A Hong Kong resident quoted by the BBC wondered if Gucci wanted to open stores in the underworld.
Gucci says it's sensitive to Chinese tradition but needs to protect its trademark. Gucci Hong Kong told the BBC it hasn't taken legal action. So far it has just sent letters to shop owners. Gucci's parent company, Kering, also doesn't want people believing these are licensed items. "We want to prevent the public thinking mistakenly that Gucci is selling funeral products," it said in a statement to the Financial Times (paywall). "As a brand we have to defend our intellectual property."
The company hasn't said how many shops it has contacted. Quartz has asked Kering for comment and will update this post with any new information.
Gucci has its hands full fighting fakes among the living. Like other luxury brands, it relies on exclusivity to create desire for its products. If the logo is everywhere, including on cheap imitations of Gucci bags, it could arguably diminish Gucci's image in one of its most important markets. Gucci leather handbags easily cost upwards of $2,000.
In China, which produces most of the world's knockoffs, Gucci parent Kering has sued Alibaba, the country's largest e-commerce player, claiming it facilitates and encourages sales of counterfeits. The message: If you want a Gucci bag you're going to have to buy a real one, whether you're living or dead.