A Chinese college student recently died of cancer after receiving questionable treatment from a hospital that advertised on search engine Baidu, sparking a huge outcry online in China.
Wei Zexi, 21, a college student from Xidian University in northwestern Shaanxi province, died of synovial sarcoma, a rare form of cancer, earlier last month. During the latter period of his life, he received a treatment found in Baidu's search results at a Beijing hospital. Later he realized the hospital's claims to cure cancer were dishonest.
Wei vented his anger at Baidu online before his death, in a post that was widely circulated among China's 700 million internet users in recent days. To the question "What do you think is the greatest evil of human nature?" on Chinese Q&A site Zhihu (link in Chinese), Wei answered Baidu, saying he never should have trusted medical ads on the search engine. "I had no idea Baidu was so evil at the time," he wrote.
Wei said he learned of immune therapy from the Second Hospital of Beijing Armed Police, because it was the first paid advertising result on a Baidu search for treatments. The therapy aims to use cells generated by patients' own immune system to fight cancer.
A doctor with the hospital told Wei the treatment was developed by the US's Stanford University, he wrote, and was 80 to 90% effective. After treatment, his health only deteriorated. He spent more than 200,000 yuan ($30,810) for the therapy over several months.
Later he learned the CIK cell therapy he received is only in clinical trials in the US and has a low record of effectiveness—information that didn't turn up high on Baidu's search results.
On Apr. 12, Wei's father wrote on Zhuhu that Wei died that morning.
The tragedy suddenly took over China's internet this past weekend. So far Wei's Zhihu post has attracted more than 20,000 "agrees" and thousands of comments. "Doctors without conscience should die, Baidu without conscience should die, only you shouldn't have died," one internet user wrote. Another wrote "I only wish heaven doesn't have Baidu."
Search engines including Google, Microsoft's Bing, and Baidu sell ads that come up in search results for different topics. Those ads, or "Paid Search," as Baidu calls them, are typically put above organic search results but are clearly delineated. Baidu's critics say the search engine is accepting ads from unscrupulous companies without vetting their claims.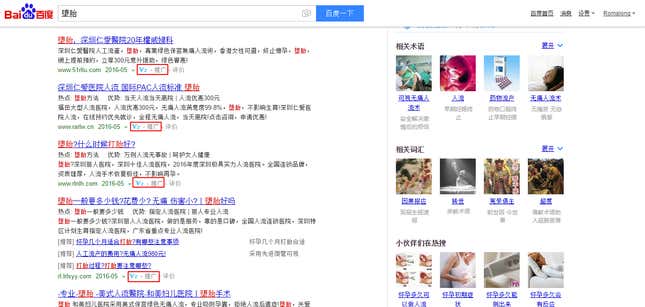 Baidu said the hospital in question is a licensed first-tier public hospital, but later the company said (link in Chinese) it has asked "related departments" to look into its credentials. The division responsible for Wei's treatment stopped operating today (May 2,) local media reported (link in Chinese). Calls made by Quartz to the hospital went unanswered.
It's not the first time the Chinese search giant, which trades on the Nasdaq and has a market cap of more than $67 billion, has been accused of putting money ahead of Chinese citizens' health.
Medical advertising makes up for 30% of Baidu's ad revenue, and a big part of that comes from Putian hospitals, owned by businessmen from the southeastern Fujian province, which are notorious for selling dodgy medical treatments of venereal diseases and reproductive problems.
In January, Baidu was found to be profiting by giving ill users biased information through its health chat rooms, known as "post bar." As in that case, Wei's death has sparked calls to boycott all Baidu-owned products from search engines to music streaming.