Emerging market debt is becoming relatively safer, a trend that ratings agency Fitch reinforced today when it bumped up the Philippines's sovereign debt rating to investment grade, from BBB- from BB+. Fitch's upgrade not only rewards the Philippines for its perky 6.6% growth last year. It also signals that the archipelago nation in Southeast Asia is successfully shedding its historical reputation for corruption and mismanagement.
But while Fitch cited things like strong domestic demand and president Benigno Aquino's reform agenda, it also called out an economic strength that is helping the Philippines move up the credit rating ladder: its outbound migrant workers.
Money sent back to the country from Filipino migrants—most of whom are domestic or service workers, or laborers—made up 8% of the country's GDP in 2012 and is underpinning the country's strong balance sheet. In 2012, the country tied for the third-highest recipient of migrant remittances (after China and India, which each have more than 10 times its population), according to World Bank estimates (pdf):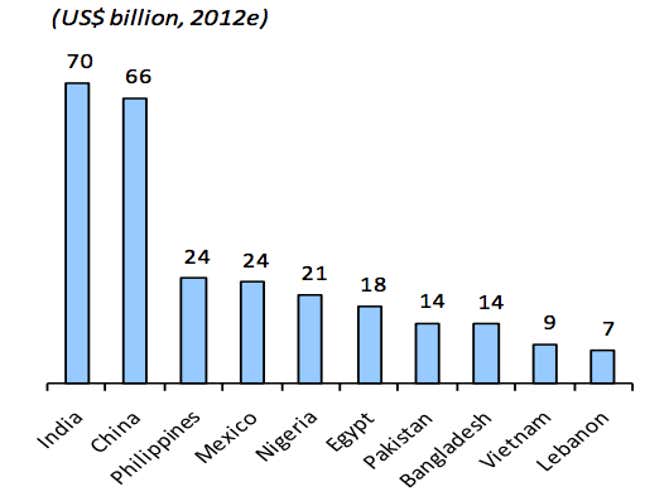 But more than simply strengthening the country's balance sheet, overseas Filipino workers have helped make domestic demand an engine of growth, says Christian Lewis, a researcher with Eurasia Group, a political risk consulting firm. "Remittances from workers overseas have thus far continued to support domestic consumption," Lewis tells Quartz.
However, as growth creates new opportunities at home, outward migration is now falling, as finance minister Cesar Purisima recently told the Financial Times (paywall). This, says Eurasia's Lewis, is making the Philippines' long-term outlook all the rosier.
"A strong service sector driven by a well-educated, English-speaking workforce is providing an important bedrock for growth," he says.
We've argued in the past that the relevance of credit ratings is questionable. After all, the FT reports that Philippines debt has already been trading at prices typical of investment-grade bonds.
Even so, today's upgrade is at least an confirmation of the growth investors have already been noticing in the Philippines and Asia overall. Now all but three of the 16 major Asian economies evaluated by Fitch can boast investment-grade government debt, according to the firm's data. So while today's news isn't groundbreaking, it is certainly good.