Fifty years after he first appeared in a Marvel comic book, the Black Panther—the world's first mainstream black superhero—is making his film debut in Captain America: Civil War. The film has already been released in several countries, and will hit theaters in the US this Friday (May 6).
Created by Marvel writers Stan Lee and Jack Kirby, the Black Panther, also known as T'Challa, was introduced in 1966 in an issue of the Fantastic Four before getting his own major comic in 1973. Despite popular belief, Lee and Kirby did not intentionally name the character after the Black Panther Party. The revolutionary black nationalist political group was established a few months after the character was created.
Black Panther is the king of Wakanda, a technologically advanced fictional nation in Africa. Long before he was born, a meteorite made of vibranium (the same mineral that Captain America's shield is made from) crashed in Wakanda. The country then isolated itself from the world, fearing that others would try to exploit it for the rare resource. Its technology developed separately from the rest of the world, far surpassing the capabilities of even the US.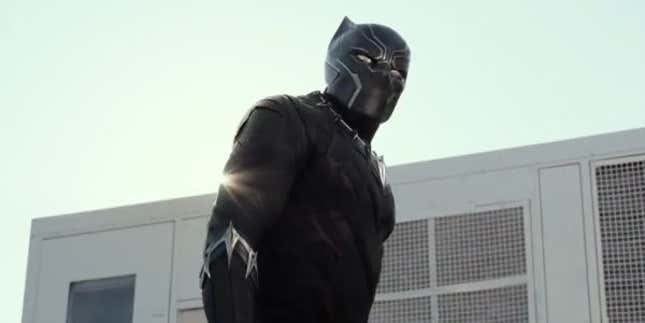 It's a fascinating mythology, and one that should be exciting to see on film for the first time. Black Panther is portrayed by Chadwick Boseman, who played baseball legend Jackie Robinson in 42 and funk icon James Brown in Get on Up. Boseman will get his own standalone Black Panther film in 2018; the character's history will then be explored in greater detail.
The character is unlike any other Marvel hero—he's equal parts scientist, warrior, and politician, and has a PhD in physics from Oxford.
Some call him Marvel's answer to Batman. He's just as cool as the Caped Crusader, but while the Caped Crusader has had dozens of his movies and TV shows to his name, Black Panther hasn't had nearly the same opportunities to shine—but not for lack of trying. Various film adaptations of the character have been on the table since the early 1990s, but none have ever been fulfilled, until now.
In September, Marvel hired The Atlantic national correspondent Ta-Nehisi Coates to write a new series of Black Panther comics—the first of which came out to rave reviews last month. Though Coates isn't directly involved with the Marvel movies, it was a fairly brilliant decision by Marvel to bring in one of America's best writers to raise the character's profile just as he debuts in the Hollywood blockbuster.
Hollywood is slowly figuring out that it needs more diverse films, not only for better storytelling, but also to more accurately represent the people seeing its films. More than 50% of frequent moviegoers in the US are non-white.
Black Panther isn't the first black Marvel character to be put on film. Blade, starring Wesley Snipes, hit theaters almost 20 years ago. And other characters who were depicted as white in most comics have been portrayed by black actors in movies, like the Norse God Heimdall, who's played by Idris Elba in Marvel's Thor films. Black Panther isn't even the only black superhero in Captain America: Civil War—Falcon, portrayed by Anthony Mackie, also has a significant role.
But Black Panther's arrival on film is a long time coming. Many Marvel characters created long after him have already had their own feature films—think of Ant-Man, Wolverine, Punisher, Ghost Rider, and the Guardians of the Galaxy. The king of Wakanda has been neglected by Hollywood for far too long.
Don't be surprised if he quickly becomes your new favorite hero.