The stakes are high for today's special election in Austin, Texas. The outcome—which Uber and Lyft have tried to influence with more than $8 million in political contributions, an unprecedented sum in local Austin politics—will determine the future of ride-hailing in the Texas capital and potentially preserve a regulatory precedent that could threaten Uber and Lyft across America.
Polls opened in Austin early Saturday (May 7) for voting on Proposition 1, which asks whether Austin should repeal ride-hailing regulations that the city council approved in December over Uber's and Lyft's vocal objections. Those rules would require Uber and Lyft drivers to undergo fingerprint-based background checks and to identify their vehicles with a "distinctive emblem," as well as restrict where they could drop off and pick up passengers.
Uber and Lyft say these regulations would make their services inoperable. Together, the companies have spent more than $8.7 million to support the proposition to repeal, through political contributions to their lobbying committee, Ridesharing Works for Austin. That far exceeds the previous contributions record of $1.2 million, which was set by Austin mayor Steve Adler in his 2014 election.
Uber and Lyft have never shied from political hardball when it comes to getting their preferred rules on the books, and over the course of 2015, nearly two dozen states passed ride-hailing laws that Uber supported. But in Texas, the roadblocks have been numerous, and uncommonly strong. Getting San Antonio to drop fingerprinting requirements was a fraught, months-long process. In Houston, where fingerprinting has remained mandatory, Lyft left in protest in late 2014, while Uber has continued to provide rides there—a singular exception to its normal position that fingerprinting makes the service unviable.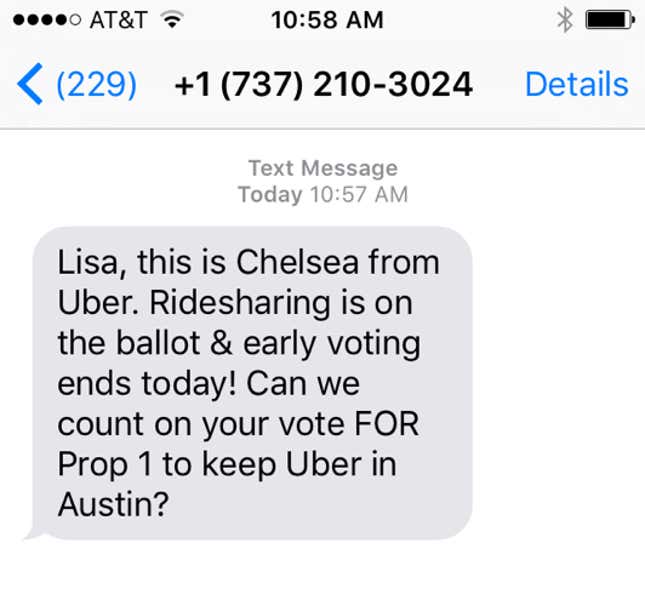 Now, with Saturday's special election, all of this is coming to a head. Both Uber and Lyft have pledged to leave Austin should the vote fail. Several days earlier, Uber issued a similar ultimatum in Houston, declaring the city's current regulations "unsustainable" and threatening to depart if they aren't changed.
Uber has spent this past week texting its riders in Austin to solicit their support in the election, and on Wednesday (May 4) was sued over the tactic. Lyft was scrutinized in April when it offered free rides to the polls (up to $10) during early voting.
Most telling of all, though, is the money trail. Campaign finance filings provide a detailed look at the millions of dollars that Uber and Lyft, through Ridesharing Works for Austin, have invested in winning this one political battle, in one city in the US. Their $8.7 million sum is more than 60 times what those against the proposition (and in favor of stricter ride-hailing regulations) have cobbled together from nearly 500 individual contributions.
The financial asymmetry is reminiscent of another local sharing economy showdown that took place in San Francisco last year, in which Airbnb spent around $9 million to defeat a ballot measure that would have restricted short-term rentals; the other side in the fight took in contributions of just over $450,000.
Uber's and Lyft's money has gone toward direct mail, election signs, and slick television ads. The companies pitched in $1.6 million just in the eight days leading up to the vote, mainly for "media buys," according to campaign finance documents.
Uber's supporters include former Austin mayor Lee Leffingwell, who appears in TV spots backing the ride-hailing companies and was paid a $25,000 consulting fee by Ridesharing Works for Austin. Adler, Austin's current mayor, supports the city's position.
It might seem difficult to believe that two companies, both valued at well over $1 billion, could be so caught up in one local political encounter. But the money at stake in Austin is real, as are Uber's and Lyft's concerns. So far, the companies have made progress with local legislatures by pointing to the ride-hailing friendly regulations passed in other cities around the country. Uber says it has recruited "thousands of riders and drivers" to make "their voices heard" and work "to preserve ridesharing in Austin." There, and elsewhere in the US, the companies have written off politicians and regulators who disagree as ornery and out-of-touch. They say that Austin needs the kinds of services Uber provides.
If Uber and Lyft lose at the polls, that story will suddenly be a lot tougher to sell—in Austin, and in the rest of the US.