Hong Kong
Hong Kong's "Basic Law," hammered out ahead of the city's handover from the British to China nearly 30 years ago, guarantees residents freedom of speech, assembly, procession, and demonstration, among other things.
But the way that the Hong Kong government handled this week's visit of Zhang Dejiang, a top-ranked Communist Party official who was behind the unpopular decision to deny the city the right to choose its own top leader, illustrates how quickly those freedoms are suspended when Beijing is involved.
The government took elaborate, intrusive, and expensive measures to insure that Zhang never came into contact with most of Hong Kong's 7 million residents, and certainly never saw or heard any voices that disagree with China's ruling Communist Party. Small protests were shouted down by pro-Beijing demonstrators, and activists arrested for placing banners on hillsides miles from Zhang.
Hong Kong police went so far as to dub the security measures during Zhang's visit "counter terrorism," despite the fact that the city has never been hit by a major terrorism incident, and that Hong Kong's demonstrations in recent history have been polite and peaceful.
"This is definitely not a practice against terrorism; it's a practice against freedom of speech," Suzanne Wu, chairperson of the Labour Party, told Quartz. The overwhelming police force, which has outnumbered demonstrators all week, is "unreasonable," and "ridiculous," she said.  The Hong Kong government "just want to make sure that [Zhang] didn't see the unrest in our society," Wu said.
Hong Kong's growing unrest is exactly what Beijing needs to see, many believe. Hong Kong's aging population will become increasingly reliant on its youth to keep the economy going in the years to come, but their anger at the local government and Beijing is growing, as shown by this year's "fishball revolution" and the rise of localist and pro-independence political parties.
If top officials from the mainland and Hong Kong fail to gain the trust of Hong Kong citizens, the "situation will deteriorate faster," Helena Wong Pik-wan, a legislator from Kowloon. Already, "the young generation wants autonomy or even independence," she said, which could be a "disaster" for Hong Kong.
Security and loudspeakers
Zhang was kept well insulated from Hong Kong's unrest, and its youth. The entire neighborhood where Zhang stayed was a wall of six foot barricades and metal fences, despite the fact that it is home to some of Hong Kong's biggest, busiest office towers: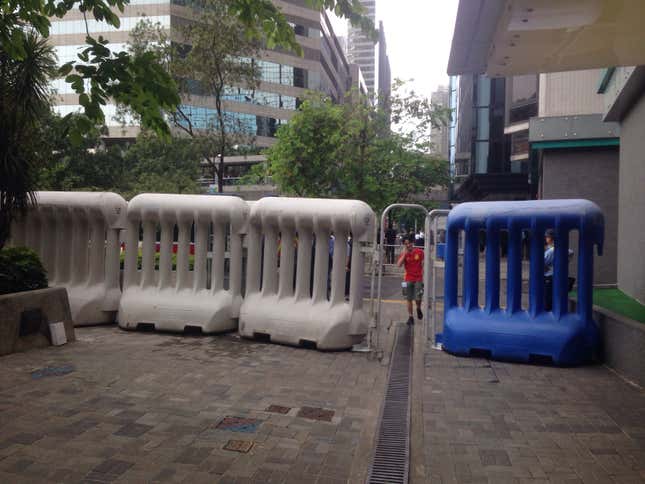 Designated "protest areas," were well away from where Zhang's limited travels through the city may take him. They were heavily colonized by pro-Beijing "demonstrators," well-organized groups in matching shirts that are believed by many Hong Kongers to be paid by the local or mainland China government, and bused into the city.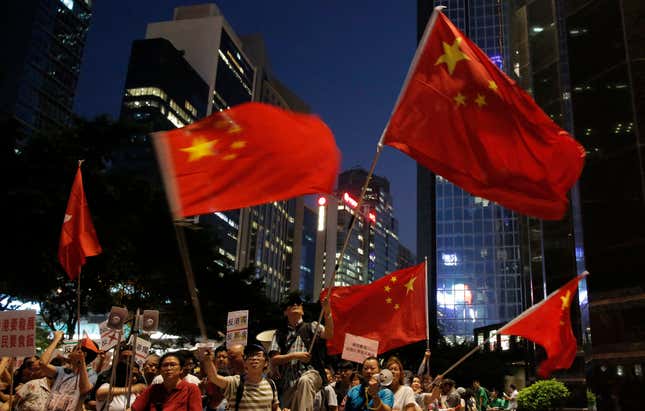 On Wednesday night, as elected city legislators from the pro-democracy party spoke to a small group carrying yellow umbrellas and small signs demanding fair voting rights, the pro-Beijing crowd cranked up their loudspeakers so high that feedback screeched through the air, amid "March of the Volunteers," China's national anthem.
A handful of pro-Beijing supporters screamed into microphones while Hong Kong's elected officials tried to make themselves heard over the din. "Their intention is just to disturb us, so that no one can hear what we say," said one backpacked young woman watching a Hong Kong legislator speak. "They're paid by the government, or the establishment," she added.
One elected legislator demanded Hong Kong chief executive Leung Chung-ying step down, while the song "Without the Communist Party, there would be no new China," blared at a ridiculous volume from the pro-Beijing side.
"They've been asked to come here," Wong from Kowloon said of the pro-Beijing protesters, "to overtake the demonstration."
"How do you consider us terrorists?" Wong added. "It's ridiculous. They're infringing on our rights to demonstrate."
Getting to the protest area in Wan Chai required passing though hordes of police officers, though a dank pedestrian overpass, and then asking an officer to open a metal barricade. The area stank of urine, as if someone had relieved themselves on the stairs—not unusual in other cities, perhaps, but nearly unthinkable in most parts of well-maintained, well-behaved Hong Kong.
Sidelining protesters
The well-publicized heavy police presence, and distance of the "protest pens" from Zhang meant few showed up, a sharp contrast to the hundreds of thousands who demonstrated the last time a top Chinese official was in town. Those that did turn up found themselves in constant run-ins with police, including this woman who spent hours carrying a Tibetan flag.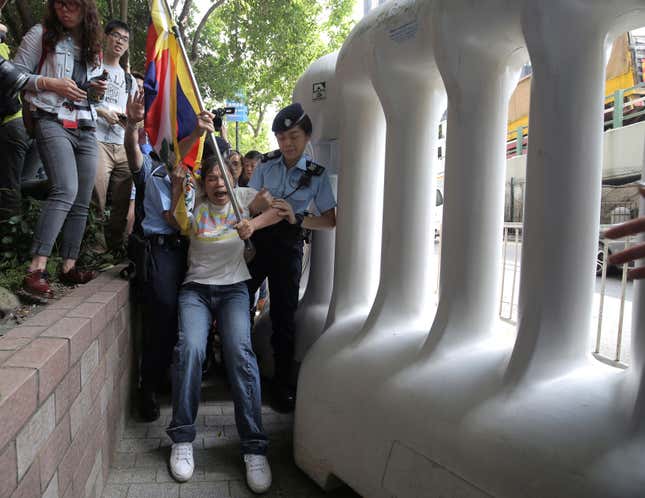 On Tuesday (May 18), Nathan Law and other members of the Demosisto political group were pushed to the ground by police when protesting outside the hotel where Zhang stayed.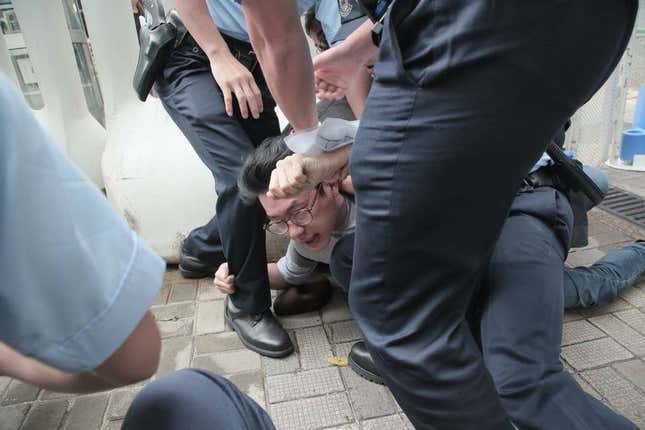 Hong Kong pro-democracy student leader Joshua Wong, along with four other members of Demosisto, were arrested after they ran along a highway where Zhang's motorcade was soon to appear on May 19. They were carrying a small sheet of paper printed with a sign for "self-determination."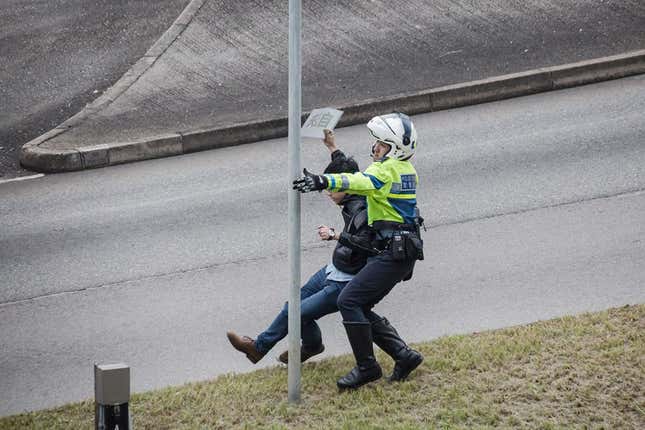 Activists from another political group were arrested on "suspicion of violating traffic laws" for hanging up banners—including one reading "End the Communist Party's dictatorship"—alongside the roads where Zhang's motorcade was supposed to pass.
A brief audience with Zhang
Upon his arrival in Hong Kong, Zhang delivered a speech at the airport saying he is in town to "see, listen, and speak." But rather than spending time on the ground interacting with Hong Kong citizens, Zhang's tightly controlled schedule mostly put him in contact with pro-Beijing politicians.
There were two major exceptions: Four of Hong Kong's elected pro-democracy legislators were invited to a reception with Zhang before a formal banquet on Wednesday, the first time a high-ranking Chinese government official has met with the city's pro-democracy lawmakers.
During the 30-minute interaction, however, Zhang never addressed their demands for universal suffrage or that chief executive Leung Chun-ying to step down. Instead, he spent 20 minutes delivering a monologue in which he "seemed to brush aside" their demands by saying "there is a world trend for referendums," according to Civic Party's Alan Leong, one of the four legislators who attended the meeting.
He did meet with 200 hand-selected Hong Kong citizens, but who they are, exactly, remains a mystery. A photo of the meeting, provided by the Hong Kong government, shows that they were mostly men in suits—hardly representative of Hong Kong's population, which is 54% female and about 50% non-professional, by occupation.
Zhang "is just like an alien king who locks himself in an old castle to avoid any dialogue or criticism," legislator Leung Kwok-hung of the League of Social Democrats said.
While Zhang didn't actually interact with any of Hong Kong's youth, he had some criticism for them nonetheless. "If [we] forego 'one country, two systems,' or forego the Basic Law, Hong Kong will definitely rot," Zhang stressed during the meeting (link in Chinese) with the 200 citizens. "Self-determination and independence won't succeed."