Hong Kong
Activists in Hong Kong took to the streets today (May 18) to protest the arrival of Zhang Dejiang, a powerful Beijing official. Already, counter-protest groups have emerged to drown out voices from pro-democracy supporters, and as usual, their specific origins are a bit murky.
In advance of the demonstration's start at 8am, police set aside two designated protest zones in the Wan Chai neighborhood, near the convention center where Zhang was slated to give a speech.
The area was divided into two sections, one where anti-Beijing protestors gathered, and another where pro-China demonstrators congregated.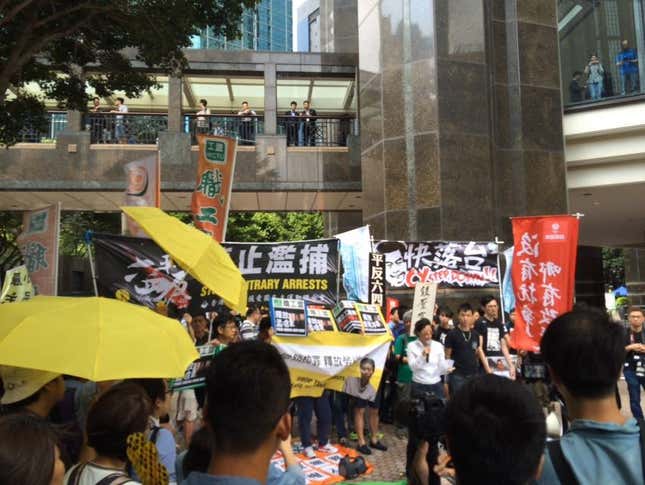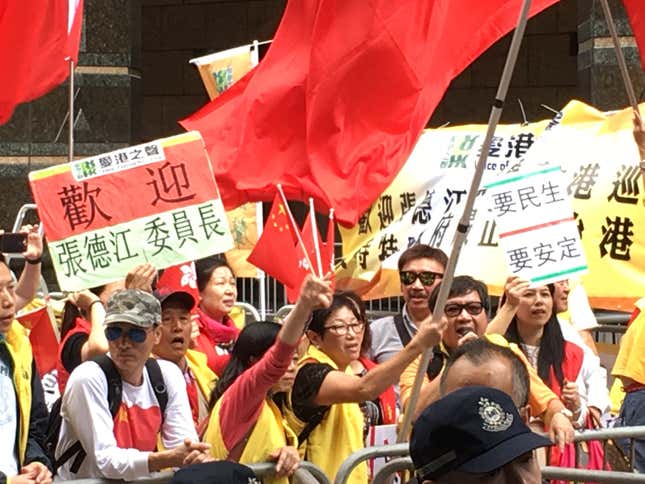 Moving from one area to another required walking past dozens of police officers, who at one point formed a human barricade between the two sides when a shouting match erupted.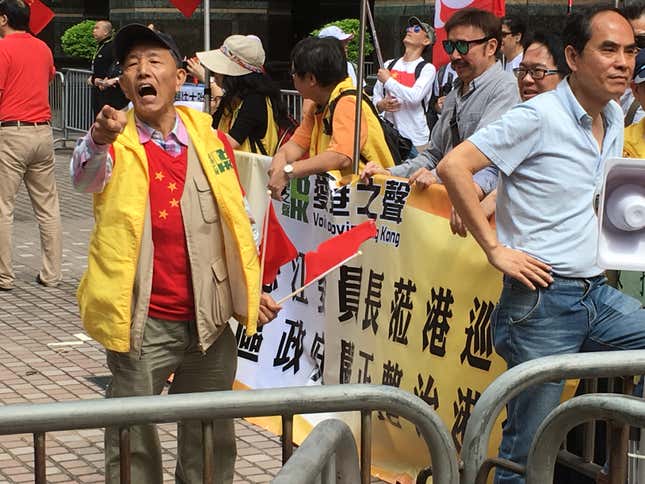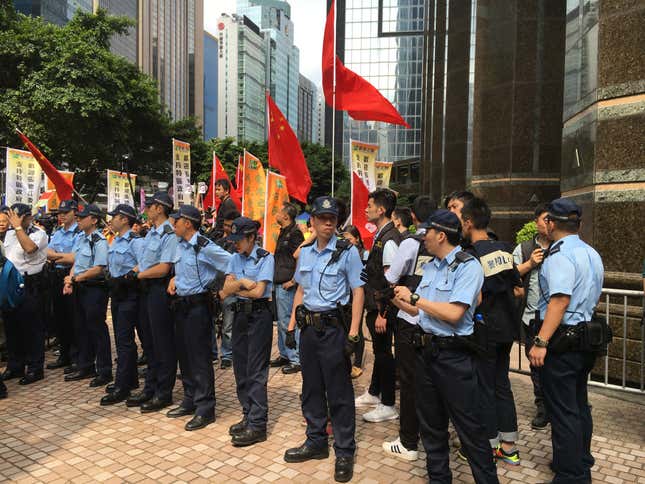 Physical altercations between pro- and anti-Beijing camps were common at the height of the Umbrella Movement in 2014. Many of the city's residents suspect that Hong Kong and Beijing authorities work together to bring dummy protestors to sites, some of whom are paid.
No tussles surfaced today, unlike yesterday, when police tackled three activists for waving pro-democracy signs in the street. But at one point, members of the two camps were shouting face to face, despite the heavy police presence.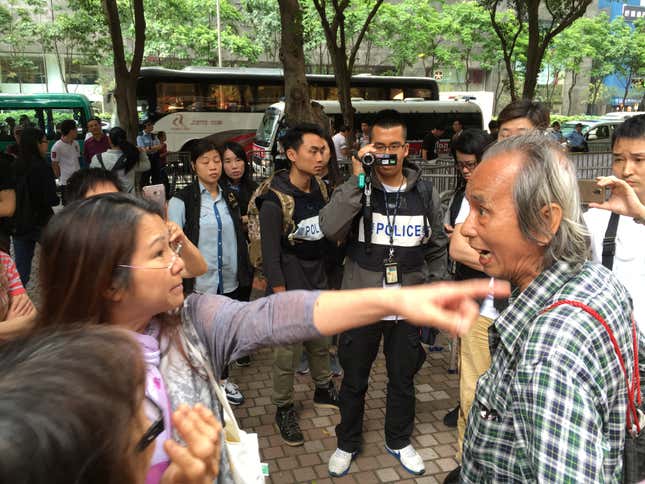 Anti-Beijing protestors left the site at around 10am, but pro-Beijing demonstrators lingered on the premises for much longer. As the chaos quelled, police steadily dispersed, and the environment was more like an old-folks gathering than a tense political demonstration.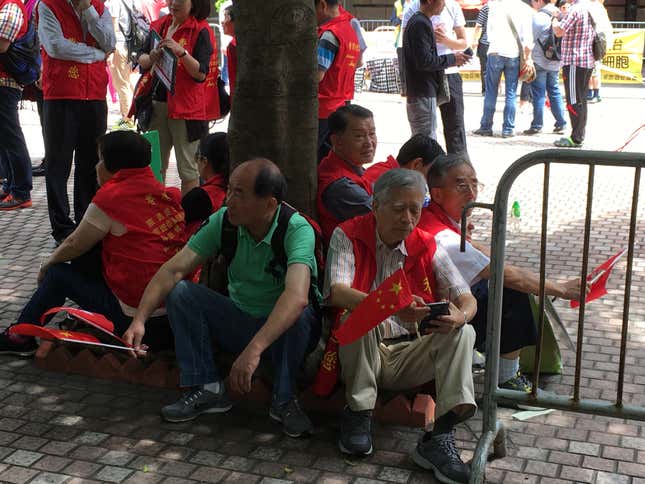 Some of the pro-Beijing demonstrators were part of known organizations, such as Voice of Loving Hong Kong. Others were less transparent about their origins. Many donned red vests that read "Welcome to Hong Kong," and "Hong Kong Tour Guides General Union."
Lu Junpeng, one of the leaders, said the group was not affiliated with the tourism industry and instead "advocates a dialogue between Hong Kong and China." He did not answer directly when asked the name of the organization.
"We believe that everyone is Chinese, Hong Kong is good, the mainland is good, and we are all of the same country and should include one another," he said.
Lu described himself as a Hong Konger, though he was born and raised in the mainland. When asked whether he could sympathize with the Umbrella camp, Lu said he felt they needed to expand their horizons.
"I think they just live in Hong Kong, which is a very small place. And they feel confused about their future. They need to have a better understanding of their direction," he said.
Many of the pro-Beijing demonstrators, who numbered less than 100 according to Lu's estimates, communicated with one another with standard, unaccented Mandarin and in Cantonese—potentially a sign that they had been bussed in from mainland China. But there were others that spoke Cantonese and some English, as is typical of many elderly Hong Kong residents.
One such demonstrator, who asked to not be named, said he came to show that Hong Kong and China are "living in the same village."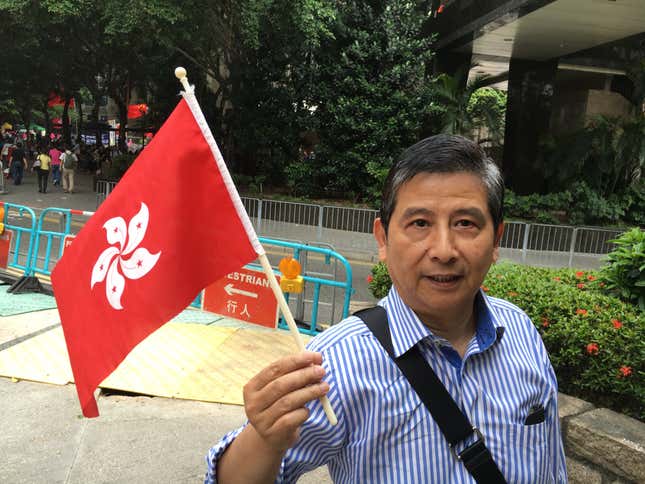 "I've lived in Hong Kong for more than 50 years. We totally rely on mainland China. Today if the central government says they'll close the border, Hong Kong is finished—no business activity, no water, nothing," he said.
More demonstrations are set to take place this evening. Since many residents will have just gotten off work, crowds might swell. The relative peace of today's rallies might be short-lived.