A chat app called Rawr Messenger is taking the craze for animated emojis and stickers within chat apps to a new level. It asks users to create cartoonish 3D avatars of themselves, which will then automatically respond to emojis, hashtags or phrases within a chat. Typing "hello," for example, makes your avatar wave to whoever you're chatting with (typing #flykick delivers a dropkick to your companion's head, however).
It's the first product from a Finnish studio called Futurefly, which has raised funding from Arielle Zuckerberg (sister of Mark), Giphy backer Betaworks, Nokia chairman Risto Siilasmaa, and others. The studio is staffed with veterans from the games business. The app was launched on the Apple App Store today, with an Android version promised for later this year.
Futurefly's founder, Oskari Häkkinen, says using avatars to communicate is a natural progression from using increasingly elaborately animated icons within chat apps like Line, Facebook Messenger, or WeChat. "A lot of these [chat apps] were trying to bring more expression through emoji, animated emoji, stickers, but they were baby steps," he said. "We wanted to take this giant leap."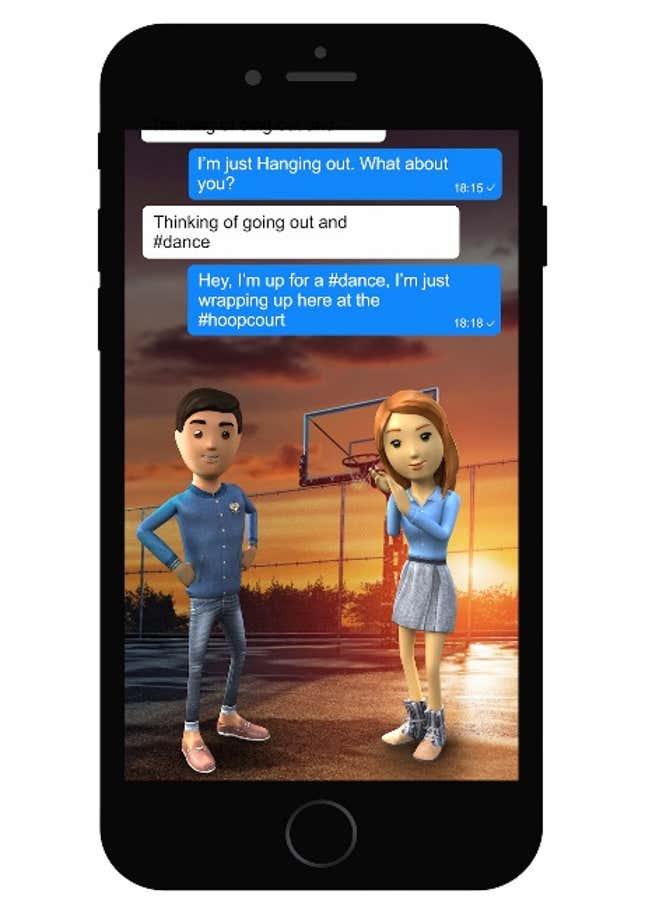 Häkkinen's plan is to help users "break down the walls of expression" through the use of animated characters. At the moment, users can only chat one-on-one with a friend, although there are plans to create group chats in the future. Users can also be randomly paired up with other Rawr users through a function called "Globetrotter," which you might think of as Chatroulette with avatars instead of webcams. The app doesn't reveal any information to the users who are paired up besides displaying the avatars, Häkkinen says.
Futurefly needs users to download and start using a whole new messenger app, and convince their friends to download and use it as well. It's a huge question whether they'll find avatars compelling enough to do so, when they're already set up to chat via apps such as WeChat, Line, or Messenger.
But there's evidence to suggest that avatar-based chat isn't an entirely wacky notion. Nintendo's first mobile game, Miitomo, also trades on the premise that users will want to express themselves through customized 3D characters. Although it's not exactly a chat app (it's not entirely clear what it is, exactly), Miitomo has already been downloaded 10 million times within a month of its release. That is significant validation for an app whose main goal seems to be dressing up your avatar. (There are some mini-games provided, but they're mainly there to help you win points to get more avatar clothes).
Futurefly plans to make money through in-app purchases, blending elements of the "free to play" casual games model with the sale of virtual items, like stickers, used in mega-popular chat apps like WeChat or Line. Many items, like a pair of espradilles from Otz, an American shoe brand, cost less than £1 (or $1.46.) The game has deals with brands like Otz, and others, including the English soccer club Chelsea, that lets them create virtual store-fronts for users to buy items in. The studio then splits the revenue from these sales with the brands.
Since the app is aimed at millennials, Häkkinen hopes to harness the power of "influencers" on Instagram, YouTube, and Vine, who will encourage their fans to download the app. He says he has agreements in place with 170 social-media stars.
The Nordics have a pretty good track record for producing mobile-gaming sleeper hits. Think about Angry Birds, from Finnish studio Rovio, or Minecraft, from Sweden's Mojang. Rawr will hope some of that rubs off on its attempt to blend casual game mechanics with the increasingly febrile chat app market.
Featured image by Jedrecord on Flickr, used under Creative Commons 2.0 license.