Nike's innovative and experimental high-end division, NikeLab, has a big new collaboration coming out, and it's a perfect storm of fashion, activewear, and Instagram.
On June 2, NikeLab is launching a line with Olivier Rousteing. By reputation, he's known foremost as the designer of luxury house Balmain, and then just slightly less as a Kardashians and Kanye West favorite and one of fashion's most Instagram-famous personalities. His soccer-inspired "Football Nouveau" collection plugs perfectly into fashion's ongoing love affair with activewear, mixing NikeLab's innovations with his well-established predilection for black, gold, and lots of embellishment.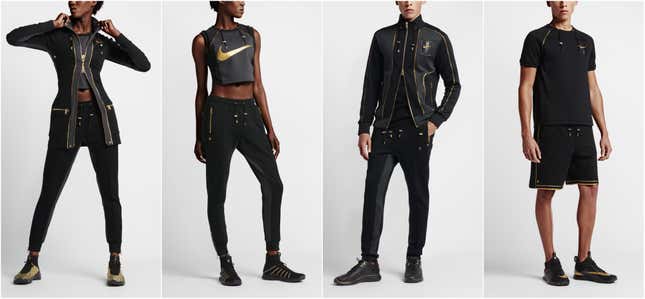 Vogue, which spoke to Rousteing about the collection, called it "a felicitous marriage of Nike's technically advanced materials with Rousteing's love of dark glamour."
Apparently Nike toned down some of Rousteing's more adventurous ideas for the partnership, which began more than a year ago. "I really wanted gold and embroidery everywhere," he said. But his flourishes are still present. The women's zip-up jacket, for instance, is meant to double as a dress. It's so short, though, that probably only one of Rousteing's many model pals, such as Kendall Jenner, would attempt it that way.
As Rousteing explained in the press release, the goal was to imagine his typical designs for the Nike athlete. "Fashion is usually about the catwalk and the glamour, but with Nike it was about performance and the athletes," Rousteing explained. If you had to imagine Balmain creating an off-the-pitch wardrobe for the French national team, it would probably look something like this.
Rousteing also reinterpreted a few of Nike's existing sneaker styles: the Mercurial, Magista, Hypervenom, and Roshe Tiempo. The Magista and the Mercurial, two of Nike's soccer boots, both have Nike's well-known Flyknit upper, but for the first time the high-tech woven material is adorned with embroidered patterns.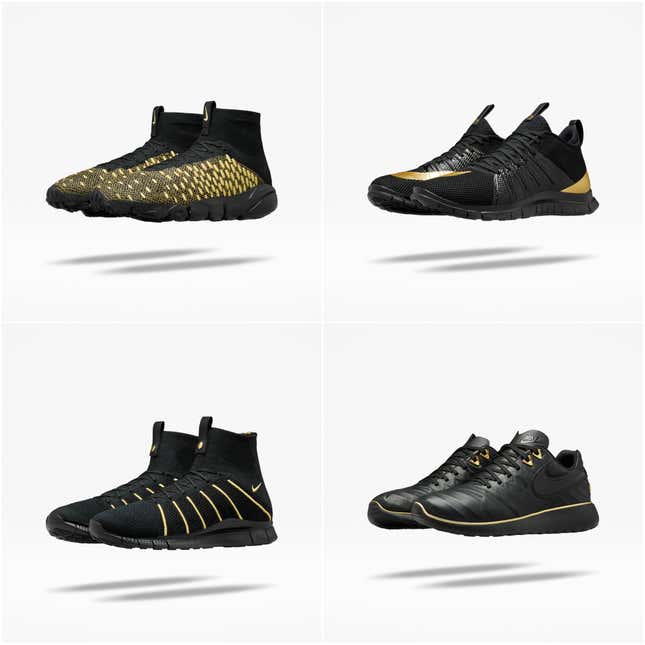 Nike has also done collaborations with the fashion designers Riccardo Tisci and Chitose Abe of Japanese label Sacai. But this line is almost guaranteed to take over social media once it drops. Rousteing boasts a wide range of celebrity and model friends who routinely tout him and his work on their social accounts. It's been effective. When Rousteing and Balmain recently collaborated with H&M on a line, people literally fought to get their hands on it when it hit store shelves.
Rousteing is already busy promoting the line on his Instagram account, which now boasts more than 3 million followers, after breaking the 1 million mark just last year. He posted a series of images mostly featuring himself, but also one including the Portuguese football star Cristiano Ronaldo.
If history is any indication, expect to see some golden swooshes in your Instagram feed in the weeks ahead.