More than 19 million people in the euro zone couldn't find work in February (pdf), driving unemployment to 12.0%—the highest number in the monetary union's history. Here's a look at that: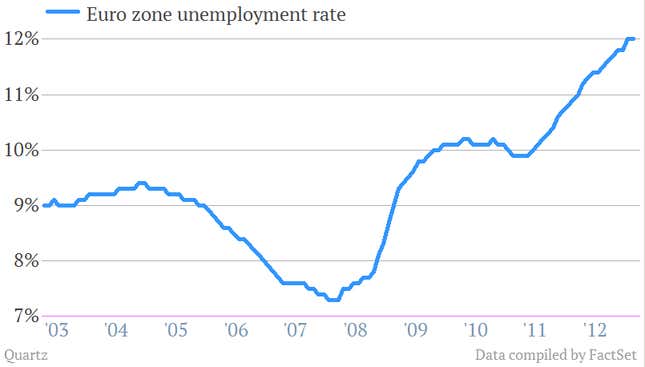 At around 3.6 million, nearly one-fifth of the euro zone's total unemployed are under 25. The youth unemployment rate in February was 23.9%, down slightly from 24.o% in January (the latter was revised down, from 24.2%). However, there's always the possibility that that decrease is due to workers giving up their job searches, and in a trend we highlighted last month, there's little to suggest the fortunes of Europe's lost generation are set to change any time soon.
Eurostat also announced that it had discovered an additional 73,000 unemployed euro zone workers, prompting an upward revision in January's unemployment rate from 11.9% to 12.0% (pdf).
While that steady 12.0% might at least suggest that unemployment is stabilizing, new data from Markit on manufacturing activity made that possibility seem but a dim one (pdf). The purchasing managers' index (PMI) for the euro zone fell to 46.8 in March, down from 47.9 in February (a measure of 50 means that manufacturing demand stayed flat compared with the previous month; a lower reading reflects a decline in business activity). This is how that trend is shaping up: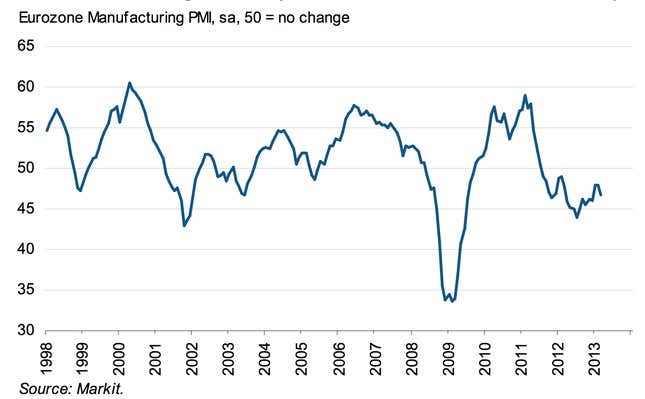 PMI tends to be a leading indicator for business activity, and this latest round of data hint that euro zone unemployment is likely to set new records in March. In addition, Markit's survey data suggested March job losses were higher in euro zone problem areas like Italy, Spain, France and Greece.
Markit chief economist Chris Williamson noted that the crumbling numbers suggest that the second quarter of 2013 could be even worse. "The euro zone manufacturing sector looks likely to have acted as a drag on the economy in the first quarter, with an acceleration in the rate of decline in March raising the risk that the downturn may also intensify in the second quarter," wrote Williamson.
He also flagged that companies reported a pickup in activity from Asia and the US, signaling once again that the source of the euro zone's troubles is largely its withering of internal demand. With so many still unemployed, a halting of what looks very much like a steep euro zone downturn seems increasingly unlikely.