The jeans may be skinny. But the returns on the shares have been fat.
Share prices of Fast Retailing, the Japanese retail giant that owns global fast-fashion retailers Uniqlo and Theory, among others, has handily outpaced the broader Japanese stock markets so far this year. And that's no small feat, seeing how Abenomics-related optimism has made the Japanese stock market one of the hottest asset classes in the world in 2013.
The Tokyo Stock Exchange Topix index of large Japanese companies is up about 15% in the first quarter alone. But Uniqlo's parent Fast Retailing trounced that figure, posting a gain of 43% so far in 2013. Here's a stock chart, indexed to 100 at the start of the year.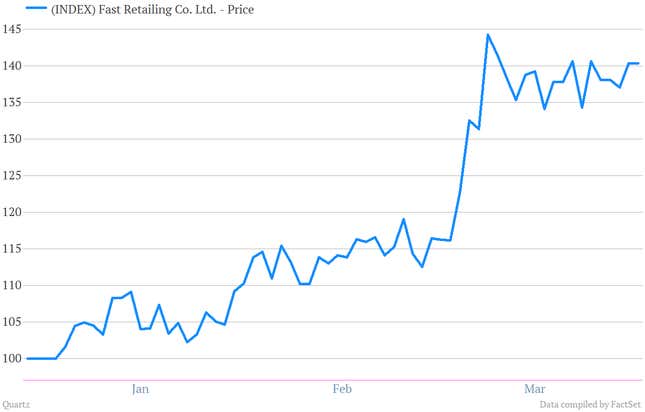 The reason? Pretty simple: profits. Last quarter profits jumped 23.5%. Its just released same-store sales for Japan also look strong, rising 23.1% in March, compared to the same quarter of the year before.