Chinese university students are using their own nude photos as collateral to borrow money from loan sharks, with the help of the country's booming—but largely unregulated—online lending market.
Female university students in China are asked to send nude photos of themselves, holding their ID cards, to online lenders, to borrow thousands of yuan. The lenders threaten to contact their parents and make their photos public if they fail to pay back the loans, Southern Metropolis Daily reported (link in Chinese) this week.
One student who was identified as Li Li, told the newspaper that she first borrowed just 500 yuan ($76)—at a weekly interest rate of 30%—from a lender on Jiedaibao, an online peer-to-peer lending platform owned by Beijing-based private equity fund JD Capital. After paying old loans by taking out new ones, Li said now she owes 55,000 yuan, and the lender is threatening to post her naked photos online.
These loans typically range from 500 yuan to 5,000 yuan, and carry a 30% weekly interest rate, even though interest rates for personal loans are capped at 24% annually, the Southern Metropolis Daily said.
On Wednesday (June 15), Jiedaibao posted a statment on Weibo (link in Chinese, registration required) that confirmed nude selfie loans exist, but said the interest rates are agreed between the two parties via other channels.
QQ and Wechat, two popular messaging apps owned by Tencent, are common places to broker the "nude loans," according to numerous Chinese media reports. Some loan sharks sell nude photos of female student borrowers for 30 yuan in those online chat groups, even after they have paid back their loans, state newspaper Legal Daily reported (link in Chinese).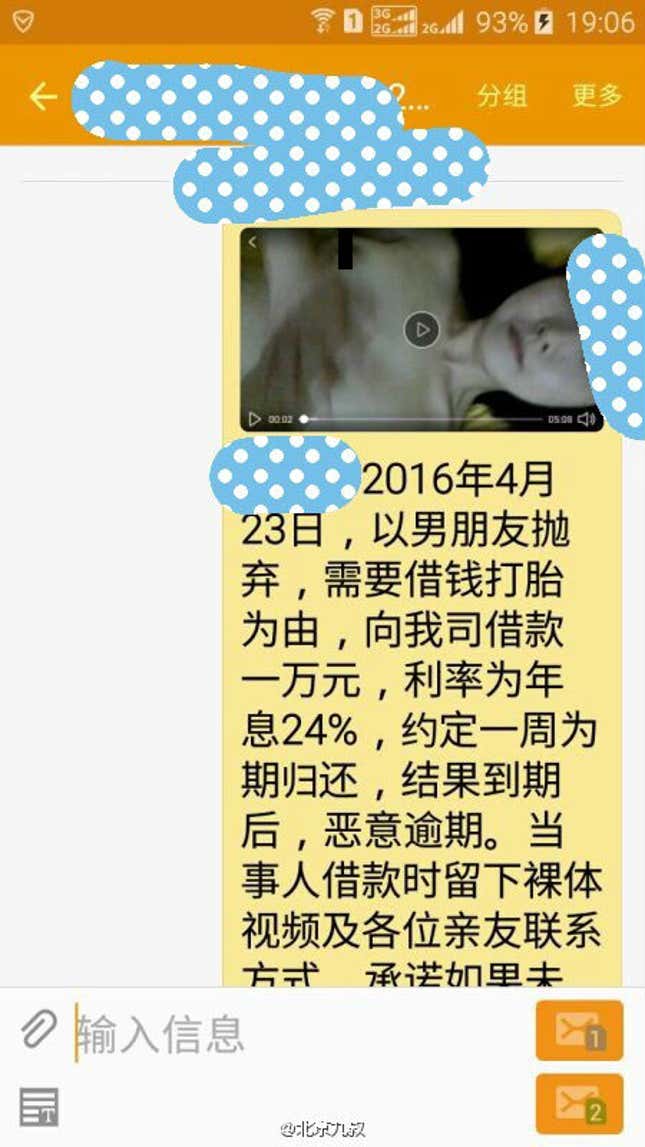 Threatening messages from loan sharks, attached to nude photos of female borrowers, are spreading on Chinese social media platforms. In one screenshot (link in Chinese, registration required) that has been widely picked up by Chinese media, a lender threatens to send a nude selfie to a student's parents if she can't pay back in a week. The loan shark claims she borrowed 10,000 yuan—at an annual interest rate of 24%—for an abortion after an accidental pregnancy.
Unlike their US counterparts, China's college students find it hard to get loans for tuition or starting businesses, thanks to limited government support. Shady online P2P lenders have aggressively expanded on college campuses.