China will conduct military drills in the contested South China Sea this week, ratcheting up tensions ahead of a tribunal ruling expected to challenge its claims to most of the strategically important sea. China's territorial claims overlap in parts with those of the Philippines, Vietnam, Malaysia, Brunei, and Taiwan in an area that holds vast energy and marine resources and through which more than $5 trillion in trade passes every year.
Beijing announced the drills yesterday (July 3) in a brief online statement (link in Chinese), saying the exercises will last from Tuesday until July 11—the day before the ruling by the United Nations-backed tribunal in The Hague. The statement gave geographic coordinates of the drills, which will cover an area running east of China's Hainan Island down to and including the Paracel Islands, which are claimed by both China and Vietnam. It also said the area will be off limits to other ships.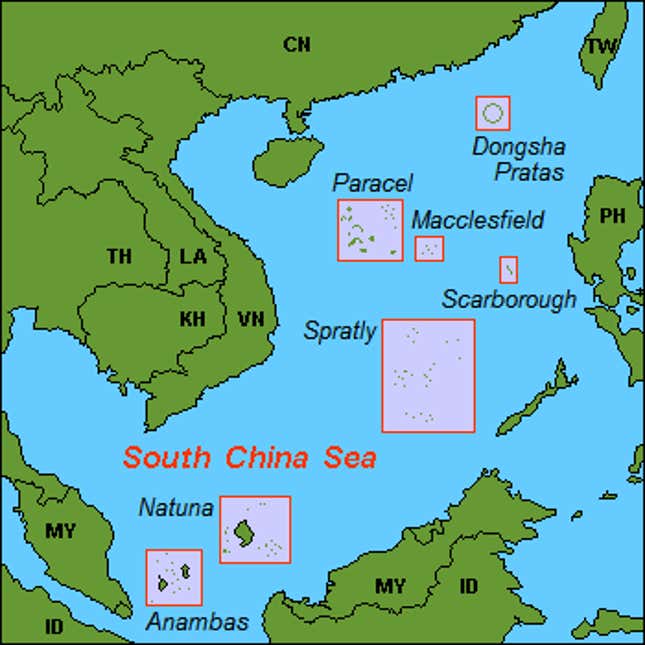 In China patriotic fervor could be seen in some social media comments reacting to news articles about the drills. Below a post by Sina News on its Weibo account, one commenter wrote: "To deal with dogs, we should use a stick. Now that we have it, we should use the stick to hit the dog; otherwise, it would keep barking."
Another wrote, "Let's give our soldiers the best wishes and guard the safety of our nation. A thousand days the country nurtures its soldiers, and all for one day's battle. Let us prepare for the battle with our enemy!"
Among the Paracels is Woody Island, where China has built a runway and installed surface-to-air missiles, while also planning, incongruously, Maldives-style resorts that will host weddings and diving trips—all part of China's efforts to bolster its claims in the sea.
China routinely carries out exercises in the sea, but the timing of these drills is hard to ignore. In a speech on Friday marking the 95th anniversary of the Chinese Communist Party's founding, president Xi Jinping said China was "not afraid of trouble," and would not compromise on its sovereignty.
The ruling stems from a legal challenge to China's territorial claims in 2013. China, which says the sea has been part of its territory for hundreds of years, refused to participate in the case and has maintained that the court has no authority in the matter. It instead argues for bilateral talks between the nations involved, which would give it the upper hand since it dwarfs its neighbors economically and militarily.
—Echo Huang contributed reporting