Nest is coming out with an outdoor surveillance camera, featuring a clever design it hopes will outsmart would-be burglars.
According to Nest, the connected-home company nestled under Google parent Alphabet, an outdoor camera was the No. 1 most requested feature from customers. And though the existing Nest Cam isn't weatherproof, 5% of owners have installed their units outside, says product manager Mehul Nariyawala.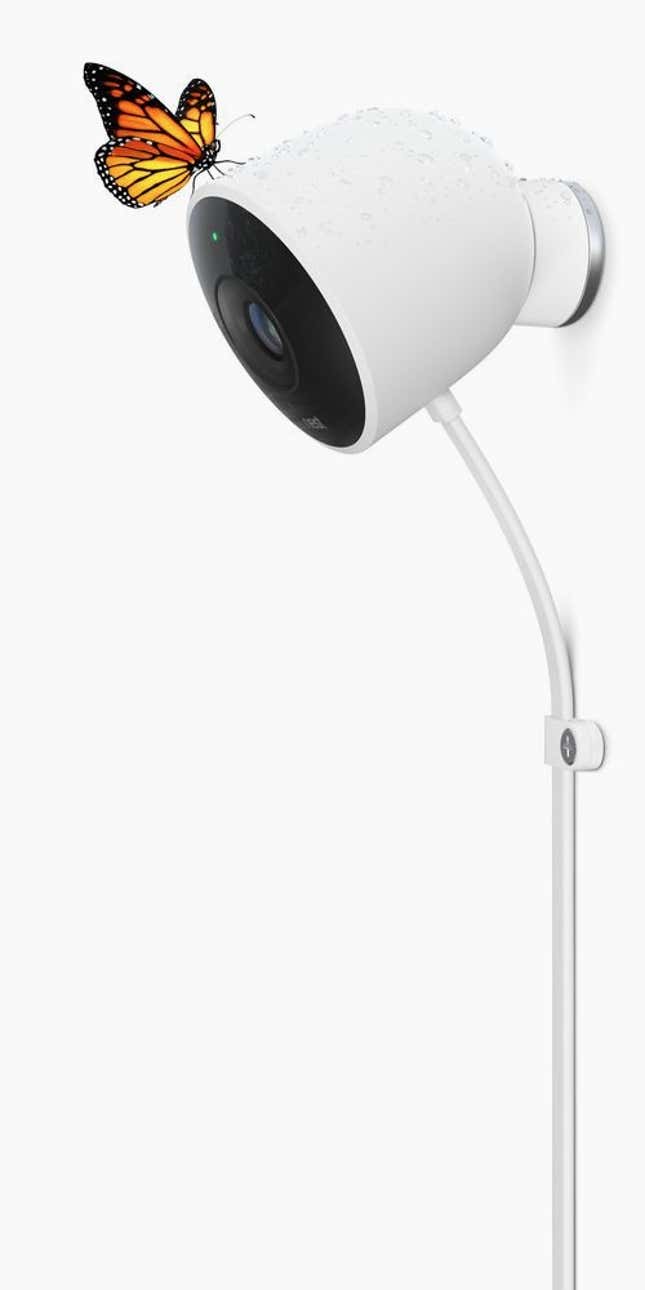 In terms of specs, the Nest Cam Outdoor, which will be available this fall in the US and Canada for $199, is basically the same as the current camera, with 130-degree field of view, 1080p video, and two-way audio. But the industrial design is dramatically different. Breaking from the svelte design of the Nest Cam, which will be renamed Nest Cam Indoor, the outdoor version is round and bulgy.
Designing an outdoor camera came with challenges. The company had to balance ease of setup with ease of mind. Some outdoor cameras on the market require drilling through walls for power. Others that are battery operated are asleep most of the time, perking up only when it detects motion, potentially missing capturing important moments.
From a quick demo, it seems Nest has simplicity nailed down. The back of the Nest Cam Outdoor adheres to a strong magnetic base, which can be affixed directly to a metal surface or connected to a plate that's drilled into a wall. Included in the package are clips to secure the flat power cable to the surface.
The power cable comes in two parts. The end that connects to the camera has a USB plug. The other part, which plugs directly into an outlet, is basically a long USB extension cord. Connecting the two parts is a clever design mechanism, which ideally keeps the elements out and stumps potential intruders. (After plugging in the USB cable, you twist to lock the two pieces together.)
That said, Nest hasn't made the camera burglar-proof. It's only added deterrents, like the USB connecting mechanism, the wire clips (which makes it harder to cut the wire), and screenshots and alerts when the camera's been turned off. Owners can also choose to drill through a wall to run power from inside, adds Nariyawala.
A determined-enough intruder still has many options. A mask, for instance. Or a pair of sheers to cut any part of the wire that's exposed. Or learn how to unlatch the USB connector after checking out a unit at Best Buy. Or unplug the camera if its power source is outside.
Having reviewed surveillance footage from Nest cameras, Nariyawala says it's apparent that burglars just aren't that bright. Furthermore, citing a 2012 study (pdf) from the University of North Carolina's criminal justice department, he says the security camera alone is the biggest deterrent to burglaries, more so than alarms or even the presence of people.