The Turkish lira fell sharply Friday (July 15) after reports of a coup emerged in the late afternoon.
The currency's fall of more than 4% in a market—where a 1% move is considered major—will put additional pressure on Turkey's persistently high inflation. On the other hand, additional weakness won't be unwelcome to Turkey's exporters, who have been hurt by recent weakness in key markets such as the European Union, Iraq and Russia.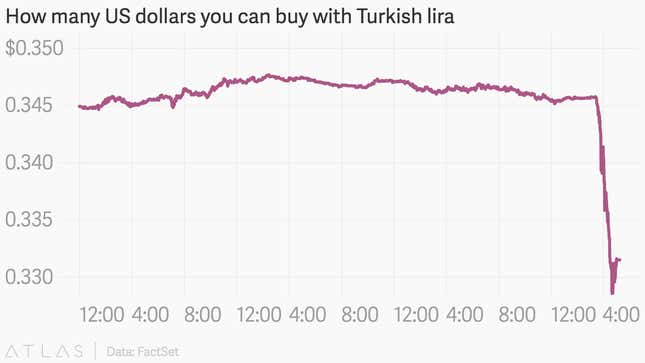 In theory, the weak lira could also be an incredible boon to Turkish tourism. But the difference between theory and practice is as stark as the sight of soldiers marching into Taksim Square. Unrest in the region, and increasingly in Turkey itself, has prompted a sharp downturn in tourist arrivals, which were down 35% in May, compared to the prior year.