A collective aiyeeeeeeeeeeee reverberated across the planet.
To the dismay of the millions of Pokemon Go addicts in 26 countries, Nintendo-Niantic confirmed today, July 16, that the servers for the game that's taking the world by storm were indeed down. Update 12:51 pm EST: Gamer community group Pokemon Go News reported a few hours later that Nintendo's servers were up and running, though service might be sluggish for some users.
"Our servers are humbled by your incredible response," read the augmented reality game's opening screen earlier in the day, announcing the temporary lapse in service. A merry band of cute pocket monsters delivered the bad news. "We are working to resolve the issue. Please try again soon."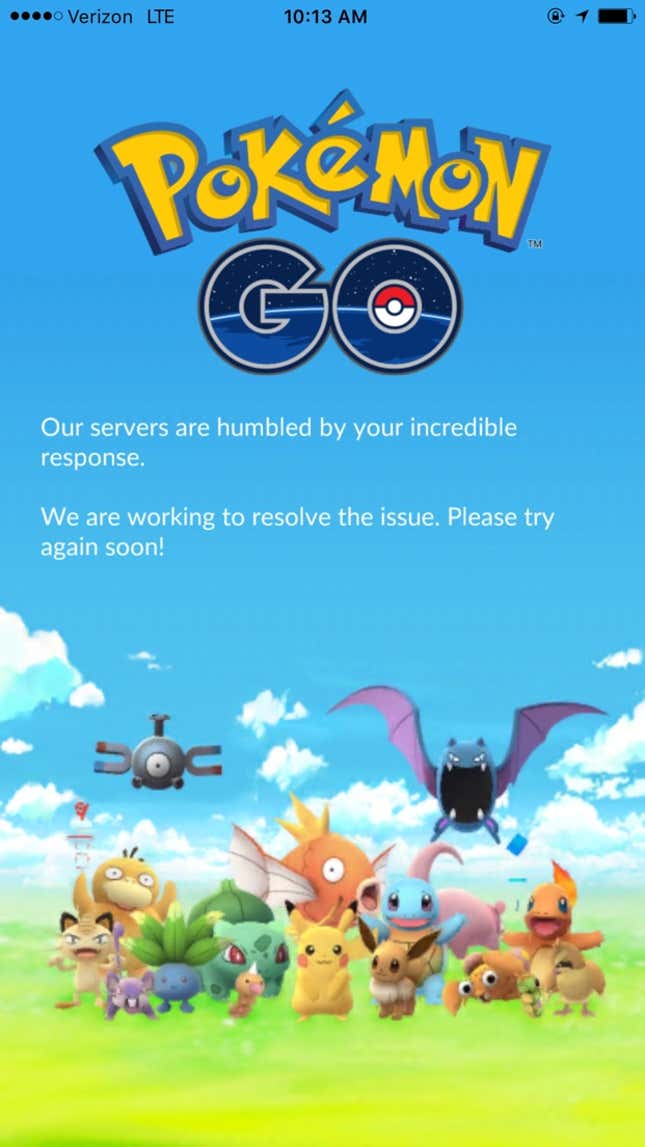 Impatient players started giving the Nintendo's IT team suggestions:
https://twitter.com/GCHewitson/status/754323332582010880
And a few players were besieged by an existential crisis:
https://twitter.com/AndreiTerbea/status/754322859661680640
In the US, several Pokemon Go pub crawls are organized for today. Hopefully, the servers will stay up for the mob of players traipsing through neighborhoods, restaurants, churches, cemeteries and bars. If not, they're just going to have to drown their sorrows with a pint or find purpose with an aimless walk to a park.