Hong Kong
A Cantonese opera production revolving around the private life of late Chinese communist leader Mao Zedong will premiere in Hong Kong on Oct. 1. Already, it's stirring up controversy in a city torn between increasing control from Beijing and the rise of  "localists" advocating for more independence.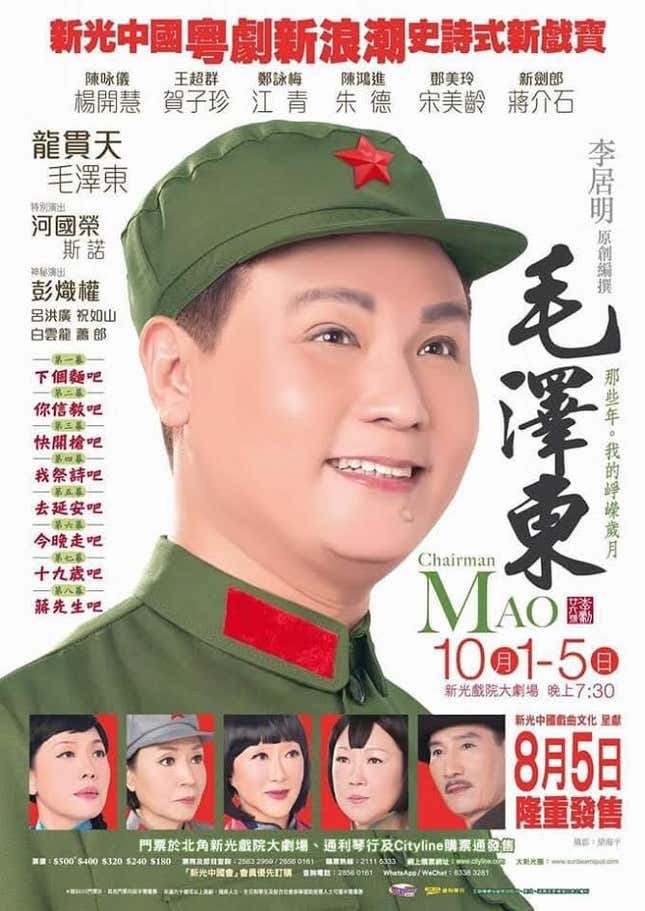 The show, entitled Chairman Mao, may come as a shock to many, as it seems to glorify the strongman.
Beijing's top official in Hong Kong, Zhang Xiaoming, chief of the liaison office, recently assured Hong Kongers that the central government will not "mainlandize" Hong Kong and turn it into another Shanghai, Guangzhou, or Shenzhen. But the upcoming show has Hong Kongers wondering about its true intentions. So has the timing: Oct. 1 is National Day in the People's Republic of China, a celebration of the founding of modern China by the Communist Party and Mao.
Chairman Mao was written by feng shui master turned playwright Li Kui-ming. It will take place at Sunbeam Theatre in North Point, a venue long known for yueju performances. The traditional art form, which can be dated back to Southern Song dynasty (1179-1276 AD), is a blend of Chinese operatic traditions performed in Cantonese, the language spoken in the Guangdong region in southern China.  Li, having made a fortune in feng shui, funds the theater himself.
The opera will feature some of the best-known Cantonese opera artists, including Lung Koon-tin in the title role. Veteran performer Sun Kim-long will play Mao's rival Chiang Kai-shek, leader of the Kuomintang. Australian-born Hong Kong actor Gregory Rivers will play American reporter Edgar Snow, who interviewed Mao and other party leaders and was one of the first Western journalists to cover the Chinese Communist Party in-depth.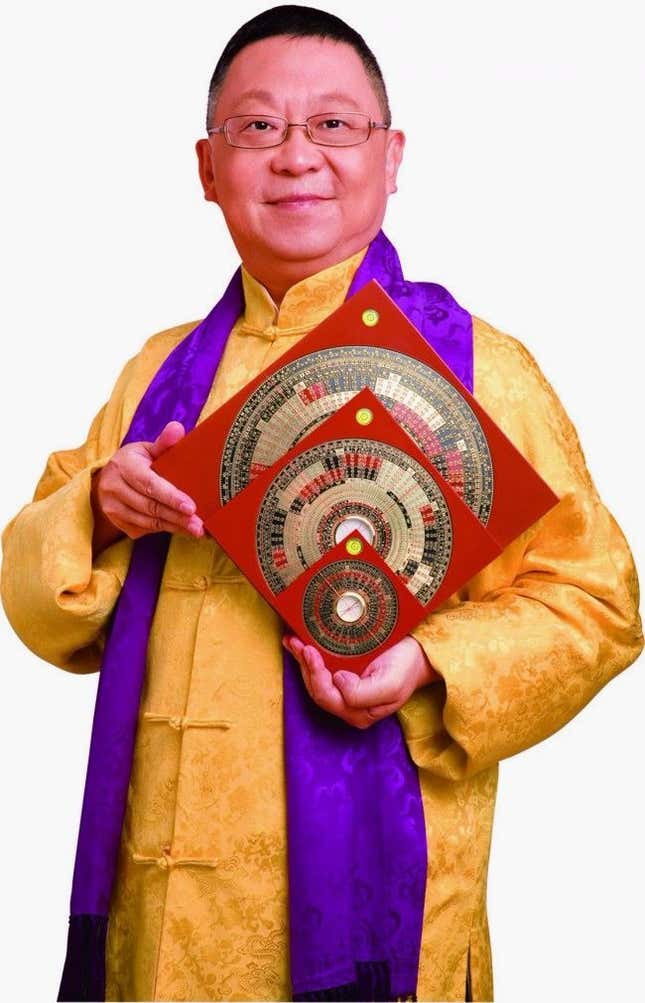 Insiders told Quartz that staff at the theater troupe had been trying to stop Li from staging the show since last November. "Li wanted to generate noise and publicity, but the topic is too sensitive, particularly under the current political climate of Hong Kong. No one would believe that it has no political motives behind it. He did not listen," said one source close to Li. "Now everyone from the Democrats to the pro-Beijing camp loathe the idea. Beijing is also keeping a close eye on this."
Li could not be reached for comment.
The memory of Mao was also revived earlier this year. May 2 marked the 50th anniversary of the beginning of the Cultural Revolution. The 10-year-long sociopolitical movement, led by Mao, brought chaos to China, ruining millions of lives and trampling Chinese culture. An estimated 36 million Chinese died because of Mao's policies that led to the Great Famine.
Some mainlanders escaped the turmoil by fleeing to Hong Kong, and a return to such dark times is among the greatest fears of many Chinese people.
A May performance at Beijing's Great Hall of the People that seemed to praise the movement—featuring singers and dancers performing Cultural Revolution songs amid nostalgic images of Mao—led to an uproar in mainland China. Survivors of the tumultuous period called for an investigation into the matter, seeking to prevent the dangerous ideology from returning.
Cultural critic Alex Pao said even just the posters advertising the upcoming opera could stir things up in Hong Kong. Appearing ahead of September's Legislative Council elections, where the pro-establishment camp controlled by Beijing will battle Democrats and young localists advocating independence, the posters will further tarnish the image of mainland China among the city's young people, increasing their desire to break away from Chinese Communist Party rule, he said.
A recent survey conducted by the Chinese University of Hong Kong revealed that nearly 40% of respondents aged 15 to 24 backed the idea of Hong Kong independence.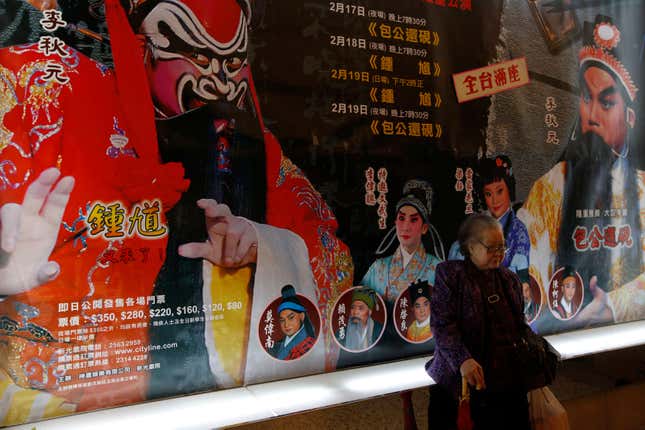 "Some young people called for independence of Hong Kong because they do not like China," Pao said. "They are forced to take that path. And a show like this accompanied by such a poster is a big turn-off. If you want to tell China stories, can it be done in a more decent and elegant manner?"
Claudia Mo, who sits on the Legislative Council and is a founding member of the pro-democracy Civic Party, said the news of Snow being one of the opera's key roles reminded her of his 1937 book Red Star Over China. That work documented the early days of the then-obscure Chinese Communist Party.
"Now it's 'red star over Hong Kong,'" she said. "This seriously signifies the fast-developing trend of mainlandization, lies, corruption, and abuse of power in Hong Kong."