In a terrific speech endorsing Hillary Clinton at the Democratic National Convention last night (July 25), First Lady Michelle Obama spoke movingly about the barriers that black Americans and women have overcome. Her words about caring and unity reflected the evening's theme—"United Together"—and furthered the tone of optimism that Clinton's campaign has established, in contrast to Republican rival Donald Trump's "us vs. them" message.
But it wasn't just in her address that she offered a message of inclusivity. Time and again, Obama has deftly used her fashion choices to send their own message, and last night's cap-sleeve dress in a commanding royal blue was no exception.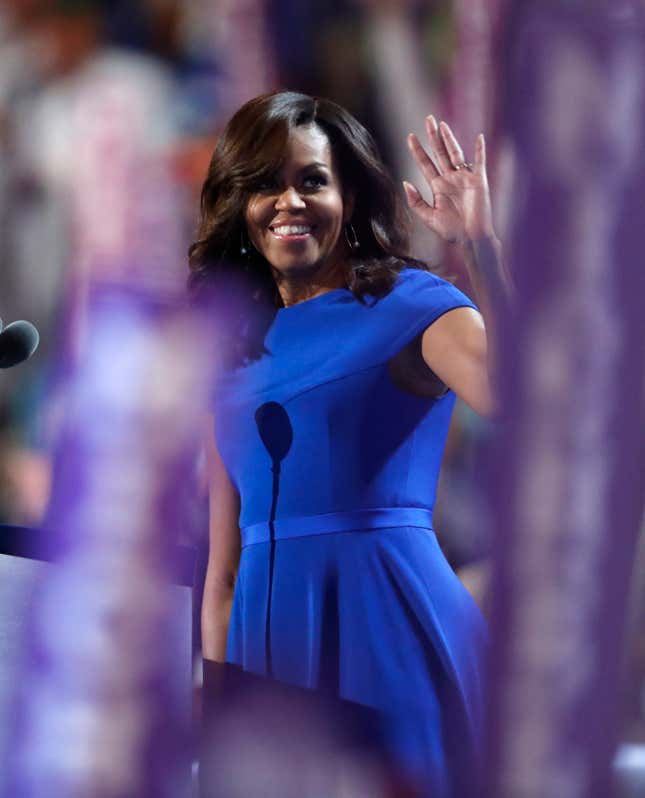 The designer of the dress is Christian Siriano, an American who first came to prominence as the winner of "Project Runway" in 2008. As Vanessa Friedman, the New York Times fashion critic, points out (paywall), Siriano has been a champion of inclusivity, dressing women who too often have been ignored by the fashion industry.
He has a collaboration, for instance, with clothing retailer Lane Bryant, which specializes in larger sizes. Siriano debuted the clothes in May at the Empowering Women Summit, which was hosted by Lane Bryant and stylist Susan Moses and held at the United Nations. The event aimed to raise a conversation about body image and racial diversity in the fashion industry and media, and Siriano presented his clothes on women of different shapes and colors.
More recently, it was Siriano who stepped up after actress Leslie Jones revealed that she couldn't find a designer who wanted to dress her for the premiere of the Ghostbusters reboot in which she starred. Jones is 6 feet tall and 48 years old, unlike many of the starlets whom designers line up to outfit. She has talked about her experience facing down her insecurities about her height and her skin color.
According to the AP, the DNC marked the second time Obama has worn a dress by Siriano. The first was the black dress she wore at the July 12 memorial service for the five police officers killed by a sniper in Dallas.
Obama's outfit for the DNC didn't speak as loudly as her words—to most observers it was likely just a beautiful dress that recalled the blue associated with the Democratic party. But as when she wore a dress by Cuban-American designer Narciso Rodriguez for her husband's State of the Union address in January, the decision conveyed thoughtfulness on the First Lady's part. (It also offered a stark contrast to Trump's relationship with clothes. He was called out at the DNC in a video that lambasted him for manufacturing his own clothing line overseas, while on the campaign trail he has decried foreign manufacturing by American brands.)
Obama's choice further raises Siriano's profile. When you wield that kind of influence, it's all the more powerful to select a designer whose work reflects the values you are trying to espouse.