Robert Martinez hunts lions. Not with a gun. Not like the "sportsman" archer/dentist who killed Cecil the lion in Zimbabwe. Martinez hunts them with his camera. Eleven cameras to be exact. And, as you can see in the video above, he has filmed some of the most captivating footage of Los Angeles mountain lions ever seen.
For the last four years, Martinez, who lives in Glendora, California and works full time in the supermarket industry, has planted cameras in the chaparral-strewn hills high above Los Angeles. He admits he's become a bit of a fanatic about it all. "I think about it pretty much 24/7," he said.
On a recent, searingly hot Southern California day, I joined Martinez on one of his twice weekly expeditions into the hills. Wearing a pair of boots and blue jeans, he immediately warned me about rattlesnakes, something I wish he'd mentioned earlier, since I had on shorts and a pair of tennis shoes. Mountain lions have long called greater Los Angeles home. The estimates vary, but some studies have reported that dozens of them live in and around the tinder dry hills of this city of 19 million. One of them, named P22, has even taken up home near Griffith Park. Recently, a $55 million bridge was proposed to be built over the Interstate 10 freeway to allow lions to avoid being hit by speeding cars.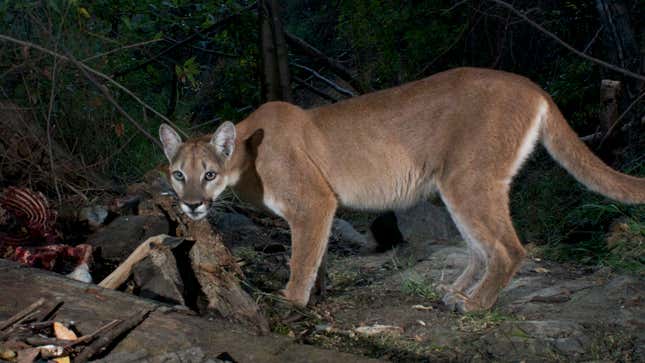 Martinez' hobby has earned him a small degree of local fame. His videos and photographs have been shown on the local television news and several clips are on display at the city's museum of natural history.
While rarely seen by people, a recent study revealed that mountain lions around Los Angeles routinely come extremely close to densely populated areas to feed. Indeed, within just a half hour's hiking distance from where I parked my car, we came upon a freshly killed mule deer. The animal had been ripped open, partially devoured and "cached" by a lion, meaning that nearby debris had been swept over it by the lion's paws in an effort to hide it. Fresh blood glistened in the sun. Martinez could hardly contain his excitement.
"It's like Christmas," he gushed. "I think this is enough for a lion to return to, without a doubt."
We hiked into the hills where Martinez had mounted his cameras. He uses both DSLR still and video cameras and mounts them using specially-designed plastic boxes that are locked to a tree with two thick metal cables. The cameras and flashes are triggered by motion sensors placed nearby. A year ago, four cameras were stolen, the cables cut. He believes they were taken by illegal hunters trying to force him out of the area, or perhaps the cameras had photographed them and they wanted to get rid of the evidence. Either way, he gets visibly angry discussing it and has tried to improve the system with better locks and cables to thwart future thieves.
The footage captured by his cameras is astonishing, particularly when you consider that a major interstate runs past here less than a half-mile away and several homes hug the nearby hillsides. One clip he is particularly proud of shows a female mountain lion pulling a mule deer carcass into frame and then eating it. Another shows a mother and her two cubs strolling by and seemingly posing for the camera.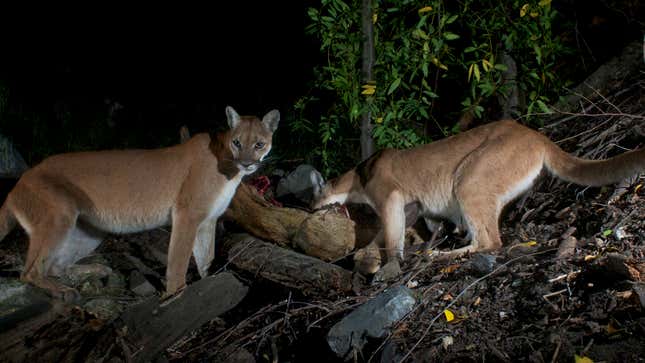 Martinez has several proven spots where he knows mountain lions prowl, but he is giddy about the prospect of the deer carcass we found earlier right along the trail. He hustles quickly back to one of his camera rigs and sets it up near the dead animal. I bid him farewell and good luck, and he promises to send me whatever appears on the cameras that night.
The photos that arrive the next day in my email could be featured in a National Geographic spread. They show a stunningly beautiful female mountain lion, ears erect, back slightly arched, eyes staring ahead in an intense feline glare that immediately called to mind something Martinez had said just as we were setting out on our hike:
"It's wild out there."