Team Canada hopes to take home up to 19 gold medals at the 2016 Rio Olympics, which begin on Aug. 5. Unofficially, it has already secured one. Among the countries that have publicized their team uniforms—which isn't nearly all of the more than 200 nations competing—the Canadian Olympic kit has beat out the competition as the most stylish at this year's games, in this fashion reporter's opinion.
Not everyone will agree, of course. But then every team uniform has its flaws, and plenty of detractors. Those critics should recognize, however, that it's no simple task for a designer to create a look that represents an entire nation and adheres to the strict guidelines of the Olympic Committee. Unsurprisingly, many choose a conservative route. Canada went for something different, and hit on a look that stands out from the crowd.
Here are the countries with the best uniforms at Rio's 2016 Olympic games.
Gold: Canada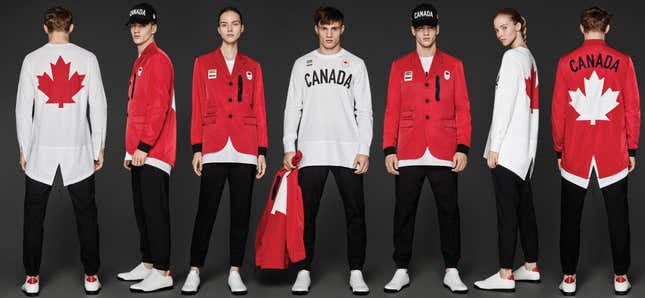 Designed by the brothers behind Canadian label Dsquared2, Canada's Olympic kit wins because it's athletic and current, while still polished enough to offer some formality at the games' ceremonies. Many of the ceremony outfits from other countries go a more formal route with stuffy jackets recalling 1980s prep. But they look years behind where fashion is today, and often feel more suited to country-club loungers than the world's greatest athletes. Others may stick to more casual attire. Canada's look embraces athleisure's very relevant mix of activewear and everyday clothing, but still cleverly works in details that elevates it above gym clothes.
Tops, for instance, look like sweatshirts but have buttoned shirt cuffs. The blazers, though a bit overdesigned with their fishtail hems and ticket pocket, are made of sporty nylon. As a collection, it misses the mark sometimes, but it gets more right than wrong.
The uniforms may help Dsquared2 recover some from its ill-considered ".dsquaw" campaign, which raised an uproar for being blatantly offensive to Canada's indigenous people.
Silver: Great Britain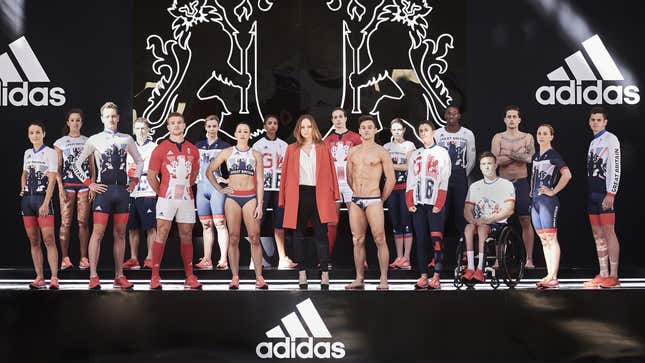 Stella McCartney and Adidas came together to create a graphic-heavy kit for Great Britain that plays on heraldry, creating a new coat of arms. Some strongly dislike McCartney's designs, but as in the past, when the ceremonial uniforms have also skewed more casual and athletic, they're bold, distinctive, and thoughtful. The crest offered a sense of symbolism—the image combines the symbols of the UK's four home nations—that went beyond the typical block coloring of most kits.
The uniforms were also 10% lighter than the 2012 team kit, and use Adidas' Climachill fabric, which should help to keep athletes cool in the Rio heat.
Bronze: Sweden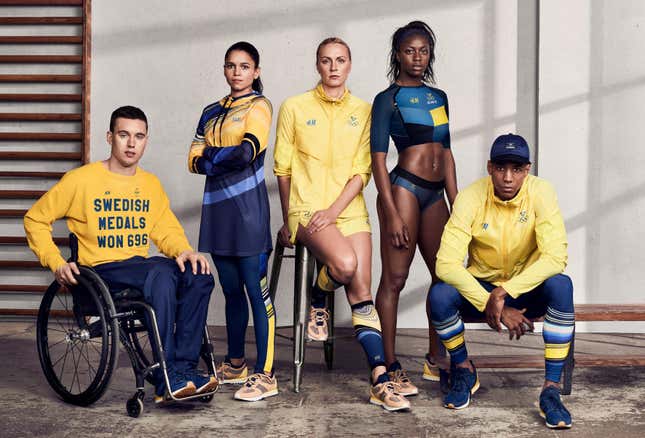 H&M, Sweden's fast-fashion giant, made its home country's uniforms for the 2014 Sochi Olympics and is doing so again this year. There's nothing too fancy or clever going on. The uniforms do a nice job of using Sweden's signature blue and yellow in energetic designs that smartly use different shades for accenting. The windbreakers, for instance, opt for a pale yellow, while elsewhere the yellow used has a more golden hue. It makes for a consistent collection that's still full of variation. Even the color swirls on the tights are appealing, and you can easily imagine the clothes selling at one of H&M's stores. It's a big step up from the 2012 uniforms, which many thought were some of the worst of those games.
What to watch for
There were other good kits. Lacoste's effort for the French national team is sleek and simple. The accessories for South Korea's mosquito-repelling opening ceremony look—hats, polka-dot ties, striped socks—make the collection.
Many of the countries also haven't revealed their uniforms yet, and often some of the best ceremonial looks are the ones that play into the nation's traditional dress. It will be worth watching the opening of the games next week to see what clothes the world's nations pick to represent themselves.