Joshua Wong and two other student protest leaders in Hong Kong were sentenced to community service today (Aug. 15) and avoided jail time for their role in the 2014 pro-democracy Occupy protests.
Wong, 19, received an 80-hour community-service sentence. Nathan Law, 23, who at the time was one of the leaders of university group Hong Kong Federation of Students, was sentenced to 120 hours of community service. Alex Chow, 25, who was also with the HKFS at the time, was handed a three-week prison sentence, suspended for one year.
"When it feels as if Hong Kong is coming under all sorts of attacks every day… all our actions and acts of civil disobedience send a message that we will not back down because of this ruling," said Chow (link in Chinese) outside the courtroom after the sentence was handed down. "There will be many more judgments in court to come (relating to the Occupy protests), and we are ready for them."
The three were found guilty in July of unlawful assembly and inciting others to participate in an unlawful assembly, in charges relating to events in September 2014. That marked the first guilty convictions for any of the three.
Hong Kong secondary school and university students held a weeklong class boycott in late September 2014 in protest of a ruling the previous month by Beijing that candidates standing for the role of Hong Kong's leader in 2017 would be screened. Candidates would have to be approved first by a 1,200-member committee before being put to a public vote.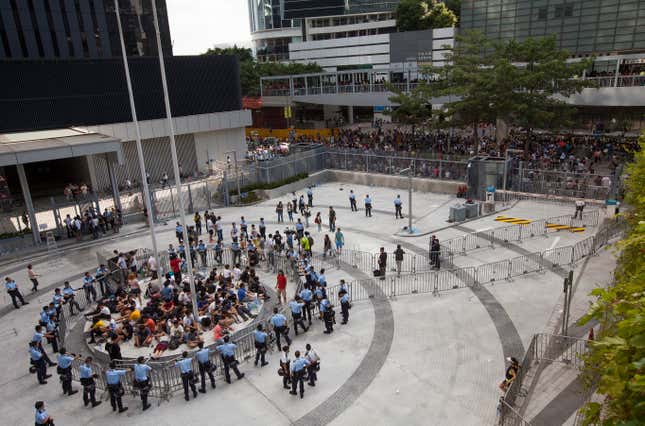 At the end of the boycott, Wong, Law, Chow, and others led a group of young protesters to scale the gates of Civic Square—a formerly public space outside Hong Kong's legislative chamber and government offices—and occupy the area overnight. Hong Kongers woke up to scenes of students being pepper-sprayed by police and then being arrested the next morning. Thousands turned up the next evening in support of the students. The gathering evolved into the monthslong Occupy movement.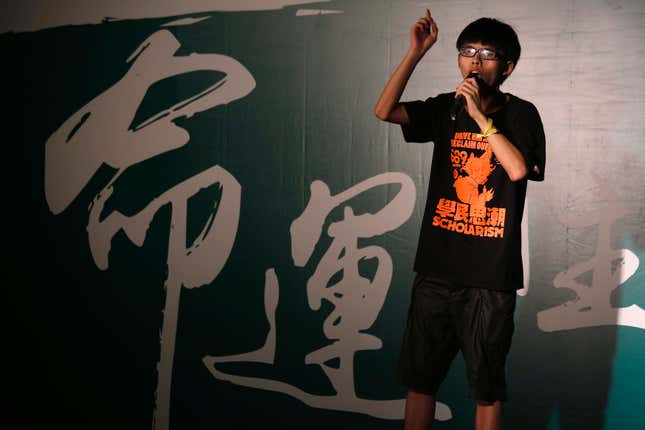 Wong was the leader of Scholarism, a protest group made up largely of high-school students at the time. It burst onto the scene in 2012, after playing a key role in rallies against the introduction of patriotic education in Hong Kong schools. The demonstrations forced the government to back down.
Wong and Law, both still at university, this year formed a new political party called Demosistō, which advocates greater say for Hong Kong people in determining their future. Law is standing in September's legislative elections. Chow will commence postgraduate studies at the London School of Economics in the fall.  
In the ruling (link in Chinese), the magistrate said that the three were "genuinely motivated by their political ideals and concern for society to express their demands" through peaceful means and had "no intention to hurt other people" in the process.