The idea took hold after uncovering an oddity from 2001, a study conducted by a group of scientists who discovered dairy cows like listening to music.
Picture a line of Holstein Friesian lactating to the easy rhythm of Lou Reed's "Perfect Day." Such was the basis of 2001 research from University of Leicester researchers, who for nine weeks exposed cows to fast and slow music, and silence, only to discover that slow jams increased their output of milk.
The study is the inspiration behind a new brand of synthetic milk: Perfect Day.
Bioengineers Perumal Gandhi and Ryan Pandya initially launched their brand in 2014 under the name Muufri while their research was in its infancy. This week, they unveiled the renamed brand, all the better to woo environmentally-conscious consumers who want better alternatives to milk.
With help from many biotech backers, Pandya and Gandhi have spent years on a quest to develop an animal-free dairy product that looks, tastes and can be used like real milk, with the same (if not improved) nutrient profile.
The process of making their milk, as they describe it, is akin to brewing craft beer. They ferment dairy yeast and sugar, then add plant fats, nutrients, and proteins that can be found in milk, including casein, the protein that gives milk its culinary versatility (for instance, allowing it to curd). Over time, they've adjusted the amount of calcium and potassium and other nutrients to get the mixture to taste, look, and feel like cow's milk.
The product, which the company says will likely be produced and marketed initially as a yogurt, is meant to be a lactose-free form of dairy that's friendlier to the environment and animals than milk produced from cows. (People with casein or other milk protein allergies will have to wait for the hypoallergenic version, which the founders say is in the works).
After tackling the technology, the pair toiled endlessly over the ideal name.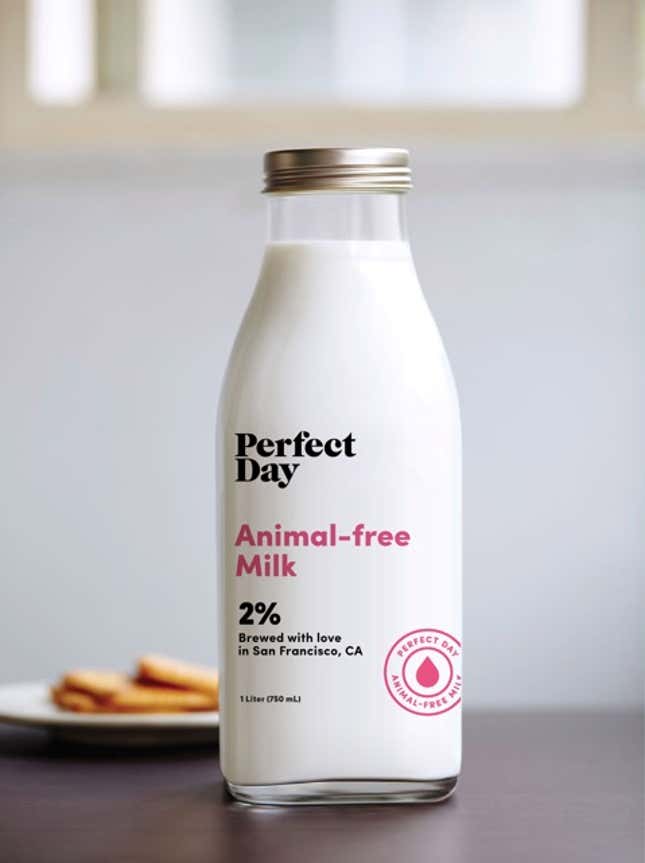 Landing on a marketable moniker is a defining—and expensive—proposition for any new company. But it can be paramount in the fickle world of food tech, where scientists aim to convince consumers traditionally wooed by promises of bucolic, back-to-nature sourcing to crave food that began in a laboratory.
"We have two goals: being rigorously transparent, but also having something on the shelf that you'd want to buy, and it's about striking a balance between them," Pandya said.
Perfect Day decided to first venture into the yogurt aisle partly because of surging demand for yogurt alternatives, and a paucity of good options for the lactose-intolerant. Soy, rice, and almond milk tend to pass muster with consumers cutting out dairy. But yogurt and cheese equivalents are less common—and often less satisfying.
"People want those better options," Pandya said.
The next step will be easing their product onto the shelves in a way that attracts milk drinkers and vegans alike. No doubt the funding and advice they are getting from tech-savvy Hong Kong billionaire Li Ka-shing and former Chobani employees will help.