China isn't exactly having its best Olympics this year in Rio, with its lack of medals in gymnastics a particularly conspicuous underperformance.
Once a gymnastics powerhouse, China is seeing its worst Olympic showing in the sport in over three decades. It collected only two bronze medals. The US won 12 gymnastics medals, including four gold. One gymnast, You Hao, even came last after finishing his parallel bars routine with a fall.
The Chinese gymnastics team used to be known as the "dream team," having won a total of 26 gold medals in the Olympics. Team China peaked in the 2008 Beijing Olympics, when it won nine gold medals, one silver, and four bronze. Thirteen gymnastics moves (link in Chinese) are named after Chinese gymnasts, including Li Ning, nicknamed "Prince of Gymnastics," who gave his name to four moves on the pommel horse, rings, and parallel bars. Li, who now runs a sportswear empire, won the most medals as an individual athlete in the 1984 Los Angeles Olympics.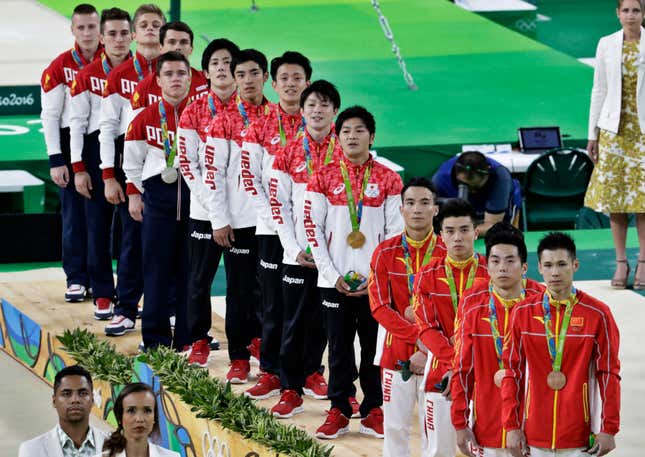 Bruno Grandi, president of the International Gymnastics Federation, criticized China's performance as being too "robotic," and even singled out China's bitter rival Japan for its "harmony, imagination," and "creativity." The Japanese team won two golds and one bronze this year, with Kohei Uchimura leading the men's team to victory in the artistic team event and China taking bronze. Britain also managed to win its first-ever Olympics gymnastics gold, and it sits above China in the medals table, much to China's chagrin.
China's gymnastics coach Huang Yuping acknowledged (link in Chinese) that the Chinese team this year was too young and lacked experience. Fifteen of the 16 gymnasts this year were first-time participants in the Olympics. (Zhang Chenglong won a gold medal in the artistic team competition in London 2012.)
China's poor performance in gymnastics, and more broadly in the Olympics this year, has been a hotly discussed topic in the country.
"Is this an Olympics over who is the worst between gymnastics and badminton? It's just so bad that the athletes have failed the Chinese audience who are staying up late for the games," one observer lamented on Weibo (link in Chinese, registration required), China's main social networking service.
State media has tried to take a different tack, downplaying the importance of winning gold medals. "The ongoing Rio Olympic Games is probably the most relaxed games ever for China," said the People's Daily, choosing instead to emphasize swimmer Fu Yuanhui, a bronze medal winner who has become wildly popular at home and abroad for her straightforwardness and exuberant personality.
Another huge disappointment for China has been its badminton team. This year was the first time since badminton was included in the Olympics in 1992 that China failed to win a single medal in the women's doubles, and the first time since the 2000 Sydney Olympics that China failed to win a gold medal in the individual women's event. China still has a chance to win gold at the men's doubles, and is a contender for a medal in the men's singles and women's singles events.