A young Chinese author just beat Stephen King in the prestigious Hugo Awards for science fiction.
At this year's World Science Fiction Convention in Missouri, 32-year-old author Hao Jingfang's story Folding Beijing won the Hugo Award for "Best Novelette"—a prize for which Stephen King's Obits had also been nominated. In Folding Beijing, China's capital is divided into three different physical layers for the elite, middle class and underclass. And although it's sci-fi, the story hits close to home for some Beijingers.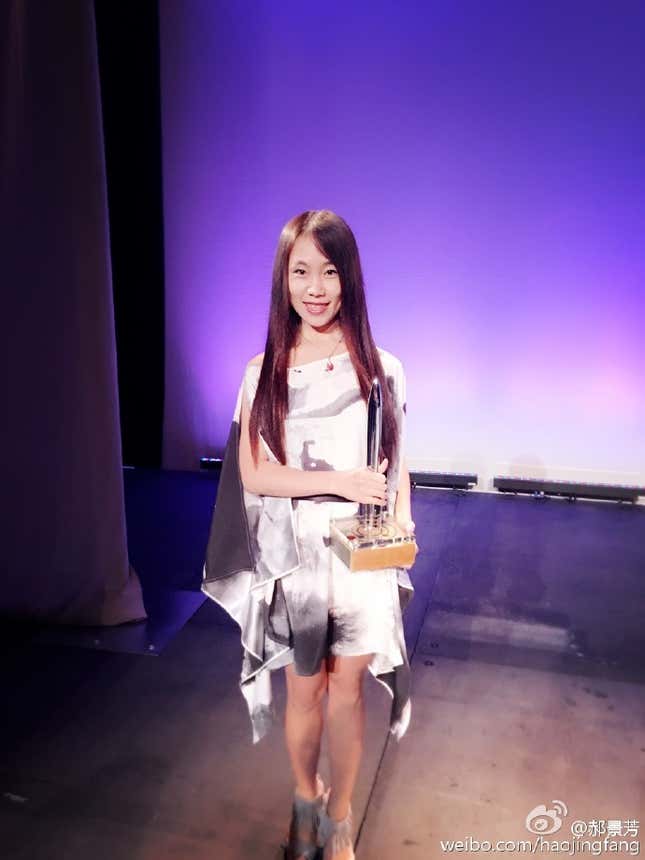 In this dystopian story, the three social classes cannot travel between layers, and rarely interact. They are further separated by time: Each class is awake at different times during the 48-hour-day, and the underclass of laborers is only allowed to be awake for eight hours at night.
The protagonist is waste worker Lao Dao, who struggles to pay for his adopted daughter's education. To earn money on the side, he delivers secret letters between an illicit inter-class couple on the city's first and second layers—a dangerous and illegal trip.
According to Hao, the story was inspired by a taxi driver who complained about difficulties getting his child into kindergarten. He told her that, since he wasn't an official Beijing resident, he had to queue long into the night to fight for a seat for his daughter at school. In the translated novelette, Hao describes a similar challenge for Lao Dao:
For schools with decent reputations, the parents had to show up with their bedrolls and line up a couple of days before registration. The two parents had to take turns so that while one held their place in the line, the other could go to the bathroom or grab a bite to eat. Even after lining up for forty–plus hours, a place wasn't guaranteed. Those with enough money had already bought up most of the openings for their offspring, so the poorer parents had to endure the line, hoping to grab one of the few remaining spots. Mind you, this was just for decent schools. The really good schools? Forget about lining up—every opportunity was sold off to those with money.
Schooling can be a bureaucratic nightmare in Beijing, and especially for the city's  population of low-wage migrant workers. Public schools are only open to official Beijing residents, and parents who do not have official hukou residency paperwork can be asked to show as many as 28 (link in Chinese) different certificates just to gain access to private schools in the city, for their children. Even for official Beijing residents, the city's decreasing number of public kindergartens has created a fierce battle for seats.
Another Chinese science fiction writer, Tang Que, responded to Folding Beijing on Zhihu, China's version of Quora (link in Chinese): "This is just an inspiration of real life and a projection over the real world, but not exactly a science fiction."
Awarded annually since 1955, the Hugo Awards are among the highest honors in science fiction and fantasy. The awards are named after Hugo Gernsback, who started "Amazing Stories," the first US science-fiction magazine in 1926.
Hao's win follows the Liu Cixin's novel The Three-Body Problem, which won the Hugo Award for Best Novel in 2015. Liu was the first Chinese author to win a Hugo.