Apple is scheduled to unveil the highly anticipated iPhone 7 on Sept. 7, as well as a smattering of other device and software updates. Ahead of the big launch, Apple Music—the company's one-year-old music streaming venture—is already getting a refresh.
Apple Music subscribers who are beta-testing the company's new mobile and desktop operating systems (also known as iOS 10 and macOS Sierra) have begun to see personalized playlists appear on the platform. Announced earlier this summer at Apple's Worldwide Developer Conference, the feature bears a striking resemblance to Spotify's signature Discover Weekly playlist and its new Release Radar playlist, though it seems Apple is trying to obscure that fact by naming its own playlists "My New Music Mix" and "My Favorites Mix"—as opposed to its original choice of "Discovery Mix."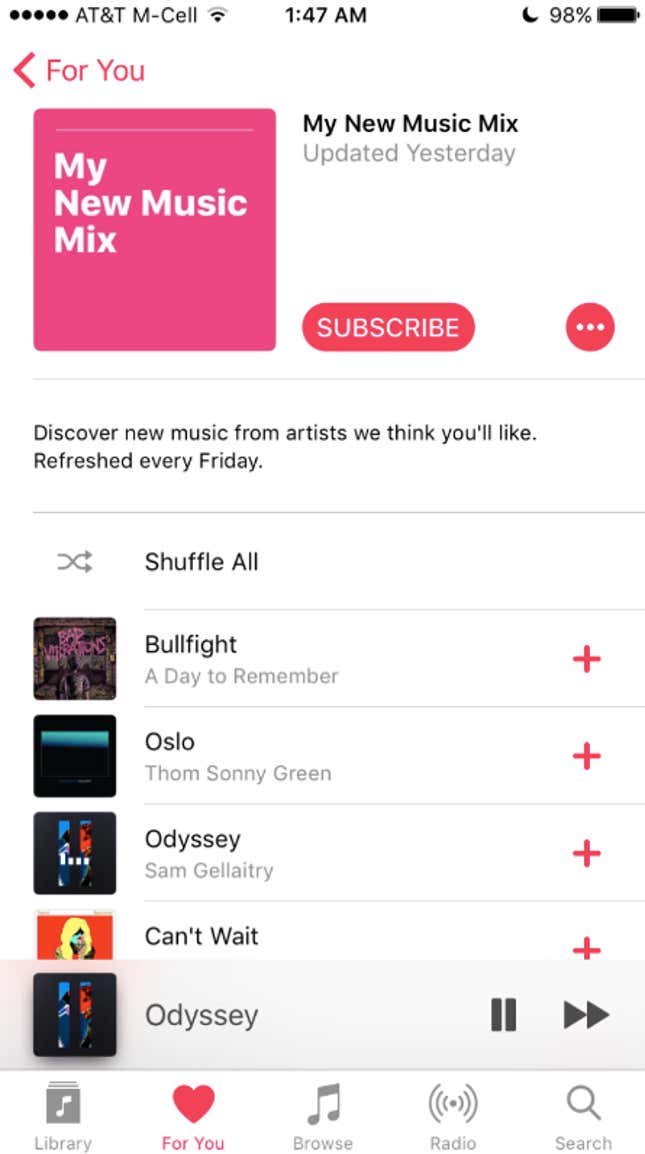 Personalization is the biggest fight in subscription services right now as they battle to offer customers the most interesting, individualized features. Tidal, iHeartRadio, and Pandora are also offering "custom" playlists, some of which are curated by human taste-makers, and some of which are determined by algorithms. With all services trying the same thing, the field's getting pretty homogenous.
To further differentiate itself, Apple Music is slashing its price. Apple is selling 12-month subscriptions to the music streaming platform for $99 via gift cards, bringing the monthly cost down from $9.99 to $8.25.
That makes the service cheaper than Spotify—though the latter is pushing out new features of its own.