Reshma Qureshi's walk down the runway at New York Fashion Week was brief, but her path there was unspeakably difficult. In May 2014, Qureshi and her sister, Gulshan, were attacked in Allahabad in northern India by Gulshan's estranged husband and two others, in revenge for Gulshan taking their son. When Qureshi fought to protect her sister, the men turned on her and poured concentrated sulfuric acid on her face. The horrific assault permanently disfigured her. She lost sight in one eye as a result, and has endured a long process of treatment and surgeries.
Qureshi, who is just 19, has since become an advocate for survivors of acid attacks and the face of a campaign to end the sale of acid by New Delhi-based NGO Make Love Not Scars. On Sept. 8, in a show by FTL Moda, a fashion firm that has sought to change perceptions of beauty in the industry, she triumphantly walked the runway, wearing a cream gown with blocked patterning by Indian designer Archana Kochhar. She received a "rapturous response," AFP reported.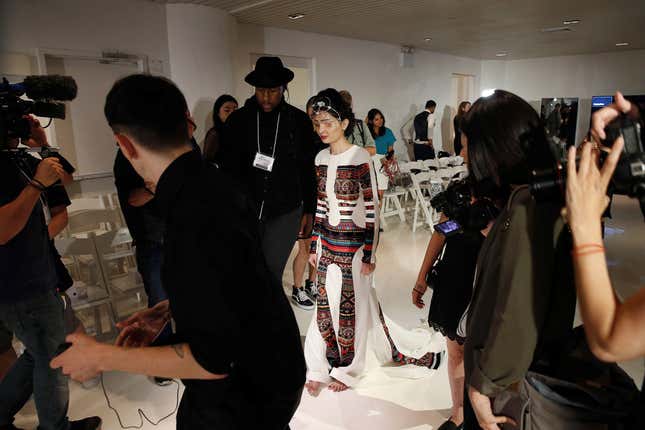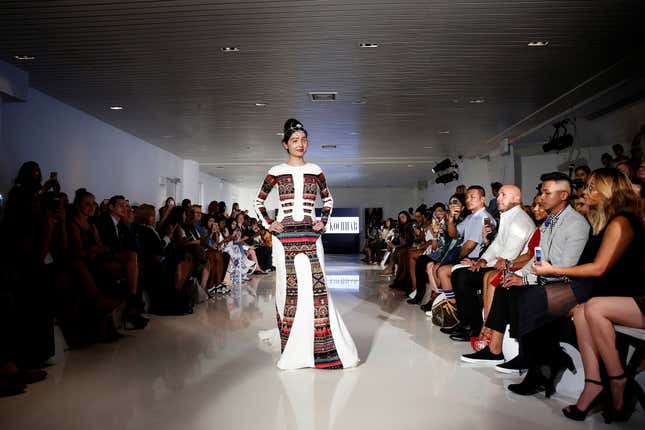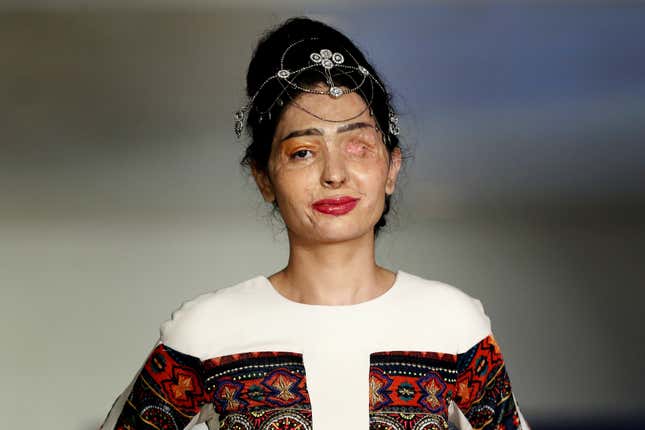 The hope is that Qureshi's stint on the runway will reframe the conversation around acid attacks as a global problem. Acid Survivors Trust International (ASTI), a UK charity for acid attack victims, estimates there are about 1,500 documented acid attacks (pdf) globally each year, but says the true number may be much higher since many attacks may go unreported. Because it also has uses such as cleaning, acid can be cheap and readily available, and attacks occur for a variety of reasons, including domestic or land disputes, rejected marriage proposals, or rebuffed sexual advances. Women are most often the victims.
The attacks happen all over the world, from Colombia to Cambodia, Uganda to Nepal. One of the earliest accounts, according to ASTI's report, was in Glasgow, Scotland, in 1834, where a news report noted that they had become so common "as to become almost a stain on the national character." In 2015, The Guardian said that reported acid attacks were on the rise in the UK, and it was likely that many more were unreported.
Currently, however, India is where most reported attacks occur. They're a growing problem in the country, and in 2013, India's Supreme Court even ordered the government to limit over-the-counter acid sales. But critics say these laws are poorly enforced, and litigation related to acid attacks can take up to a decade. Meanwhile, survivors rarely receive compensation or proper medical treatment.
Qureshi and Make Love Not Scars have been working to raise awareness of these issues. Their makeup tutorials on YouTube, for instance, begin by offering helpful tips and then call viewers to sign a petition to enforce a ban on the open sale of acid.
"I want to tell the world—do not see us in a weak light and see that even we can go out and do things," Qureshi told AFP at the time of her runway walk. She was still reportedly a bit nervous beforehand, but she overcame her jitters, as she's overcome her other challenges. "I do feel brave," she said. She should.