Shine on, you crazy diamond.
The Evening Standard, a London paper, reported earlier this week that Apple will be moving British offices to Battersea power station, a derelict coal power station that has been out of service since 1975. It's a building that has been searching for purpose for decades, and has recently been part of a massive redevelopment plan for south London.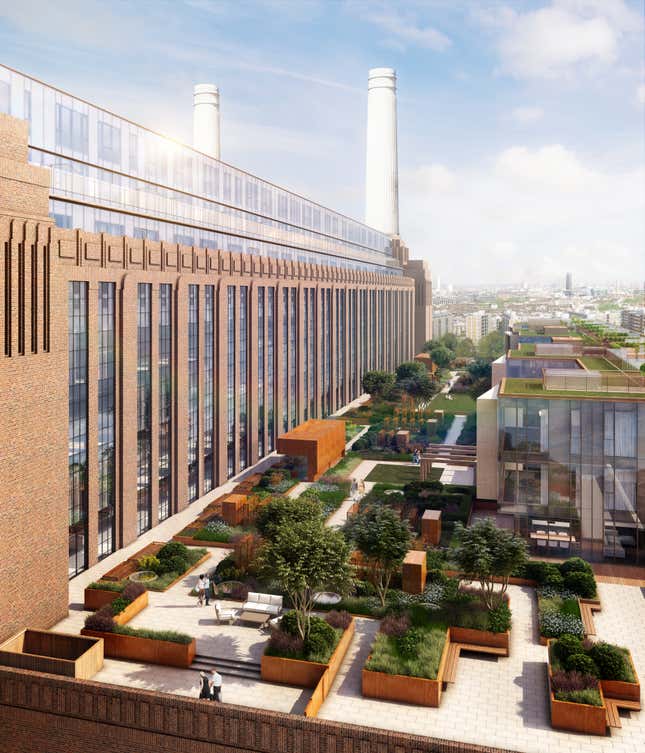 While Apple's European headquarters will remain in Ireland, where it has roughly 6,000 employees and a rather favorable tax relationship with the government, the company employs roughly 1,500 people across the greater London area, and will bring them all under one roof in the power station. (Apple wasn't immediately available to comment on its plans, but the company managing the redevelopment of the area has confirmed Apple's move.)
While it won't quite have the pomp of the massive spaceship-like campus Apple is building for its global headquarters in California, the power station is one of the most imposing and well-known fixtures of the London skyline. It will also be an ironically fitting home for the most valuable company in the world.
The power station has appeared in many films and records since it opened in the 1930s, including The Beatles film Help!, and the inner cover of The Who's Quadrophenia, but is perhaps best known for gracing the cover of Pink Floyd's 1977 album, Animals. A giant inflatable pig, which may or may not have broken from its tethers, floats above the power station. The image alludes to the allegory-laden content of the record, which, as CityLab points out, was a critique of capitalism during the turbulent punk era of the late 1970s that leans heavily on George Orwell's Animal Farm. And now a company that sells very expensive pieces of technology (with very good margins) will be the building's main tenant.
In its review of Pink Floyd's album at the time, Rolling Stone said: "The tension that powers their music is not simply fright at man's helplessness before technology; it's the conflict between the modern and the ancient, between technology and tradition."