Four million books are stored underneath New York City's Bryant Park. Twenty-seven feet below the grassy patch in mid-town Manhattan are miles and miles of bookshelves at the New York Public Library's (NYPL) newly expanded Milstein Research Stacks.
So many, many books has made storage a challenge for the 105-year old institution. When New Yorkers vehemently opposed the idea of shipping three million books to an off-site facility in New Jersey, administrators not only had to consider how to expand the library's in-house storage facility but totally rethink the way it physically stores its collection.
To maximize space, the NYPL is now storing its collection based on a book's physical dimensions instead of shelving them based on where they fall in the Dewey Decimal System. This means that Religion and Innovation: Antagonists or Partners? which measures roughly 6 x 9 in. would be placed next to the recipe book Oyster: A Gastronomic History which measures 7 x 9 in. "Content, color [of the cover]—it doesn't matter. It's all based on size," explains Gerry Oliva, the NYPL's head of facilities who gave Quartz a tour of the underground stacks–which are not open to the public–and the library's newly refurbished reading room.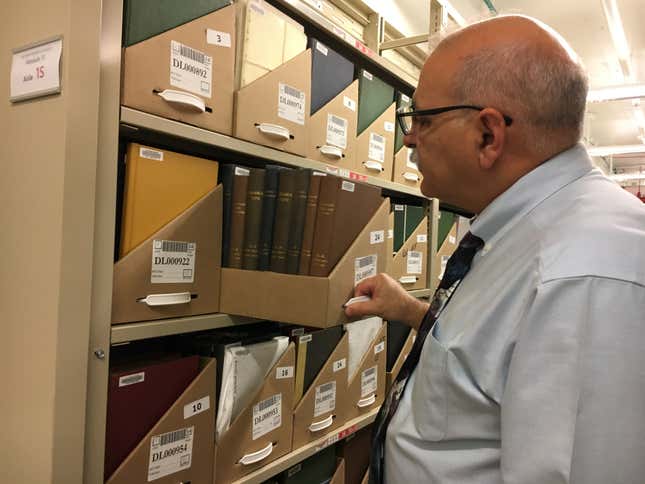 Compared to the old system, where a small volume about geography might be shelved next to a large book of maps, the size-based approach eliminates the wasted space above each book. "This just maximizes the number of books you can put into the area," Oliva says, noting that Princeton University and Columbia University's libraries have adopted similar systems. The new book sorting system has increased the library's storage capacity by 40%.
To organize books into its nine size categories, librarians lay each book against a book-sizing template before placing each one inside appropriately-sized cardboard trays. The "L" on the sizing template (pictured below) stands for "low" shelf and the "H" stands for "high," and the letters (A, B, C, D, E) correspond to the book's size.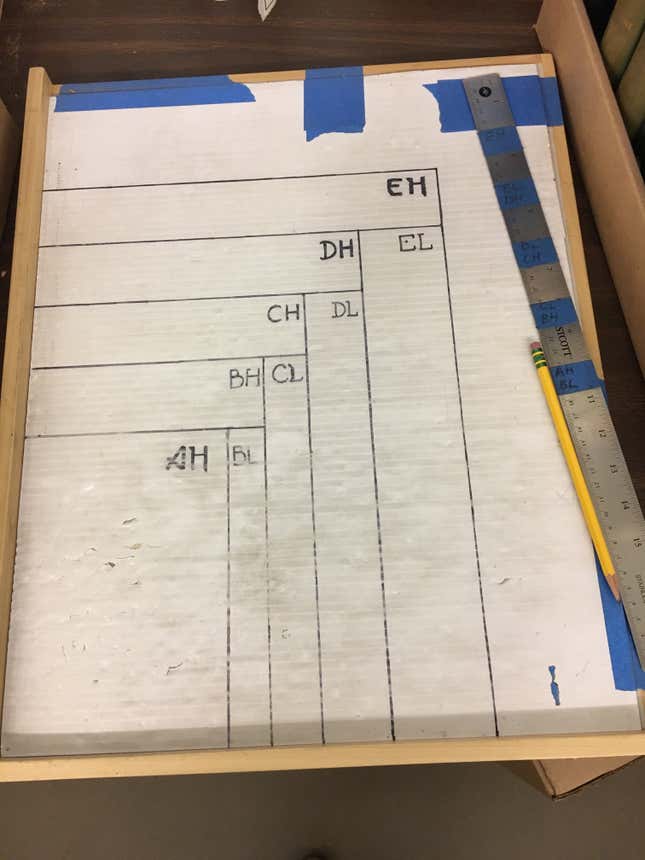 For all this to work, the library needed a foolproof locator system. Every book is affixed with a barcode sticker to make sure librarians can quickly retrieve any book in the two-level, 55,700 sq. ft. subterranean bunker. The barcode contains a book's basic bibliographic information—title, author, topic, summary, and several call numbers, including those from the Dewey Decimal System—that correspond to the data in the NYPL's public-facing electronic card catalogue. The barcode also now holds information about a book's exact coordinates in the stacks—room, aisle, shelf, tray—via the Library Archive System that's only accessible to librarians. The NYPL has begun implementing the new storage system on the second level of its underground stacks.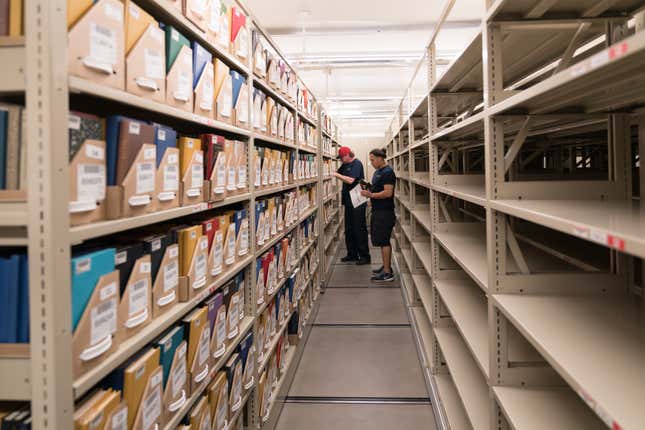 Does this tossed salad of titles make research librarians nervous? "If we didn't trust our ability to store this kind of information in digital form [barcode system], then I wouldn't mix any of those books up ever," says Matthew Knutzen, director of NYPL's humanities and social sciences research divisions. Each book is cross-referenced and tagged on several classification systems. The volume on the gastronomic history of oysters, for instance, has been tagged with its unique International Standard Book Number (ISBN), a Library of Congress number, as well as its NYPL call numbers.