In the latest test of NASA's reliance on commercial space transportation, Orbital ATK will launch an Antares rocket on a re-supply mission to the International Space Station today (Oct. 17), nearly two years after a similar mission ended in a spectacular explosion.
The mission is expected to begin around 7:40 p.m. ET. You can watch NASA's live video stream here.
The 2014 accident kicked off a string of supply mission failures that stressed the ISS, including an out-of-control Russian spacecraft and the loss of SpaceX's CRS-6 rocket in 2015. Now, with SpaceX still on the sidelines after a September fueling accident, Orbital's ability to supply the five people living in space is more critical than ever to demonstrate that private firms can handle risky space business on behalf of risk-averse governments.
Today's launch will deliver a Cygnus spacecraft carrying 2,400 kg (5,290 lbs.) of supplies and science experiments to the station, as well as a group of cubesats to be launched on behalf of the weather-forecasting start-up Spire.
It will fly on what is essentially a new Antares rocket. The explosion in 2014, which occurred just 15 seconds after launch, was linked to Orbital's use of refurbished Soviet engines designed in the 1960s and built in the 1970s. While the precise reason for the failure was never determined, the company pointed to manufacturing flaws discovered after the fact. Critics, including SpaceX founder Elon Musk, had criticized the company's reliance on old technology long before the accident.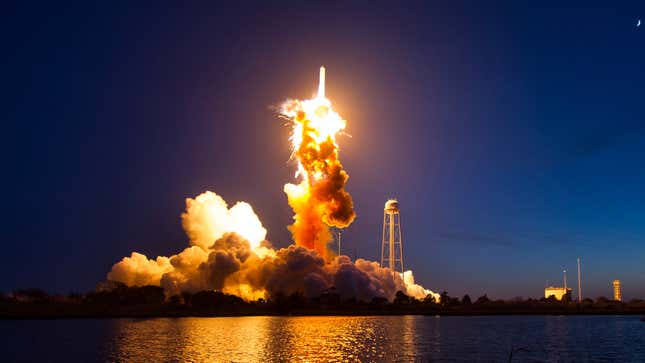 To return to flight, Orbital has switched to a more modern line of Russian engines similar to those used by ULA's Atlas rockets, which are among the most reliable in flight today. Orbital hired ULA to fly two previous ISS missions using Atlas rockets as it worked to develop this new Antares model.
Orbital and SpaceX were the original winners of the first major NASA experiment with private spaceflight to replace the Space Shuttle, receiving funding to develop their rockets and launch vehicles to bring cargo to the space station.
In 2008, the companies were awarded separate contracts, with SpaceX receiving $1.6 billion for 12 cargo missions and Orbital $1.9 billion for eight missions through 2016. So far, SpaceX has delivered eight missions and Orbital five, and both received contract extensions last year for at least six additional missions.
Private spaceflight is increasingly part of the US government's space exploration vision, but the place for private companies in more ambitious missions flying astronauts or going beyond earth orbit will only be secure if companies can demonstrate reliable basic service.