In the Syrian mountain town of Madaya, residents have been trapped for more than a year. Under siege by the Assad regime and its allies, the town's access to food, electricity and fuel is been limited. No one is allowed to move in and out, except for the occasional humanitarian aid truck.
Madaya is the backdrop of Marvel's latest comic. Created with ABC News, the comic tells the harrowing tale of a real-life mother in Madaya, who has been fighting to keep her family alive as starvation and death ripple through her hometown.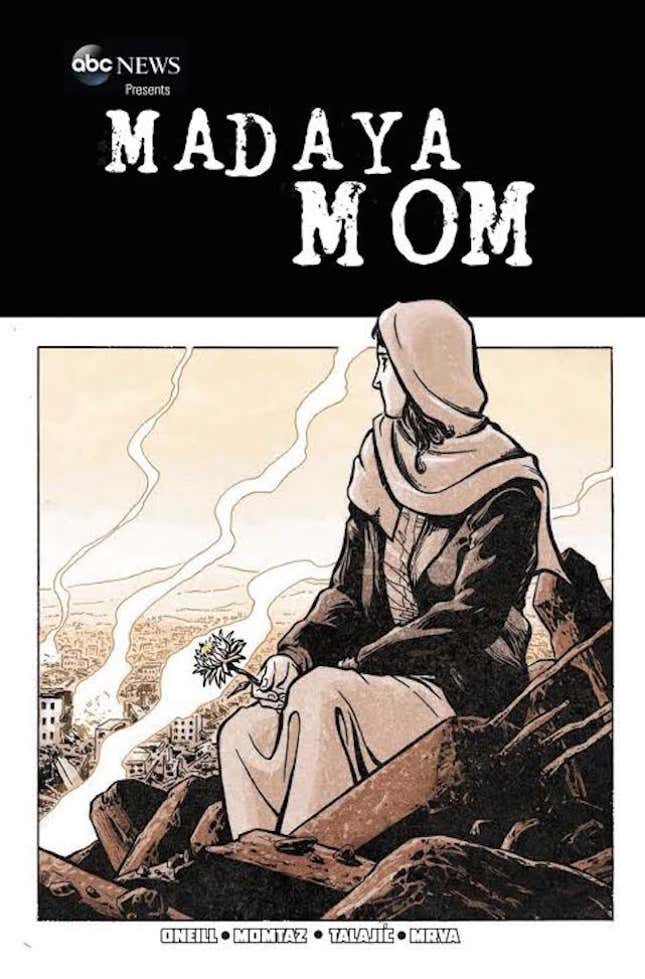 The mother's name in the comic is only Madaya Mom, which is also the comic's title. ABC News has concealed the family's name for their protection. It uses many of Madaya Mom's own descriptions of her family's plight, which were obtained through text messages and phone calls with ABC News during a two-week period in January.
In the comic, Madaya Mom describes how she, her husband, and five children have resorted to drinking mint or thyme tea from their garden in the morning to fill their bellies. And how her children fell sick after eating canned food provided by humanitarian aid, because their bodies were not used to digesting it. Children in the town are skin and bone, according to the comic, and fainting is a regular occurrence.
As Quartz reported in January:
Residents of the mountainous town…have been forced to eat their pets, boiled leaves, flower petals or plain water cooked with spices, according to multiple statements. Rice costs as much as $250 per kilogram and is sold by grams, The Guardian reports.
The illustrations, by Marvel artist Dalibor Talajic, are as stunning and the subject matter is devastating.
This may be the most important story that Marvel has ever told, drawing attention to a Syrian town where people feel they've been forgotten. One panel relates how residents of the town gathered to listen to a United Nations Security Council Briefing, and were shattered when the meeting ended with no action relating to Syria. "I truly feel depressed and that the world has abandoned us because we are weak," says Madaya Mom.
The comic allowed journalists at ABC News to bring this story to life in a way they couldn't have otherwise. Journalists have not been able to enter the town of Madaya since the siege, and therefore could not obtain photos or video of Madaya and its residents. "This meticulously researched collaboration between ABC and Marvel goes where cameras can't and provides visuals to the true story of Madaya Mom—a story that needs to be seen and told," said Marvel editor-in-chief Axel Alonso, in a statement.
There is a precedent for using graphic novels to illustrate the lives of people in conflict-ridden areas. Art Spiegelman's award-winning graphic novel Maus, illustrated Spiegelman's father's experiences as a Polish Jew during the Holocaust, Emmanuel Guibert's The Photographer: Into War-Torn Afghanistan with Doctors Without Borders chronicled the realities of life in Afghanistan in 1986, and Marjane Satrapi's autobiographical work Persepolis told the story of a young girl growing up in Iran during and after the Islamic revolution, to name a few.
Like the non-fiction comics before it, Madaya Mom makes its characters real for readers. Madaya Mom describes her five children each as having vastly different personalities. One of her sons is into fashion and had been saving his money up to buy a watch before the siege. He's still holding onto the money in the hopes of one day being able to buy that watch, she says.