It's the Berkshire Hathaway shareholder meeting this weekend, a sort of folksy celebration of the investing prowess of the conglomerate's iconic chief executive. As part of the proceedings, Warren Buffett will be fielding questions both from shareholders and members of the press. Here's what we think they should be asking:
1. What's with the local newspaper investments?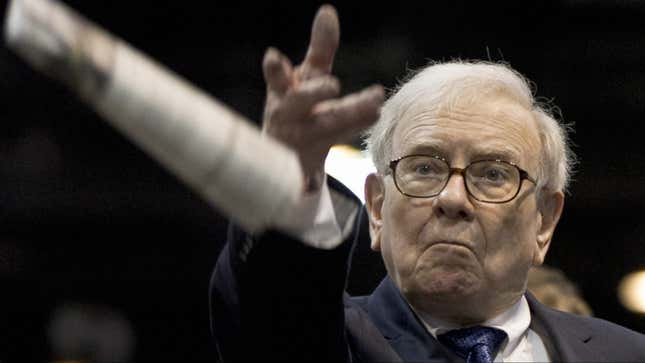 Back in 2009, you told shareholders at this very meeting that you wouldn't buy another newspaper "at any price." And yet over the last year or so, you've purchased more than two dozen newspapers. You've also bought some newspaper bonds, though those were pretty cheap. What are shareholders to make of this? Just today, the Washington Post Co.—where Berkshire is the biggest shareholder—reported that profits tumbled 85% last quarter. Now, we know you have an "almost unnatural" love of newspapers, but if you want to support the newspaper industry, isn't the proper vehicle for that your charitable foundations, not shareholder money?
2. What's the 411 on BYD?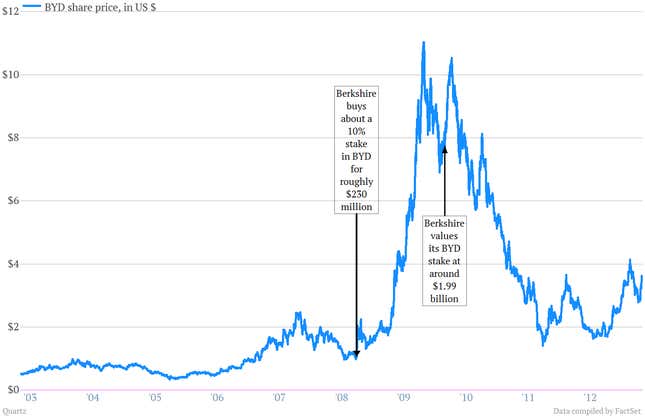 Berkshire has had one wild ride on its investment in Chinese car and rechargeable battery maker BYD. You poured about $232 million into the shares back in 2008. By the time of your 2009 shareholder letter the value of Berkshire's stake was nearly $2 billion, a return of more than 700%. Since then, the value of Berkshire's investment in BYD has plunged along with the stock. It's probably up around 200%, which is still pretty good. Do you regret not selling? And how confident are you in the prospects of the company going forward?
3. Whatever happened to king coal?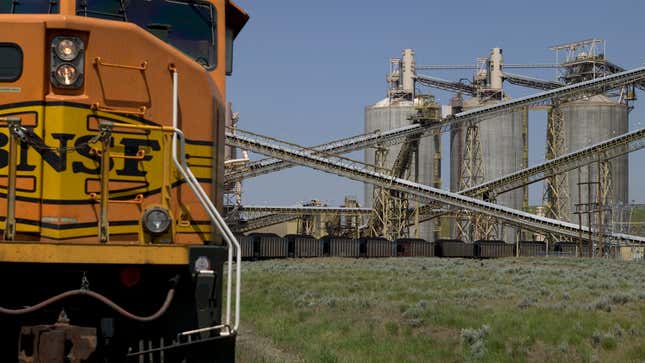 Your decision to buy the second-largest railroad in the US, the Burlington Northern Sante Fe, in late 2009 for $26 billion in cash and stock, was your biggest ever deal.  And in part, that was a bet on coal. (Transporting the stuff is a crucial part of the railroad business. Coal shipments comprised 24% of freight revenue (pdf) for BNSF in the fourth quarter of 2012.) But coal could be on the outs; the US has lots of natural gas, and natural gas is cheap. That's already pushing customers away from coal. BNSF said coal shipments fell 6% in 2012. Now, BNSF has delivered solid returns for Berkshire. But were you overly optimistic about coal in your investment thesis on BNSF?
4. Are you sure about going long Goldman? Remember what happened at Salomon?
You recently struck a deal with Goldman Sachs to convert Berkshire's warrants in the investment bank into a large equity stake this upcoming fall, which might make you one of bank's largest shareholders. Now you've had longstanding stakes in straightforward financial institutions like M&T Bank and Wells Fargo. But Goldman is a big, complex, opaque money-making machine. When the tech boom was in full swing, you famously told an audience at this very meeting, "technology is just something we don't understand, so we don't invest in it." Are you confident that you understand how Goldman Sachs makes money? And furthermore, do you ever worry that there's a possibility of a repeat of any of the issues you last saw when you were involved in the gold-plated investment bank of the moment, i.e., Salomon Brothers?
5. Do you own any bitcoin?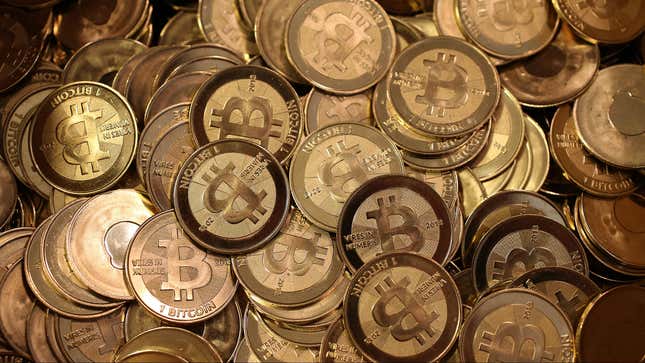 You and your partner Charlie Munger have famously been anti-gold, effectively criticizing those who are willing to dump their cash into the shiny, yet incredibly unproductive, asset. (Charlie's been even more frank, calling goldbugs "jerks.") There are some who say that the new gold is bitcoin, an alternative currency with a fixed supply and no central bank. Do you think it has any value?
6. Does Berkshire Hathaway have an insider trading problem?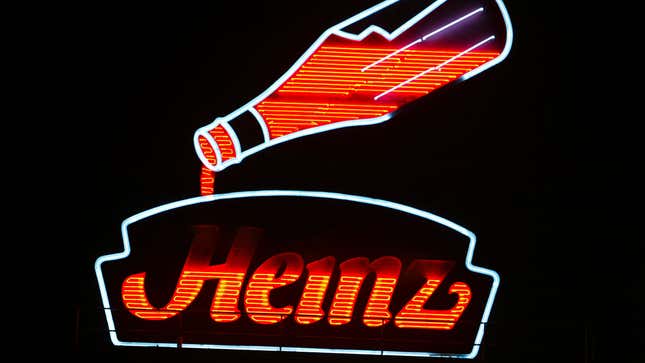 It's been two years since your lieutenant David Sokol resigned after disclosing that he bought thousands of shares of Lubrizol two months before Berkshire acquired the company. Since then, it was disclosed that a Goldman Sachs director leaked news about your 2008 investment in the investment bank before it was public. No one accused you of wrongdoing, but it was starting to look like Berkshire deals, once closely guarded secrets, could no longer stay that way. And, indeed, investigators are now looking at trading that preceded your big investment in Heinz this year. Why can't Berkshire M&A deals stay under wraps anymore?