Travelers are afraid of commitment.
On average, would-be voyagers search for a flight 48 times before booking, according to Expedia, the largest online travel agency in the US.
Even in the era of low fares throughout the airplane, finding the best one is certainly a reasonable, if time-consuming, goal. Google, which launched its travel app, Google Trips last month, is trying to cut down on the frequent searches with a new feature that taps into one of the great motivators of travel: the fear of missing out.
Google Flights, its flight-search tool, now provides travelers alerts for when the fare is expected to rise, which could be a matter of hours. It is also giving travelers tips to get a lower fare, such as flying on other days, or to and from other airports.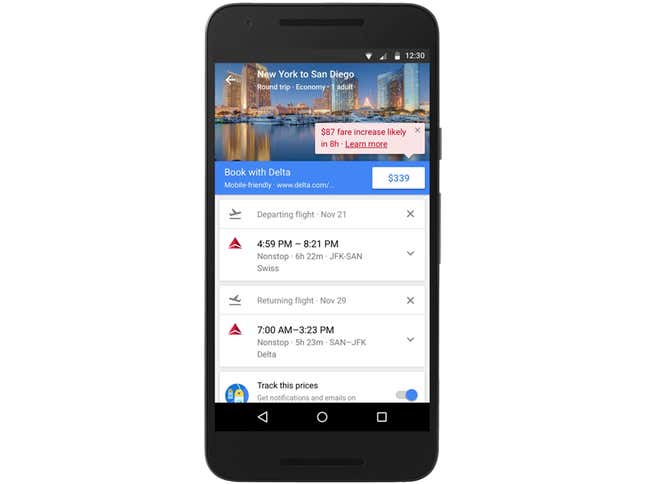 It's the latest attempt by the travel industry to nudge consumers into buying something.
Rival booking site Kayak has a similar tool which tells travelers the chance of an increase in their itinerary if they don't book. Expedia two years ago launched a tool called Scratchpad, which saves previous searches, to shorten the booking process (and cut down on the chances of search exhaustion).
Travelers who use that function are three more times more likely to complete their booking on Expedia's site than those who started over, a spokeswoman said.
These tools could provide a helpful push toward booking that flight so you can quickly get back to fretting about seeing your family.