People in China have found it fun to mock Donald Trump in the past.
But now that Trump has been elected president, his promises to make China pay for the US's lost manufacturing jobs and put high tariffs on Chinese goods could translate into actual policy. And that could cause real pain for the world's largest exporter and second-largest economy—not to mention the rest of the world.
"Protectionism brought the Great Depression around the world and he could cause that again," Jeffrey Firestone, a semi-retired lawyer from Chicago who advises law firms in China, predicted before the Election Day results came in. "If he cuts off China from selling consumer goods to the USA, there will be huge inflation in the USA. Chinese factories will go bankrupt. Tens of millions will lose their jobs. The whole world could go crazy."
Until now, Trump's head-scratching lies about China and complete misrepresentation of China's fiscal policy, not to mention his signature hairstyle, provided much amusement for China's citizens. Some viewed the US presidential debates as an entertaining show, characterizing them as either a battle between a bastard and a granny, or a romantic karaoke duet.
Even as the results rolled in today (Nov. 9) in China, Trump is still the butt of jokes. For example, "DT in the house," a line from a 2006 Chinese pop duo (DT refers to Taiwanese singer David Tao here), has become a meme on the Chinese internet.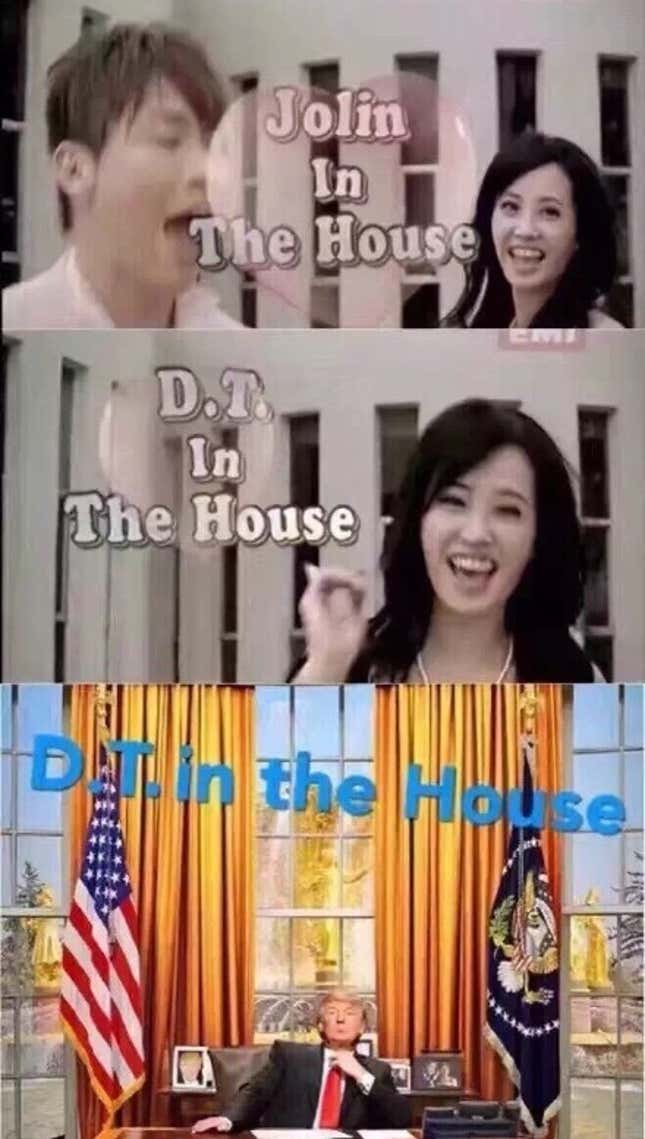 But some Chinese citizens have begun to sincerely worry about a Trump presidency for the first time:
"Please I am begging with my knees on the floor, don't make Trump the fool the president, although I dislike Hillary," one internet user wrote on China's Twitter-esque Weibo (link in Chinese,  registration required) at around noon, as it became clear that he might be. Another blogger wondered: "Is human society entering a new era?"
"Ever since Brexit, and since Korea has fallen into a cult's hand, I had the sense that Trump would be the president. The world is doomed," another wrote in the afternoon.
The benchmark Shanghai Composite Index dropped 1.3% in the morning session on the news on Nov. 9, along with other Asia markets, but closed with a mere 0.6% decline. China's A-share market plummeted in the morning thanks to "panic sentiment" associated with a looming Trump presidency, Yang Xiaolei, a Shanghai-based analyst with Shenwan Hongyuan research firm, told Quartz.
It recovered with commodity prices in the afternoon, however. China's stock markets are less open to outside investment and don't always move in sync with world markets.
Long term, China's investors are concerned about the uncertainties of a Trump presidency, which will "lead to risk-adverse sentiment and drag down the capital market," noted Calvin Tang, an asset manager and president of Sigma Square Investments in Shanghai.
In one of his most outrageous statements, Trump at one point promised to add a 45% tax to any Chinese goods coming in to the US, a move that could spark a global trade war. China's officials greeted his presidency diplomatically, and a spokesperson with the foreign ministry (link in Chinese) saying Beijing "expects to work with the new US government to maintain sustained, healthy and stable growth of China-US relations, and benefit people of the two countries and the world."
But the Global Times, the nationalistic state tabloid that sometimes echoes the government's unspoken point of view, warned Trump not to harm China's economic relationship with the US. "He should think about how China will counter-act, and what the US will lose," an Nov. 9 editorial (link in Chinese) reads.
One unexpected bright spot in China was Shenzhen-listed company Wisesoft,  which jumped 7.6% throughout the day—the small-name traffic software provider is called 川大智胜, or Chuandazhisheng, in Chinese, which can be roughly translated as "Trump has a big and smart win."  (Back in 2008 when Barack Obama won the election, a stock called Aokema also rallied, Chinese media reported.)
It appears that the best Chinese investors can do, at this moment, is a wordplay.
Josh Horwitz contributed reporting.