Two US Republican senators have introduced new legislation that would punish Hong Kong or mainland Chinese officials who suppress basic freedoms in Hong Kong in the wake of Beijing's increasing interference into the city's promised high autonomy.
The Hong Kong Human Rights and Democracy Act was introduced by Tom Cotton of Arkansas and Marco Rubio of Florida on Nov. 16. The legislation, which has yet been enacted into law, requires the US president to identify those "responsible for the surveillance, abduction, detention, or forced confessions of certain booksellers and journalists in Hong Kong." The government would then freeze their assets in the country and deny them entry into the US, according to a statement.
The legislation came after Hong Kong democracy activist Joshua Wong's Nov. 16 visit to Capitol Hill. The 20-year-old, one of the most prominent student leaders of the 2014 pro-democracy Umbrella Movement, spoke at an event organized by the Congressional-Executive Commission on China (CECC), which monitors China's human rights, and urged president-elect Donald Trump to "fully support human rights in Hong Kong." Cotton and Rubio serve respectively as commissioner and co-chair of the CECC.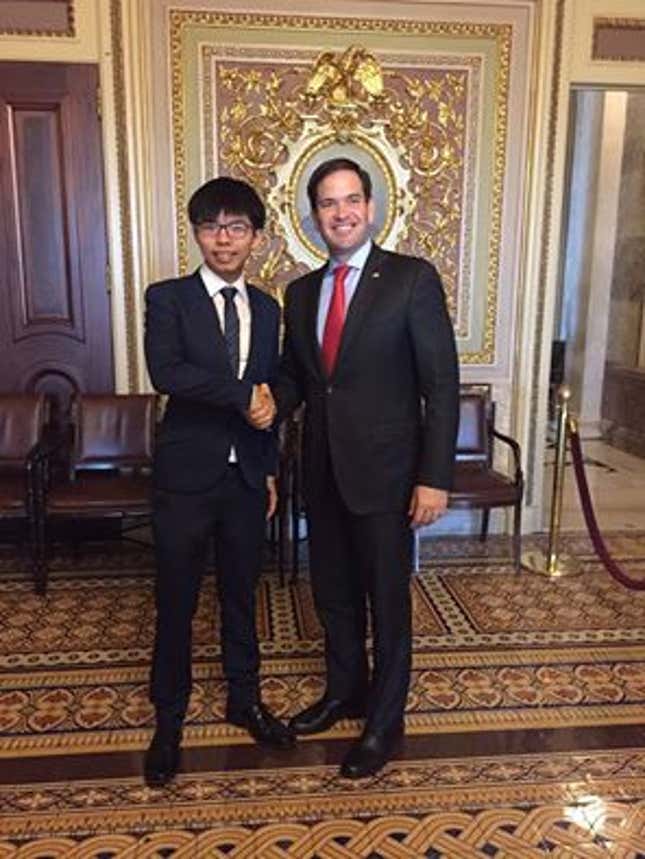 "The importance of this legislation was again impressed upon me today after meeting with pro-democracy activist Joshua Wong," Rubio said in the statement. Wong wrote on Facebook (link in Chinese) that Rubio, a Cuban-American, encouraged Hong Kongers not to retreat in the face of the communist regime. As they said goodbye, Rubio told Wong that "time is on your side."
Last week, China's top legislative body issued a rare interpretation of Hong Kong's mini-constitution that bars two democratically elected lawmakers from taking office permanently, after the duo used a racial slur to refer to China and declared Hong Kong a nation in their swearing-in ceremony in October. On Tuesday, Hong Kong's High Court ruled in favor of Beijing's decision.