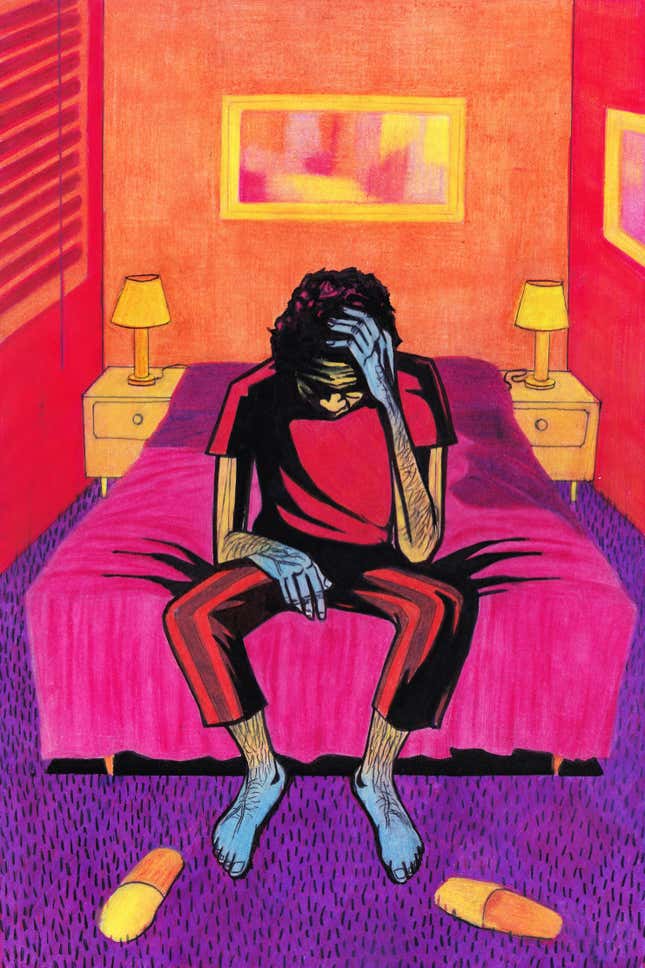 This entry is part of a series called Craigslist Confessional. Writer Helena Bala has been meeting people via Craigslist and documenting their stories for nearly two years. Each story is written as it was told to her. Bala says that by listening to their stories, she hopes to bear witness to her subjects' lives, providing them with an outlet, a judgment-free ear, and a sense of catharsis. By sharing them, she hopes to facilitate acceptance and understanding of issues that are seldom publicly discussed, at the risk of fear, stigma, and ostracism. Read more here. Names and locations have been changed to protect her subjects' anonymity.
Thomas, 50s
I woke up suddenly, groggy and immediately in a bad mood. Pushing Ava's sheets off with my legs, I reached for my phone.
9:13 pm.
I'm getting old, I thought to myself as I attempted to get out of bed. My feet felt weird—numb. I rubbed them on the rug to wake them up..
Ava was sitting alone in the kitchen, reading one of her books. I snuck up and gave her a kiss on the neck. She looked at me curiously.
"Finally!" she declared, studying my face.
"What…" I protested. "I was only asleep for—what, one, two hours?"
She cocked her head sideways. "Are you kidding, or what? You know it's Sunday night, right? You've slept through the whole day."
We watched a movie that night, and I insisted on going back to my apartment so that I could shower and get ready for work the next day. I went to sleep curiously tired again, and I woke up the next morning in the same foul mood.
I studied my feet as I put on socks. They looked normal, but the lack of sensation was getting worse. I went to work anyways, dismissing the issue as a temporary glitch that was bound to happen at my age. When my day was done at six, I went home and called the plumber to unclog sink. I must have fallen asleep again because I woke up the next morning to a note from the plumbing company.
Tuesday and Wednesday passed uneventfully. Ava came over on Wednesday night for dinner. I remember complaining about my feet, and I told her that I'd noticed the numbness on the palms of my hands as well. I skipped work on Thursday and Friday because it got worse, traveling up my legs and taking over my hands fully.
I sat on my couch all weekend, watching CNN, avoiding the phone, and feeling sorry for myself. I used one of my dining room chairs as a walker when I needed to go to the bathroom. When I woke up on Monday, I could barely get out of bed. I called out of work again and set up an appointment with one of the physicians covering for my usual doctor, who was out of town on a vacation. They put me through a barrage of tests, all of which came back negative.
"We'll get to the bottom of this, Tom," the doctor assured me, avoiding my eyes as he briskly left the room. I felt panicked. What could this be? I kept thinking. Cancer? Have I had a stroke?
By Tuesday, I was practically paralyzed. I lay in bed for an hour, willing my arm to reach across and grab my phone. I felt exhausted and out of control, and I decided it was time to call in my last resort.
I whispered into the phone, "I need you to take me to the emergency room."
Within minutes, my son rushed through the front door with his two kids in tow. They lifted me out of bed and into the back seat of his van.
On the way to the hospital, I called Ava and a few other family members. I wanted them to hear me on my terms, before anything happened. Then, I was admitted to the emergency room, and it was hours before a physician could see me. I sat in the crowded waiting room, alone and scared, and looked around at the other people waiting to be seen. I wondered which one of us would get out of there alive.
When the doctor finally came, he spent less than five minutes with me and ordered another hundred tests—half of which I had already taken only days before. Nobody said a word to me—I felt like an invisible inconvenience. I was poked and prodded, and when the fleet of white coats left my bedside, I felt tired and raw.
An eternity later, one of the doctors approached me again. He looked down at his clipboard, flipping between the stack of pages filled with details about my life—my blood type, my marital status, my bowel movements as of late. He made no eye contact with me, and strangely—out of everything that had happened in the past few days—it was his detachment that made me want to cry.
When he finally spoke, he sounded tired and monotone. He rattled off a blur of incomprehensible words which all sounded to me like euphemisms for death. Guillain-Baré, he kept repeating, and very rare.
I took advantage of natural pause in the doctor's diagnosis to cut him off.
"So, will I get better?" I asked, and my voice betrayed my fear.