Art Peck, the CEO of Gap Inc., has had enough of creative directors. "We have cycled through so many, and each has been proclaimed as the next savior," he told the Wall Street Journal (paywall) in a story about the Gap's ongoing struggle to stay relevant. He dubbed these creative leads "false messiahs."
Gap eliminated the post of creative director in early 2015, when Peck took the top executive spot, and he has been pushing instead for a decentralized design process where different teams and even outside vendors create the designs for Gap and the brands it owns, including Old Navy and Banana Republic. He's also encouraging executives to pay more attention to data about what consumers want.
This loosely organized, data-driven approach has benefited some of Gap's biggest rivals, including Zara, which has crushed Gap with the help of cheap fashion retailers including H&M and Uniqlo, and it's understandable why Peck would want to adopt it.
But so far, it doesn't seem to be working at Gap, which recently reported its seventh straight quarter of falling sales, pointing to a deeper issue. Gap hasn't been holding too closely to one person's creative vision. Rather, it has been trapped for years in a limbo with no clear creative vision whatsoever.
It's true that some creative directors create a cult around their vision—for better or for worse. And the role of a person at the creative helm of a fashion label now goes far beyond setting a company's vision and design aesthetic—some would argue straying too far from the role's traditional purpose. The free reign that a storied brand such as Christian Dior gives creative directors may not be practical for a high street brand like Gap.
But Gap's clothes, which for years have been terminally forgettable and lacking any distinct identity, haven't much changed with the company's creative directors. Indeed, many who were excited to see Rebekka Bay (who once headed up H&M's much-lauded minimalist brand COS) take over the top creative spot at Gap in 2012 were disappointed to find little discernible difference in the clothes that actually wound up on racks.
The culprit was likely Gap's fear of taking risks, resulting in too little change, rather than too much—an aesthetic timidity emphasized by past and present employees who spoke to the Journal. It makes little sense in these circumstances to blame the role of creative director for what's apparently a much broader problem.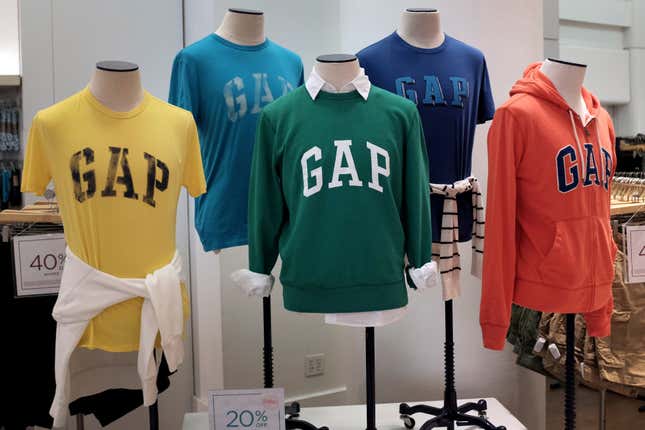 "Gap is not a design-led company and thus I had very little say in what ended up in the store," Bay, who left Gap in 2015 as the creative director post was axed, told the Journal.
That's a far cry from the atmosphere described by Pablo Isla, CEO of Zara's parent company, Inditex. "We are able to react to data during the season, but in the end, what we offer our customers is fashion," he recently told Bloomberg. He reiterated the point, saying, "Without the design, there would be nothing."
While Gap originally built its empire on affordable button-up shirts, khakis, and other polished basics, companies such as H&M and Zara have since undercut Gap on price while also delivering more fashion-forward offerings. They've done it without one single creative vision, but as Isla indicated, that doesn't mean they have no design vision at all. Instead, they act more like curators, often knocking off fashion's most popular creative directors of the moment.
Zara recently produced an impressively complete rip-off of Kanye West's Yeezy line, for instance, and H&M has taken some obvious inspiration from Demna Gvasalia, the lauded creative chief of Vetements and Balenciaga. This emphasis on pulling from the best design in fashion is clear the moment you walk into one of their stores.
The bottom line is Gap's sales will keep declining if it keeps making bad clothes. It may not need a creative director, but it needs some system to allow a strong creative vision to emerge.