Beyond being one of fashion's most revered brands, Christian Dior Couture is known as one of its most creative, and that quality has enabled its long-term financial success. "The company has been growing for the last 20 years almost every quarter," Sidney Toledano, the label's president and CEO, noted at WWD's Apparel & Retail CEO Summit in New York yesterday (Oct. 25). Dior is currently a $2 billion business, roughly 10 times larger than when Toledano became president and CEO in 1998.
Art and commerce go hand-in-hand in fashion, and not always comfortably. Designers can bristle at commercial directives, while executives may feel the creatives don't understand the realities of business. During his tenure, Toledano has dealt with the mercurial, outsized John Galliano, whom the company dismissed in 2011 for a public anti-Semitic outburst, and the soft-spoken Raf Simons. His main rule:
"First of all, forget about managing."
He was kidding, but not entirely. The relationship between the business and creative side of fashion isn't a top-down matter. "It's more of a dance," Toledano said, a collaboration with a shared endpoint.
Both sides need to share the same clear goal. "You have to have in mind the business objectives and make sure the creative person has the same objectives in terms of the company," Toledano said. If your creative talent wants to remain a niche business, for instance, but the business side wants a broad audience, "you have a problem," he said.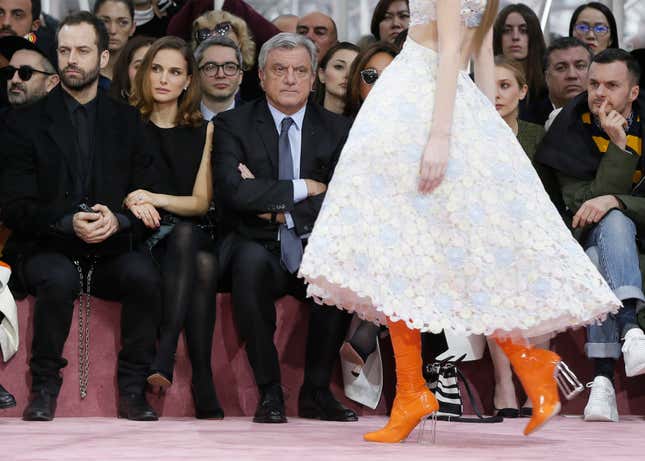 To replace Simons after he stepped down last year, Dior chose Maria Grazia Chiuri, who was one half of the creative duo that led Valentino's resurgence. She understood Dior's values and business—perhaps more intimately than her predecessors. She is Dior's first-ever female creative director. Toledano said she doesn't just design and look from a distance. She tries pieces on.
Attitude is also important, said the Dior executive, whose early training was in mathematics. Be humble, and respect what creatives do. At Dior, designers are briefed on what they need to create, such as jackets or bags, and their price points. But within those bounds they're free to do what they were hired for. The creatives should know they have support and financial backing. "But the creative person has to respect the financial constraints of the business," he said.
He likened the relationship to that between a movie producer and the director, and his template can be seen at work in successful entertainment companies. HBO, for instance, trusts writers to pen the network's hit shows as they deem best for the story—a practice that could be threatened if AT&T, which just bought HBO's parent, Time Warner, decides to change things.
The FX network, meanwhile, has built a slate of successful programming by giving shows the financial backing and freedom they need to realized their visions.
Tomas Maier, creative director of luxury brand Bottega Veneta, gave a creative's perspective at the WWD event, and said his success has been driven by agreement between him and executives on long-term goals. "There was always a long-term vision," he said. "When I started I wrote a letter to the company: What was my vision for the brand? That's the vision I stick to today." Maier was recruited by Tom Ford to take creative control of the brand in 2001, and turned a small, floundering business into a fashion label with €1.3 billion (about $1.4 billion) in sales in 2015 (pdf).
Maier is a manager himself, in charge of a full creative staff. "I leave a lot of freedom" he said. "When you trust people you get the most."
He said he's had his disagreements with Bottega Veneta's CEOs at times—four people have held the position in his 15 years at the brand—such as when they see an opportunity to make quick money. Maier shrugged. "You're not the CEO," he said. "You're the creative director."